Fire Safety Officer
Fire safety is the basic thing and the first thing to ensure and comply with customer rules in any garments industry. A dedicated specialist person on it can give a better result to garments industry. Nowadays, the garments industry has dedicated people to follow up on daily fire safety activities and equipment.
Job Responsibilities of Fire safety officer/ Manager
Maintain general fire safety, detection & protection System as required according to customer and government rules.
Must be well familiar to set up and following up firefighting equipment as per buyer and government requirements and Fire Prevention Act.
Should have a vast knowledge of fire safety management, protection, accord & alliance requirements to ensure fire safety in the garments industry.
Monitor and ensure that the facility of fire hydrant & fire pumps are adequate and are working properly.
Daily walk round/ floor visit & ensure firefighting equipment and follow up the daily checklist activities of the firefighting team.
Set an in-house strong firefighting and rescue team in all the departments.
To ensure In-house fire training for Firefighters, Rescuers, new and old employees, and security personnel.
Conduct monthly/ fortnightly Fire & Emergency evacuation drills as per the program to aware all workers & staff.
Conduct firefighting training from Fire Service & Civil Defence authority at least once a year and get the certificate from them.
Monitoring & auditing fire safety for all the subordinates of the department.
Develop and update the security system to maintain a safe work environment in the factory.
Ensure safety compliance with company policies and industry regulations.
Arrange and conduct various security-related training for the development of Security.
Maintain and keep updating different types of registers (Guard's Duty Roster, Vehicle, Officer's In/Out, Visitor, Key register, etc).
Ensure traffic management and logistics during in and out time.
Any other duties assigned by management from time to time.
Must have skills & experience to lead a fire safety team efficiently.
Should have a vast knowledge of fire safety management to ensure fire safety in the garments industry.
Give monthly training to all employee on fire safety awareness.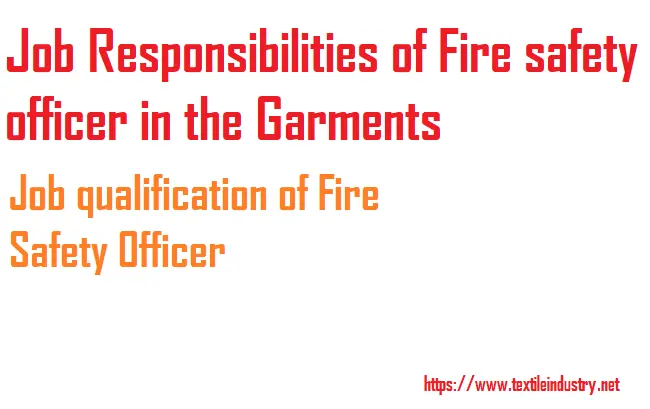 Job qualification of Fire Safety Officer
Minimum graduation in any discipline
Experience: Minimum 2-4 Years in the same field of fire safety.
Only male candidates are allowed to apply and work on this.
Training/Trade Course: Fire Safety manager Course from FSCD (Mandatory)
Must have adequate knowledge about ACCORD & ALLIANCE.
Age: 28-35 Years preferable.
Must have good leadership skills for a large number of workers.
Job Responsibilities of Fire safety officer in the Garments