Material Safety Data Sheet (MSDS) for Chemical uses in the Textile and Apparel Industry
Material Safety Data Sheet (MSDS)
Material Safety Data Sheet (MSDS) is a technical safety data sheet for using workplace health and Safety in the Textile and Apparel industry. It is a written instruction document. The MSDS is hanging in the workplace, working as a safety instruction for chemicals used there. It is prepared and provided by the chemical manufacturer for their customers in order to apply in the customer manufacturing process. You need to know about MSDS if you work in the textile or apparel industry. Here I present about Material Safety Data Sheet (MSDS) for Chemicals in Textile and Apparel in detail.
Chemicals are very dangerous and harmful to us and can harm our eyes and body in close contact. And, do you know what chemicals explode in a fire? So it is all about safety as per specific chemicals. The MSDS is a technical and scientific document that provides comprehensive, health, safety, and detailed information about controlled products, chemicals, or substances that are identified as dangerous and hazardous substances. It is visualized in the working process of Textile and apparel. So that workmen, supervisors, and others staff can read the working time and take action accordingly.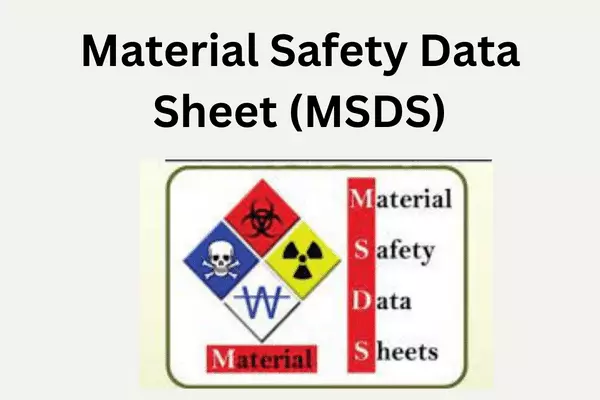 Where do we use chemicals in Textiles and Apparel that need MSDS?
Fabric Dyeing and Finishing Process
Fabric and Garments Washing process
Spot removing in the Garments Industry.
What is the Informations Found in MSDS?
An MSDS of each chemical substance is kept in a central place, where every worker and supervisor can have easy access when needed. The detailed material safety data sheet contains valuable information about these things:
Material Identification: The characteristics, properties, and quality of the chemical have an influence on the end product. The chemicals are in liquid condition or powder condition.
Chemical Storage: Proper ways of storing and handling chemicals. It covers the storage area temperature, humidity, storage boxes, and other environmental conditions required.
PPE Instruction: This indicates appropriate security precautions and needed controls, including the use of personal protection equipment (PPE).
Emergency time: Spells out emergency procedures in case of spills, fire, or explosion and indicates steps for first-aid
Hazard Level: specifies the hazard level, which gives clues about the possible effects on water, soil, and human health
Specifies the flash point (the lowest temperature at which a chemical releases flammable vapor). The lower the flash point, the more hazardous the chemical is as a source of fuel for fire or explosion.
Human Health Hazards: No adverse health effects are expected if the product is handled in accordance with this safety data sheet. Symptoms may arise if the product is mishandled.
Finally, Fire Fighting Instructions: Wear full fire-fighting turn-out gear (full bunker gear) and respiratory protection (self-contained breathing apparatus).
Additionally, You may love to read: Product Safety Requirements in the Garments Industry
Material Safety Data Sheet (MSDS) for Chemical in Textile and Apparel