If you work in the Quality department in the Garments industry or are related (buying a house, or apparel retailer) to the garments industry whatever the designation is, then this writing is for you. There are plenty of Skills of QC job required for a Garment Professional. So, here go through one by one in below.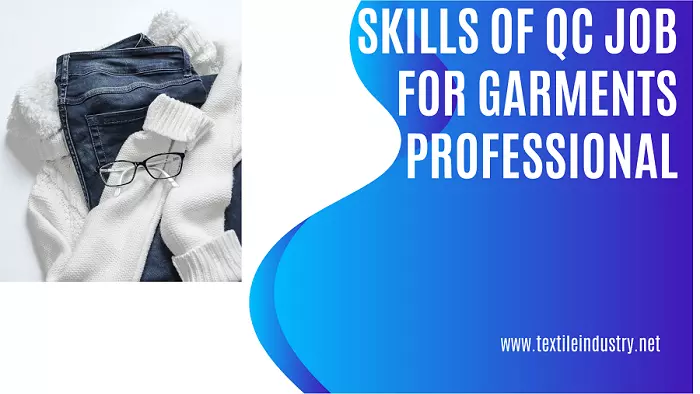 Different Skills of QC Job for Garments Professional
Garments Manufacturing Quality control Skills
Sample Inspection: Sample verification against Customer SOP, Manual, TP/PDM, and other instructions.
Fabric quality inspection: Fabric quality, classification, fault, fabric & garments test report justification skills.
Trims and Accessories Inspection: Trims and Accessories quality, classification & fault justification skills.
Cutting Quality Control: Cutting procedure, GSM, Skewing, bowing, fabric relaxation, shrinkage, lay height, marker & pattern verification, spreading check, cut panel check and measurement skills, etc.
Sewing Quality Control: Sewing input cut panel measurements with before-wash and sewing allowance, incoming trims, and accessories checked by trims card. Garments making layout check, sewing all marking and pattern check style and size wise Conduct an implement TLS( Traffic Light System), RFT( Right First Time), TDR ( Total Defect Reduce), 5S, FIFO, Lean manufacturing 8 wastage, etc., button pulls test, fusing process bond test, stitch strengths test, maintain broken needle policy and label attach policy, fabric nature wise needles selection, Follow sample, TP/PDM, SOP, and other instructions to proper sewing, sewing DPI, Initial Inline, etc.
Finishing Quality Control: Finishing Shade, measurement & dimensional change verify after received Wash garments and before starting finishing, finishing quality check layout follow-up, 2hr audit, metal check, moisture check, proper trims, and accessories attached, follow the approved folding method, verify SKU, Barcode, Prize ticket, cartoon sticker day final audit, pre-final audit, etc.
Customer/ Buyer-Based Skills:
I. Customer/ Buyer SOP(Standard Operating Procedure), Manual such as Quality Manual, QA Manual, Product Safety Manual, Pattern Matching Manual, Label Attachment Manual, Product safety manual, etc.
II. Customer/Buyer DCL ( Defect Classification List)
III. Customer/Buyer TP(Technical File), PDM( Product Development Manual)
IV. Customer/Buyers Special instruction about garments produces.
V. Customer/Buyer-based QMS( Quality Management System) & Technical audit.
Defects Based Skills
Appearance Defect
Construction defect
Fabric defect
Measurement defect
Color defect
Root cause Analyses and CAP-making skills
5W2H
Fishbone/ Cause & Effect Diagram
PDCA
8d problem-solving method
QA auditor must have knowledge about TQM, Six Sigma & Lean manufacturing.
Language, Communication & Computer-Based Skills
I. Fluent in English verbally and written
II. Have Skills in Microsoft Office programs such as MS Word, MS Excel, MS PowerPoint, Teams, etc.
III. Have to skills in E-mail handling, browsing & basic Windows Operating Systems.
IV. Good reporting skills, the first task of the QC team is reporting.
Quality Improvement Continuous Process and products improvement tools skills
I. Flow diagram
II. Brainstorming
III. Cause-effect diagram ( Fishbone diagram)
IV. Data collection
V. Graphs and charts
VI. Pareto analysis (80/20 rules)
VII. Scatter diagram
VIII. Histogram
IX. Box plot
X. Stratification
I. 5S
II. PDCA( Plan, Do, Check & Act)
III. DAMIC
IV. 8 Wastage (Muda)
V. JIT(Just In Time)
VI. Kanban(Pull System)
VII. Kaizen(Continuous Improvement)
VIII. Gemba(The real place)
IX. Poka Yoka ( Mistake Proofing)
X. VSM(Value Stream Mopping)
XI. TPS ( Toyota Production System)
XII. TPM(Total Productive Maintenance)
XIII. SMART Goal( Six big losses)
XIV. Factory assessment & Evolution
XV. SOWT analyses etc.
Finally, the QC job is very demandable nowadays. These Skills of QC Job for Garments Professional will help you for career growth in the garments industry.
Skills of QC Job for Garments Professional