10 Requirements of Fabric Spreading in the Garments Industry
Fabric spreading is a crucial process in the garments industry that involves laying out fabric layers in preparation for cutting and sewing. Efficient and accurate fabric spreading is essential to ensure quality and productivity in garment manufacturing. Fabric spreading is a fabric setup process before cutting. This process has many requirements to follow. This article outlines ten key requirements for fabric spreading in the garments industry.
In the readymade garments sector, fabric spreading is one of the important tasks. To get fault-free cutting fabrics from the cutting section, accurate fabric spreading has great importance in the apparel manufacturing industry. Some key requirements that help to get the desired quality cutting fabrics from the cutting section are explained in this article.
What are 10 Key Requirements of Fabric Spreading must have to Maintain in the Garments Industry?
Accurate Fabric Measurement
Fabric Relaxation
Suitable Spreading Equipment
Proper Fabric Alignment
Correct Fabric Tension
Careful Handling of Fabric Print and Patterns
Layer Control and Counting
Adequate Spacing between Layers
Documentation and Traceability
Regular Quality Checks: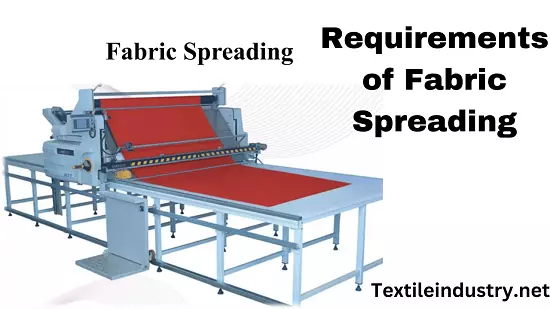 1. Accurate Fabric Measurement
Accurate measurement of the fabric is crucial to ensure the correct fabric length and width for spreading. The fabric must be measured precisely, accounting for shrinkage, before the spreading process begins.
2. Fabric Relaxation
Before spreading, fabrics should be allowed to relax to eliminate any tension or distortion caused during storage or transportation. Proper Fabric relaxation SOP helps ensure that the fabric lays flat and smooth during spreading, preventing wrinkles and fabric distortions.
3. Suitable Spreading Equipment
Garment manufacturers should invest in suitable spreading equipment, such as spreading machines or tables, to facilitate efficient and consistent fabric spreading. The equipment should be well-maintained and adjustable to accommodate different fabric types and widths.
4. Proper Fabric Alignment
During spreading, fabrics should be aligned correctly, ensuring that the fabric's lengthwise and crosswise grains are straight. Accurate alignment prevents fabric distortion, pattern misalignment, and quality issues in the final garments.
5. Correct Fabric Tension
Maintaining proper tension while spreading is crucial to achieving consistent fabric layers. Excessive tension can cause fabric stretching or distortion, while insufficient tension can lead to loose and uneven layers. Fabric tension should be controlled based on the fabric type and properties.
6. Careful Handling of Fabric Prints and Patterns
Fabrics with prints, patterns, or stripes require extra attention during spreading to match and align the design elements accurately. Skilled workers should handle these fabrics carefully to ensure proper pattern placement and avoid wastage.
7. Layer Control and Counting
Proper control and counting of fabric layers are essential to ensure accurate cutting and prevent mistakes. Each fabric layer should be checked and counted before cutting begins to ensure consistency in the final garments.
8. Adequate Spacing between Layers
Sufficient spacing between fabric layers is necessary to avoid cutting errors and ensure smooth and accurate cutting operations. Proper spacing helps prevent fabric slippage and overlapping during cutting, minimizing fabric waste and ensuring precise garment construction.
9. Documentation and Traceability
Maintaining detailed documentation and traceability of the spreading process is vital for quality control and accountability. Records of fabric measurements, spreading parameters, and any issues encountered during spreading can help identify and address potential problems in the production line.
10. Regular Quality Checks
Regular quality checks should be conducted throughout the fabric spreading process to identify and rectify any defects or inconsistencies promptly. By implementing quality control measures, manufacturers can ensure that only defect-free fabric is used for garment production.
Conclusion
Efficient and accurate fabric spreading is a critical requirement in the garments industry to achieve high-quality garments with minimal wastage. By following these ten requirements – including accurate fabric measurement, suitable spreading equipment, proper alignment and tension, careful handling of prints and patterns, and regular quality checks – manufacturers can optimize the fabric spreading process, enhance productivity, and maintain consistent garment quality.
10 Requirements of Fabric Spreading in Garments Industry