Finished Goods are the final product, ready to ship out to the customer. An efficient finished goods storage process is a fundamental element of a successful garments industry supply chain. By following best practices such as thorough inspection, proper categorization, regular quality control, and effective inventory management, manufacturers and retailers can optimize their storage operations. This not only reduces operational costs but also contributes to higher customer satisfaction by ensuring the timely delivery of high-quality garments in line with the latest fashion trends. Continuous improvement and integration of technological solutions can further enhance the overall efficiency and effectiveness of the finished goods storage process in the garments industry.
The garments industry is a dynamic sector, known for its ever-changing trends and consumer demands. Within this industry, the storage and management of finished goods play a crucial role in ensuring a smooth supply chain and maintaining customer satisfaction. An efficient finished goods storage process is vital for minimizing lead times, reducing costs, and optimizing inventory management. This article explores the key aspects of the finished goods storage process in the garments industry and highlights best practices for its successful implementation.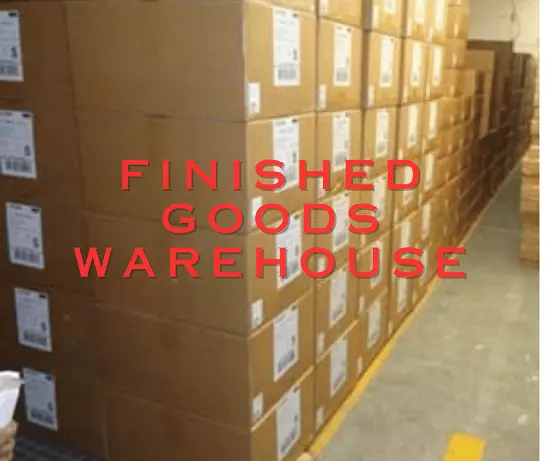 Must have to maintain these things for the Finished Goods Storage Process in the Garments Industry
Go through this procedure point by point given below:
Ideally finished stocks should be kept stored in the factory by the supplier to ensure any checks prior to shipment can be carried out
Stock stored in a third-party warehouse should be returned to the factory prior to shipping where possible to ensure relevant checks can be carried out.
Storage temperature should be controlled and kept at 18-21°C. (NOT over 25°C, especially if the moisture is over 60% Relative Humidity to avoid mold growing)
The warehouse area should be dry, and moisture controlled (<=60% Relative Humidity), keeping garments in the dry room is better.
Product/Garments/Fabric should be stored in areas away from pollution, as some storage facilities have transport loading bays or forklift trucks used in proximity, NOX, burnt gas fume exposure should be avoided
Pesticide control should be carried out every 4 weeks and must check the effectiveness.
Keep all windows of the warehouse/finished goods warehouse closed, it is better to have a screen window.
Product/Garments need to be fully dry after finishing/pressing before folding/packing into storage to minimize any creasing/mold issues
Viscose and sensitive jersey products should be kept flat-packed to avoid elongation; modularity can be decided 2 weeks before FOB.
Flat-packed products should be packed in blister poly bags without hangers (if applicable) in cartons; 2 weeks before FOB supplier may insert the hangers (if applicable).
Cartons should be stacked on Plastic pallets or shelves.
if we could use perforated poly bags IF they packed them in cartons, need to use tissue paper inside the carton covering garments (one bottom & the other on top of garments) so this will prevent the formation of any mold. Especially, sensitive products like coated, printed, and peached products
Hanged products should be polybagged with a heat seal
For a prolonged period of more than 02 months, it is advisable to use an additional piece of polyethylene on the neck of the hanger to prevent dust from going to hanged garments, pls see the attached drawing, White / Light/pastel colored garments should be protected from direct light exposure and/or bagged with black poly bags to avoid potential yellowing
Do not put any carton stickers, just mention the sizes and the numbers
Cartons should be evaluated for bulging and bond strength, in consultation with SO technologies a decision can be made whether to use the same or new cartons,
Any finished products that have a risk of creasing, odor, and measurement risk must be reprocessed before shipment.
Flat-packed garments in cartons should not contain hangers; hangers should be attached prior to shipment.
A recommended package/sachet of dry desiccant or PE sheet from with SuperDry or Micro-Pak can be used as an extra precaution for your product.
Follow the C-TPAT Requirements and Procedure as a best practice in the supply chain and manufacturing process.
Conclusion
In the competitive world of the garments industry, an efficiently managed finished goods warehouse is a valuable asset. By strategically selecting the warehouse location, designing an optimized layout, implementing robust inventory management, ensuring quality control, and enhancing security measures, garment manufacturers can streamline their logistics operations and provide customers with timely, high-quality products. Embracing technology and sustainable practices further adds to the success of the finished goods warehouse in the garments industry. With these essential elements in place, businesses can thrive and maintain a competitive edge in the dynamic world of fashion and textiles.
Finished Goods Storage Process in Garments Industry