What is GPQ in the Garments Industry?
GPQ, known as guidelines for production and quality in the garments industry. GPQ has involvement where buyer QC deals with the factory. Those are Preproduction(PP) meeting, in-process quality Review, sewing end-line quality review, finishing the end-line quality review, and most important Final inspection.GPQ has engaged in taking some important decisions about quality from the customer's point of view. They are helping hand of buyer QC, Work as buyer QC representatives also called the voice of buyer quality requirements. So their job responsibilities are very high and important that carries for the garments industry.
GPQ follows up on buyer quality specifications and monitors the garment factory maintaining everything. They ensure garments quality control from cutting to finished garments so that not fail anything in the final quality inspection. The GPQ job responsibilities are very important for the garments industry's quality control and assurance.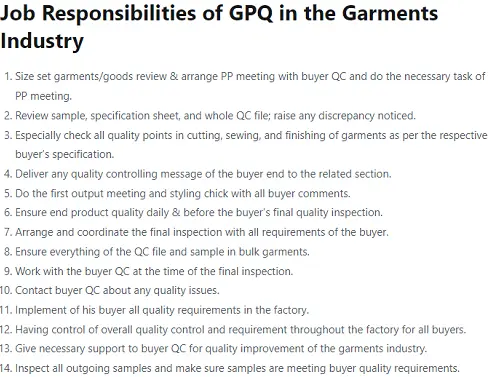 Job Responsibilities of GPQ in the Garments Industry
Size set garments/goods review & arrange PP meeting with buyer QC and do the necessary task of PP meeting.
Review sample, specification sheet, and whole QC file; raise any discrepancy noticed.
Especially check all quality points in cutting, sewing, and finishing of garments as per the respective buyer's specification.
Deliver any quality controlling message of the buyer end to the related section.
Do the first output meeting and styling chick with all buyer comments.
Ensure end product quality daily & before the buyer's final quality inspection.
Arrange and coordinate the final inspection with all requirements of the buyer.
Ensure everything of the QC file and sample in bulk garments.
Work with the buyer QC at the time of the final inspection.
Contact buyer QC about any quality issues.
Implement of his buyer all quality requirements in the factory.
Having control of overall quality control and requirement throughout the factory for all buyers.
Give necessary support to buyer QC for quality improvement of the garments industry.
Inspect all outgoing samples and make sure samples are meeting buyer quality requirements.
Finally, they do everything whats are quality parameters provided by respective buyers.

GPQ Job in Garments Industry
GPQ job is available in all export garments industries. People who want to work here who have knowledge in quality. Job designations get from Junior GPQ to GPQ manager. So, the manager post is also there in this job role that enhances knowledge.
Responsibilities of GPQ in Garments Industry