Every section needs a supervisor in garments operation. But, the sewing supervisor is fully different from others having the sewing machine of his/ her section. A working post called worker staff is responsible for the working operator. The sewing supervisor is responsible for sewing Processes production, quality, and overall coordination in the garments industry. They have knowledge of all types of sewing machines used in the garments industry. Sewing supervisors have knowledge of operating sewing machines for any fabric or any sewing operation.
The sewing supervisor plays a key role in the sewing operation and the whole sewing department. This is a very common job in the textile and apparel industry. The garment industry needs lots of supervisors just in the sewing section. Generally, a sewing line has 3 supervisors in woven garments. They take care of overall productivity, efficiency, input, output, and WIP. A sewing supervisor supervises everything about the sewing line like operator's training, capacity increment, production increasing, taking care of machines, etc.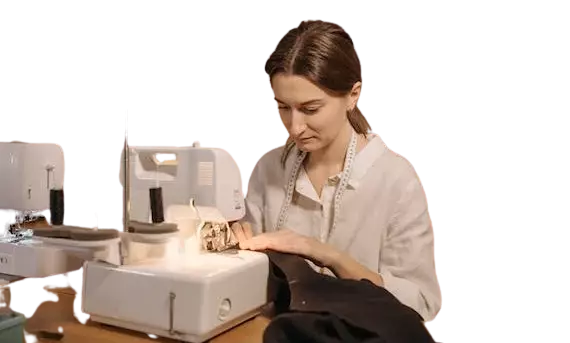 Job Responsibilities of Sewing Supervisor
Lead and train sewing operators to meet production target lot by lot.
Follow up daily production, line input, and WIP.
Reduce WIP and bottleneck in the sewing line.
Understand machine tension, maintenance, and technical adjustment.
PO, lot, and style-wise production planning based on the delivery target date, and follow-up target vs achievement.
Responsible for a sewing line and being under accountability.
Planning Production –Based on the system provided by Company for a Time Limit and Continuing the Same with Available Resources Such as Material, Machinery, and Manpower in The Facility.
Wastage reduction & ensuring quality product (QA).
Ensure all the machines are Running According to the Given Program in Order to Achieve Maximum Production.
Prepare quality and monthly production achievement reports.
Looking after Operation and Maintenance.
Perform and supervise all kinds of Mechanical works including installation, maintenance, repair, renovation, and modification.
Cleaning and Lubrication of machines by following the standards procedure (SOP).
Safety-oriented and wear proper Personal Protective Equipment (PPE).
Electrical, mechanical, hydraulic, and operational problems of sewing machines.
Problem analysis, fault finding on injection mold & Extrusion tools and equipment.
Ensure cleanliness and maintain a safe work environment within the molding environment (GMP).
Maintain the Required Spare Parts (Imported and Local) for all Equipment and Machinery.
To control and effectively manage all the section operations through regular site visits as necessary and ensure the safety and quality to give instruction or advice.
Knows about all parts of a sewing machine.
Follow buyer specifications of garments construction and measurement during production.
Keep good relationships with the QC team and respective GPQ.
Daily tension, SPI, and speed checking of a sewing machine.

Collect all input materials; fabric from the cutting section, thread from the warehouse, Needle from the Needle, and Master plan from the Planning Department.
Collect operation bulletin sheet from IE Department and implement.
Work for efficiency increasing, and make line layout plan for best output by minimum manpower.
Sewing Supervisor Job
Sewing is the only process to convert fabric to garment. The job is especially required in the sewing section in the garments industry. More than one supervisor work in one sewing line. They report to the section in-charge or the Production manager. The sample section and the repairing section also require a sewing supervisor. You cannot think to run the garments industry without a sewing supervisor.
Responsibilities of Sewing Supervisor in Garments industry