To determine the shade variation and get the correct shade in garments, we need to control the shade in the fabric stage. Shade is a big issue for buyers in the garments industry. Complete garments may get rejected only for shade. Share variation control is the most important thing in the dyeing and printing stage in the textile industry, here we are discussing controlling shade variation in garments form. This article is about how to do Shade variation Control in Garments Industry
Shade Control points in Garments Industry
Shading Side-Center-Side, Centre to Selvedge Variation (CSV), and Running shade
Roll to Roll Shading and Color Continuity Card
Shade Band (Color Continuity Card)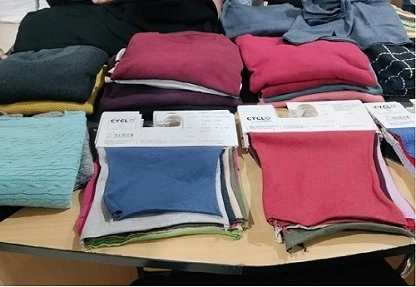 CSV & RSV(Running shade)
This Aims to determine shade variation within the roll. It covers one of the activities of fabric inspection. The execution and maintenance of this procedure lie on the fabric Inspector to check and find out the problem.
CSV- Centre to Selvedge Variation of a roll
RSV- Running Shade Variation
How to control CSV and RSV shade before cutting
To determine shading variation within a roll, the fabric inspector must perform the following tasks.
Cut off 8" of fabric across the width of the fabric at the beginning and end of the roll being inspected. Note – when cutting the beginning of the roll, do not cut the fabric mills instructions/ details at the corner.
Mark the cut ends as beginning (1), Side Middle (2), Middle (3), and end (4), and the corresponding roll and lot number.
Shading (CSV) is checked by stitching the beginning, side middle, middle and end together as below sequence 2 3 1or as required by the buyer.
CSV/ Running Shading – If a fabric is found with CSV Shading or Running shading-
Need to make garments/ Mockups using Normal and special markers (Line Marker or group).
Review these mock-ups/ garments with GPQ/ Quality & Merchant Team, and involve the buyer if required.
Decisions should be taken within 5 to 7 Days.
In case of a special marker is required, need to get compensation from the supplier.
Roll to Roll Shading and Color Continuity Card
Aim to determine shading variation between Rolls, either across the width or end to end of the roll, and Aim to check color consistency from the dyed lots. (Color Continuity Card). Need to prepare a blanket with the 8×8" swatch and write on the backside of the swatches the correct lot no/ yards/ roll no for identification. Need to attach the blankets lot-wise to verify within the roll shade variation.
Shade Band (Color Continuity Card)
To check color consistency from the dyed lots.
Cut a small sample (about 12 x 8 CM) from all rolls/ dye to the color continuity card.
Ensure that fabric swatches are labeled (Roll #, Supplier, Shade, etc) & the Shade is segregated accordingly (A, B, C, D, ETC) and approval is sought from the concerned buyer prior to pilot cutting.
Check the shades against the buyer-approved color standard (approved lab dip).
And if there is a shading variation
Identify shading trends whether they are consistent or not
Check shading relativity for possible shade groupings if necessary and get necessary approvals. Need to segregate the fabric rolls shade-wise.
You may love to read: Shade control Procedure of Woven Garments
How to do Shade variation Control in Garments Industry