China is a major global producer of textiles and clothing, so there may be many opportunities for textile engineering professionals in the country. There are 31 Textile Engineering Universities in China. So the number is not small, I can say. Some specific areas where textile engineering skills may be in demand include the development of new textiles and fabrics, improving textile manufacturing processes, and designing and implementing quality control systems for textile production. In addition to working for textile companies, textile engineers also are able to find employment in research and development organizations, consulting firms, foreign retailers, and government agencies. All top textile companies in the world have a liaison office in china for garments sourcing like H&M, Zara, Walmart, and C&A are top among them. It is important to note that the job market for textile engineers in China may little vary depending on city to city and the type of industry having over there, and it may be helpful to research and network with professionals in the field to learn about potential opportunities.
China is the number 1 county in Textile, apparel manufacturing, and exports. China is supplying fabric to other garment manufacturing companies in Bangladesh, Vietnam, India, Pakistan, and Sri Lanka. So so no question about domination in textiles. China is contributing remarkably to the global textile and apparel market. So why not in engineering universities? They are available for both graduation and post-graduation for textile Engineering. China Textile Engineering Society publishes about the top textile universities in China.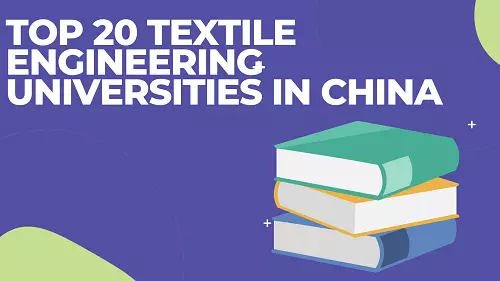 Top Textile Engineering Universities in China
Here are the top 20 textile universities in China, according to the 2021 ranking by the China Textile Engineering Society:
Donghua University
Zhejiang University of Technology
Tongji University
South China University of Technology
Tianjin Polytechnic University
East China University of Science and Technology
Qingdao University
Wuhan Textile University
Shanghai University of Engineering Science
Harbin Institute of Technology
Beijing Institute of Fashion Technology
Sichuan University
Nanjing University of Science and Technology
Hubei University of Technology
Guangdong University of Technology
Xi'an Polytechnic University
Huazhong University of Science and Technology
Changzhou Institute of Technology
Jiangnan University
Suzhou University of Science and Technology
These universities are highly regarded for their strong programs in textile engineering, fashion design, and other related fields. Not only local Chinese but a lot of students coming from foreign counties student for textile engineering higher studies in China. They have well-equipped laboratories, state-of-the-art facilities, and excellent faculty members who are experts in their fields.
Top 20 Textile Engineering Universities in China