South Korea is an East Asian country that offers Textile engineering degrees in some universities. These universities offer undergraduate and graduate programs in textile engineering, covering textile materials, Textile chemistry, machinery, and product design. Students can also participate in research projects and gain hands-on experience in the textile industry through internships and cooperative education programs. Here we discussed the Top 15 Textile Engineering Universities in South Korea and Their Contact Details.
Textile engineering education in South Korea is of high quality, with several universities offering excellent programs in the field. The programs cover various topics, including textile materials, textile chemistry, textile machinery, and textile product design, and provide students with hands-on experience through internships and cooperative education programs.
In addition, the Korean textile industry is known for its technological advancements and innovation, which creates a strong demand for skilled textile engineers. Graduates from Korean textile engineering programs are highly sought after by local and international companies in the industry.
Furthermore, the Korean government has been investing heavily in researching and developing new textile technologies, including eco-friendly and sustainable materials, providing a favorable environment for textile engineering students and professionals. Korea is good at synthetic fiber manufacturing in the Textile sector.
High-quality education, a strong industry demand, and government support make textile engineering in South Korea a good choice for students and professionals interested in the field.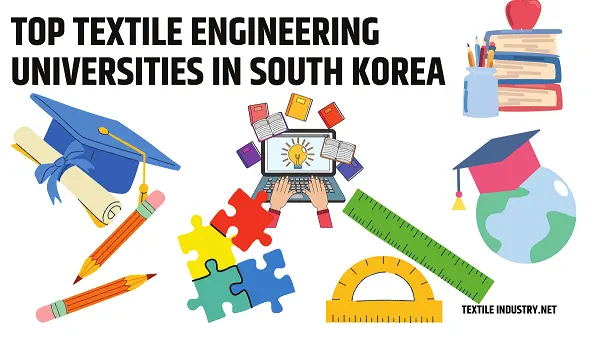 Top 15 Textile Engineering Universities in South Korea and Their Contact Details
Several universities offer excellent programs in textile engineering. Here are some of the top textile engineering universities in South Korea:
Seoul National University
Yonsei University
Korea University
Pohang University of Science and Technology
Sungkyunkwan University
Hanyang University
Ewha Womans University
Konkuk University
Hongik University
Chung-Ang University
Pusan National University
Kyung Hee University
Hankuk University of Foreign Studies
Soongsil University
University of Seoul
1. Seoul National University
2. Yonsei University
3. Korea University
4. Pohang University of Science and Technology
5. Sungkyunkwan University
6. Hanyang University
7. Ewha Womans University
8. Konkuk University
9. Hongik University
10. Chung-Ang University
11. Pusan National University
12. Kyung Hee University
13. Hankuk University of Foreign Studies
14. Soongsil University
15. University of Seoul
Top 15 Textile Engineering Universities in South Korea