Use of Lightbox color cabinet in the Textile and Apparel Industry
What is a Lightbox in the Textile Industry??
A lightbox is a color assessment cabinet, generally, it is grey in color, suitable for any industry of textile and apparel, and applications where there is a need to maintain color consistency and proper shade. A Lightbox has D65, TL84, TL83, U30, U35, CWF, and UV light sources.  The lightbox color cabinet is used in yarn manufacturing, thread manufacturing, knitwear, weaving, dyeing, printing, packaging, footwear, garments manufacturing (apparel), and garments washing factories.,
Things you need to know about a Lightbox
Lightbox cabinet color should be neutral grey.
Lights Meaning:
D65 – Artificial Daylight, the most commonly used light for color evaluation.
F- Tungsten light.
TL84 – Simulates CIE standard illuminant F11.
TL83 – Warm white fluorescent, the 2nd most commonly used light source for garments shade checking.
UV- Ultraviolet light, used in yarn manufacturing.
CWF- Cool White Fluorescent
U30 – Warm White Fluorescent
U35 or 35U-Ultralume 35
Use of Lightbox in Yarn, fabric Shade checking
The use of a lightbox is to check yarn, fabric, and garment's color and shade evaluation. The proper shade appearance come under D65 and CWF light for textiles. Color evaluation is a process to make sure all necessary raw materials color/shade are checked against buyer-approved color/shade using Light Box/Color Assessment Cabinet under designated light source (Primary and Secondary) recommended by buyers. If no specification on light sources to be used from buyers, then use TL84 as the primary light source & D65 as the secondary Light Source for shade checking. The Following Raw Materials checked the Light Box/Color Assessment Cabinet under a designated light source.  Ensure Yarn/ Fabrics/Trims Color/Shade are matched against buyer Approved standards under buyer recommended/designated Light sources (Primary & Secondary). Fabric/Trims Quality inspectors tested for color Blindness so that they can ensure accurate color Matching and shade segregation of Fabric/Trims. Light Box/Color Assessment Cabinet calibrated yearly by 3rd party to ensure the accuracy of the Light Box.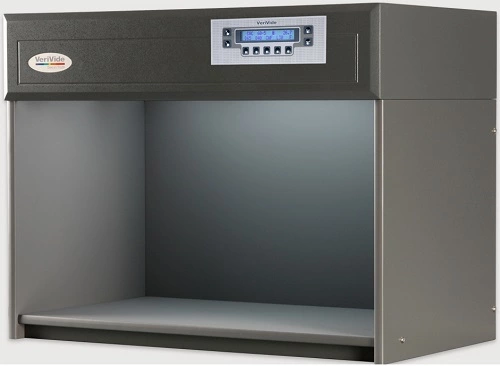 The Following Raw Materials checked the LightBox/Color Assessment Cabinet under the designated light source.
Yarn, thread
Weaving, knitting
After dyeing and printing
Fabrics swatch
Bulk fabric, shade band & color continuity shade card.
Evaluate thread color with approval.
Evaluate Zipper color.
Button Color
Footwear
All kind of packing ornaments where color/shade is important if any
Use of Lightbox in Textile and Apparel Industry