What is Button?
A button is a fastener that joins two pieces of fabric together by slipping through a buttonhole. In modern clothing and fashion design, the use of the button is now very popular. Buttons can be used not only for clothing but also for wallets and bags. From this article, you will learn about different types of buttons that differ in size, shape, materials, and even the number of holes. The early buttons were ornamental and made of bone, horn, bronze, and wood. Until the middle ages, many buttons were made of precious metals and fabrics and could only be used by the rich. In the 20th century, modern buttons were both decorative and functional. Buttons are used in garments as important accessories, the button is a common item used in any type of garment irrespective of category, garments will not do functioning without a button.
Flat button
Lapel button
Shank button
Snaps
Studs
Toggles
Fabric button
Glass button
Leather button
Metal button
Pearl button
Polyester button
Wooden button
Decorative button
Crystal button
Flat buttons are the most common type of button, and they are very flat and have two or four holes in the center. They can be easily attached by hand or with a sewing machine. In fact, one of the many advantages of choosing flat buttons is that they are so versatile that they look great on all types of clothing from shirts to dresses and slacks to skirts. And It's easy and durable to work with flat buttons. Flat buttons refer to those buttons containing a ditch middle of it, usually, the number is 2 or 4. It has different colors. Making the process of the flat isn't too hard, often used in shirts, blouses and much usual clothing. It is normal for all buttons so it's quite available you can say. It's sewed by hand machine. The text button can overshadow flat. The propagation of a flat is quite simple, made of plastic, and can be molded into any desired shape and just give the final touch of creating ditches.
A lapel button is also known as an enamel pin. It is a button or small pin that is worn on clothing, often attached to the lapel of a jacket or displayed on a piece of clothing. These are usually made of metal. Lapel pins can also be decorative or indicate the wearer's relationship with an organization or cause. Usually, Lapel pins are often used as a symbol of achievement that belongs to different organizations. Lapel pins are presented to individuals as a symbol of achievement and evoke a sense of belonging to an elite group.

Shank is the mostly used among the types of buttons. A hollow protrusion behind the shank buttons helps to attach the button by sewing. Shanked buttons have no buttonholes because they are not needed for sewing. The production of shank buttons is quite expensive. Due to the differences in the structure of shanks, shank buttons can be of different sizes, which is often considered the main advantage. One can recognize the shank button by not seeing a pit middle of it, it has a pit back through which one can attach the button with thread and sew it. Like flat, it can be sewn by hand. These buttons are carried forward for fashionable purposes too as it looks gorgeous on outfits.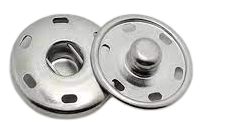 Snaps usually have two parts and are spherical. One part of a garment is attached to the other to combine the two parts. These snaps are as strong and reliable as metals and the variety f colors can make any garment more attractive. If you sew properly, they are as strong and sturdy as any other type of button.
Stud buttons are usually attached to jeans but are also used for other denim clothing, including jackets and skirts. The two parts of the stud button are connected to each other. These buttons are usually round. These are pressed together by a special tool that presses them together very strongly and, this usually gives long-lasting results.
Toggles are usually long, and round, and are used in buttonholes. Toggles are used as statement pieces, so if you want attractive, eye-catching buttons for clothing, toggles are a great choice. Many of them have two holes in the center and they are attached to the garment much like flat buttons. They are usually made of wood or plastic and come in a variety of colors and designs. They are attractive to look at, easy to use, and versatile. They can be used not only for clothing but also for various art and craft projects if you wish.
Fabric-covered buttons are called fabric buttons. Fabric buttons are used not only as upholstery but also in clothing nowadays. These buttons are made of acrylic or metal and are used to cover with fabric. These fabric-cut buttons are made with a finish that is applied to the product, making them look quite chic. However, fabric designers and velvet manufacturers often use fabric precision.
The glass buttons offer stunning styles that you can use to change the design of your favorite outfits. These can even be added to accessories and home décor. Glass buttons come in a variety of shapes, sizes, and colors and these buttons can add a gorgeous look to any outfit you sew. The glass used in the button is strong, scratch-resistant glass that is hard to break or damage, so you can wear these items of clothing anywhere.
Leather buttons add an elegant look to any outfit. These leathers may include mottled leather, woven leather, patent leather, top-sewn leather, suede leather, etc. Also, leather buttons can be round, square, rectangular, or any other shape. Genuine leather is commonly used in leather buttons, making them durable, long-lasting, and beautiful. This will help you to have a stylish look, and as a result, people will notice you.
Metal buttons are a very common type of button. Metal buttons are usually made of tin and stainless steel. You can also find buttons made of silver, brass, and many other metals. These can be large or small, round or oval, or any shape. In fact, metal buttons are quite popular in clothing. These buttons will help give you a stylish look.
The use of pearl buttons in different outfits is very fancy. These buttons are quite powerful, and since they come in dozen of colors and not just white or off-white, you can find pearl buttons that are beautiful and perfect for your outfits. Many buttons are made of real pearls or mother-of-pearl, also known as nacre. However, they come in a variety of shapes and colors. The selection of these can be quite effective to make any of your clothes attractive.
Polyester buttons are one of the common buttons. Its material is a kind of plastic which makes it perfect for all kinds of buttons. Polyester is cheap, available, great to look at, and comes in a variety of colors. Polyester buttons can be made to look like wood, pearl, or any other type of button, they come in many designs and colors for their versatility.
The main component of wooden buttons is wood. It is popular for many reasons. They are also used in clothing and decoration. Because they come in different shapes and sizes, you can use them in a variety of industries and crafts. Moreover, these buttons are quite durable and strong and can be applied to a variety of colors on wood.
With a variety of materials, designs, shapes, and sizes, innovative and designer buttons are popular decorations for dozens of different projects. These were primarily used as ornaments for clothing and weapons. Because of the functionality of these buttons, the buttons come in a remarkable range of designs. By far the most common button shape is a simple round. Buttons can be made from almost any material, although modern buttons are usually plastic, glass, or metal.
Crystal buttons are usually used as fancy and are quite glamorous and shiny to look at. Its beauty will fascinate you. It'll enhance the beauty of your outfit so much that people will notice you. These buttons are of different shapes, but these buttons are not available and are quite expensive compared to other buttons.
So there are many different types of Buttons used in the Garments Industry as buttons are part of garments decoration and Fashion.
Different Types of Buttons used in Garments Industry