Trims/ Trimmings definition
Trims can easily be defined as the raw material used in garment making other than fabric. They are directly attached to the garment and help the garment to get together. They add a styling element to the garment. Without fabrics and trims, the rest items used in garments are called accessories. Materials like: Threads, buttons, lining, Interlining, zippers, labels, care labels, interlining, elastic, etc. are a few examples of Trims. The term trim is the same for garments and fashion and is used in both fashion and garments. Trims in the fashion industry are very important as well as Garments. Apart from fabric, what more do we need to make cloth, is trims. In this article, you will understand what are the Different Types of Trims used in the Garments industry.
Trims are Categorized Into Two Types
1. Visible trims: As the name suggests, trims are visible on the outer side of the garment, like Button, Label, Sewing Thread, Zipper, Velcro, etc. Visible trims are more important than invisible. 
2. Invisible trims: These trims are the ones that are used inside or inner side of garments, cannot be seen from outside of the garments, like Interlining, linning, etc.
Requirements of Trims to use in the Garments Industry
It is necessary to choose the trims for the fabric with special care for improved garment quality to make sure the quality of the garment is not hampered in the making and use of the garment.
Trim Life: Garment trim quality should be good for it to last long on the garment.
Trim Shrinkage: Trims should be tested for shrinkage before using it in a garment to avoid shrinkage.
Trim colorfastness: Having a colorfastness test for the trim will help choose the correct trim that does not fade or bleed spoiling the garment.
Comfort: Trims selected should be comfortable for the garment.
Correct dimension: Wrong dimensional trims will not work or harm the beauty of garments. All trims have specific specifications that must have to be maintained.
Trims Color: Trims color must have to match the color of the garments. It is recommended to use DTM (Dyed to match) thread and buttons in clothing.
What are Trims of Garments Industry
Button
Sewing Thread
Zipper
Motif
Rivet
Twill tape
Shoulder pad
Lining
Interlining
Hook & Loop
Hook & Eye
Padding
Elastic
Label
Cord
Eyelet/ Grommet
Seam Sealing tape
Lace
Braid
Different Types of Trims Used in the Garments Industry with Description
Button
The button is a kind of trim used most commonly almost with all garments. They are the most popular trims that are multifunctional, they can be used as garment fasteners and also as a decoration. Materials used for making buttons are plastic, wood, metal, fabric toggle buttons, and more. Types of buttons are Flat buttons, Shank buttons, Stud buttons, Toggle Buttons, Decorative Buttons, Snap Buttons, etc.; among them, flat buttons and Shank buttons are most commonly used in the garments industry. There are different types of styles, colors, and designs found in different types of buttons. Button plays a big role in clothing fashion in this era.
Sewing Thread
Sewing thread is a mandatory trim for manufacturing a garment. the trim ensures all the elements are securely joined with each other. One cannot knit or weave with a sewing thread, only used for stitching. Materials used to make a thread can either be natural or synthetic or blended with natural and synthetic. Types of threads are Core spun Thread, Multifilament Thread, Textured Thread, Monofilament Thread, etc. Sewing threads are also classified by their count number and number of ply in it.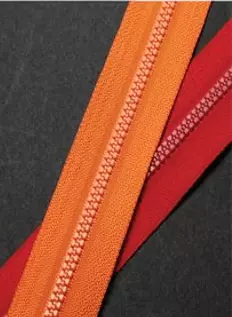 Zipper
These trims are other essential trims used for garments. They are sliding fasteners that interlock. The teeth are attached on the edges to the twill tapes these tapes can be attached to the garment. It is used for opening and closing some specific parts of a garment. They are multifunctional and used for essential and decorative purposes. Types of Zippers used are Regular zipper, Invisible zipper, Separated Zipper, and Continuous Zipper. Materials used to make zippers are plastic, metal, nylon, etc.
Motif
The trims enhance the beauty of the garment. They can be attached outside the garment for decorative purposes. A few motifs can be in the form of symbols, logos, etc.
Rivets
They are permanent mechanical fasteners. The trim has two components a smooth cylindrical shaft with a head and an opposite head called a tail. They are punched into the garment to fasten two ends of the garments.
Twill Tape
Twill tape is a woven fabric trim constructed like a herringbone twill. The trim can be made with both natural fibers like cotton, linen, etc., and synthetic fibers like polyester. Twill tape is used as reinforcements.
Shoulder Pad
The trim is used in a tailored garment. They enhance the appearance of the garment making it attractive and comfortable for a long time. Shoulder pads are used for both functional and decorative purposes. There are multiple materials used to make shoulder pads with foam being the most popular material. It is widely used in coats, blouses, etc.
Lining
The trim is used inside the garment. Lining can either be of woven or knitted fabric. Smooth and lustrous fabrics are used as a lining, joined by sewing with the main body fabric. It provides comfort and insulation to the wearer. The trim helps increase the stability of the garment.
Interlining
The material is used between the shell fabric and lining in the garment as a reinforcement. It helps control the shape of the garment. It improves clothing performance. So interlining is necessary for every garment. The trim is generally used in collar, cuff, facing, the front part of jacket and coat, waistband, etc. It can either be fused or sewn to the fabric.
Hook & Loop
The trim is made of two thin plastic strip sheets, covered with a tiny flexible hook and the other with loops that cling together when pressed together and can be separated when pulled out. Different types of hook and loop fasteners in the market are woven, knitted, non-woven or high-tech hooks (HTH). This fastener is also used instead of buttons or zippers. The trim is popular under the trade name 'Velcro'.
Hook & Eye
The trim closure is a simple method of fastening clothing parts together with the help of different sizes of hook and eyes varying from sizes small to large. They are used in less stressful areas on the garment. They are mainly made of metal or a combination of thread and metal.
Padding
The trim is a thin soft material that is used inside clothing products. It is generally used in jackets, bras, or other outerwear made of synthetic fiber like polyester.
Elastic
Elastic is essential trim used to make the garment more comfortable for the wearer. Materials used to make the trim are rubber or elastic cores that are wrapped in polyester, nylon, or cotton fiber and then knitted, woven, or braided. Elastic is mostly used in boys and ladies items.
Label
Labels consist of information such as size, fiber composition, brand name, care instructions, etc. of the garment. They are made of woven fabric or paper and attached while sewing the garment mostly on the inner portion of the garment. There are many types of labels found in the garments industry, but a care label must have been in a garment.
Cord
The trim is made by twisting or plying two or more strands of yarn together. They are used in several textile arts including dressmaking, upholstery, macramé, and couching. A soft cotton cord forms the filling for piping.
Eyelet/ Grommet
It is a two-part piece of metal or other material that can be pressed together to secure or reinforce a pre-punched hole in a garment. It allows drawcords to go through and are an important trim for hoodies.
Seam Sealing tape
They are adhesive tape that helps prevent humidity and water penetration in the garment while providing extra strength to the seams.
Lace
Lace is also used in garments as trims, a very expensive material. Specially used in home furnishing, cuff, collar, and other garments.
Braid
The material is also called trims, which also have been used in garments. Braid is used to tie the garments and used as a design. It is a decorative trim, very much useful for the fashion industry.

Written By:
Akanksha Tapan Kumar
Garment Technologist
National Institute of Fashion Technology, Delhi (NIFT)
Email: [email protected]
You may love to read: Trims and Accessories used in Garments Industry
Different Types of Trims used in the Garments industry