Washing is one finishing process that increases the appearance of garments, making the product softer. Garments look glossier, washed garments are more comfortable to wear. The purpose of this content is to describe the standard procedure for washing quality inspection. Garments wash control to ensure quality is supplied to the finishing process. We cannot avoid this washing process in garment manufacturing. This content is all about Washing Quality check Points in Apparel Industry.
Washing is a chemical process that also includes sand, stone, and destroying processes in some cases. This is the highest most sensitive process in garment manufacturing. A small mistake in the process leads the whole garment to get rejected. So here is the most important role to play in quality control. Here we will discuss quality control checkpoints of garment washing.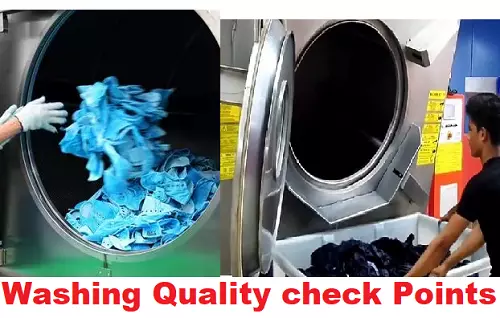 Quality inspection/ check Points of Garments Washing
Ensure Shade label/ Shade wise bundle– This has to ensure before sending goods to washing. Label attach and bundling is on the sewing section.
Delivery to Washing and Receive from Washing- In most cases, washing is not in the same facility, so the send and receiving should be organized way.
Shade band Check with standard & Get Shade Approved– This task of the fabric inspection stage. The approval comes from the buying house wash technician.
Send Approved Shade Band Copy to Washing Plant & Garment Factory– Approved shade band to share with both locations.
Approved 1st batch Shade sample– Starting with the bulk production, the 1st batch needs to get approved.
Check for off-shade and confirm- Shade appearance is the key factor after the washing process. Checking whether the shade is matching or not.
Check for Spots after the washing process- Sometime sop occurs in washing.
Check for Lycra Damage– Lycra fabric is prone to damage in the washing process. So focus on lycra breakge
Check for any tearing–
Check for broken seams–
Check for label bleeding and label coloration–
Check zipper damage /button damage–
Check to pocket for coloration/stains–
If ok then sent those to the Finishing section–
If not ok then sent back to the washing plant.
Inform the Senior/Manager of each defect case and make a report–
Get CAP from Wash Factory, for any return Lot. and inform the QC manager/In charge
Inform the Embroidery factory of the defect and provide a specific defect summary
Send defective parts for rectification
Replace rectified parts in the same bundle in the same serial–
In the case of a damaged body. Ensure remnants from the same shade/roll are utilized–
Get RCA & CAP from Embroidery Unit
Finally, Make a wash Inspection report-
Additionally, You may love to read: Washing Quality Control in the Garments Industry
Washing Quality check Points in Apparel Industry