Washing is an important and sensitive operation of the Garments Industry. That is why many garment industries do not have their own washing process, they go for subcontracts for the washing process. All of the tasks are to be able to identify possible washing problems and take corrective measures in bulk. washing quality control ensures that the defects are being addressed, controlled, and prevented promptly. This article is about Washing Quality Control in the Garments Industry. Here are all the works given below.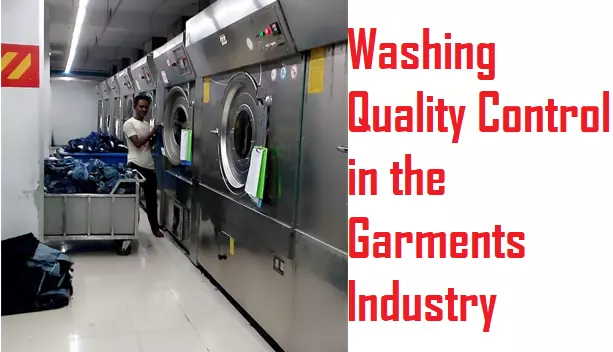 Wet & Dry Processes Control
A. Making Blanket
1. The blanket procedure is followed strictly.
2. The blanket must be made within 72 hours of receiving the bulk fabric.
3. The size of a piece of fabric in the blanket is at least 8" (Warp) x 8" (Filling).
4. The fabric swatches must be stitched in one another in the same manner (should not change the direction of warp and weft of the fabric).
5. On the Back side of each fabric swatch, the roll identification number must be written.
B. Evaluation of the Blanket
1. The washed blanket has to be unstitched and fabric swatches must be reviewed under the buyer-wise approval lightbox.
2. The shade grouping is to be reviewed under the same light source as above, suggest factory work with laundry technician for decision making on shade grouping.
3. Then the shade families have to be named as A, B, C ….or color tape for easy identification from cutting throughout laundry washing.
C. Trials on leg mock-up for wet/dry process standards
1. Washing has to do trials/tests to setting up basic steps of dry & wet processes standard for sample & production guide. 
a. Similar amount of abrasion/ optimal hand sanding Intensity Vs approval standard.
 b. Similar ground color before/after bleached.
 c. P.P. Spray solution of concentration.
 d. Specific dyestuff & amount of tinting used on the standard recipe.
 e. Standard washed recipe.  
2. Then for the next steps like shade band and first batch. The above-created standard will provide easy guidance during production replication. 
D. Shrinkage Test
1. Original recipe Sequence needs to be followed exactly
a. Washing Temperatures
 b. Chemicals
 c. Time
 d. pH
 e. Dryer/Oven temp. and time
2. Especially with Spandex, must be very careful with the wet and dry process.
 3. Maker should test the fabric shrinkage,
 a.30% for Non-Stretch fabrics
 b.100% for stretch fabrics Procedure(c×w Z)
Washing Approval Procedure
Shade band approval
Purpose: To evaluate bulk fabric shade upfront bulk production to ensure all shade lots are within an acceptable range. To set up an acceptable shade range for factory bulk production guidelines. 
1. Shade band has to be made as per buyer demand.  
2. Washing must select the fabric rolls out of shade groups and decide how many shades will make and send for approvals after reviewing the shade groups. 
 3. If the finish contains any dry processes, they must do hand sanding as per the original standard level on one side of the leg panel to identify sanding intensity, PP Spray level & tinting color cast if necessary.
B. First Batch Approval
 Purpose: To approve a washed sample before bulk washing for production reference.
1. Washing must get first batch approval before starting bulk washing.  
2. When the first output comes from bulk sewing or pilot run garment quantity is sufficient for one load of bulk washing, washing does the dry processes if required in the actual standard. 
3. First batch garments have to be actual bulk production load size and adjust the provided recipe for matching closed to actual standard if needed.  
4. Washed garments to be reviewed under the available light box with dry processes in charge, wet processes in charge, quality in charge in washing.  
5. If washed garments fall out of the acceptable shade range, go for 2nd trial in the same manner and adjust on necessary dry/wet processes for close to standard.   
Shade control in Garments Bulk Production
1. Shade band to be covered all shade lots in the bulk fabric. Any different shades of fabric must be addressed immediately and must take necessary action along with buyers.  
2. New fabric shade range can be submitted for consideration. 
 3. To control the bulk washing shades, garments have to follow the shade family defined based on blanket procedures in cutting and sewing and sending the goods to washing.  
4. Cutting department must strictly follow the shade families and lay the fabric accordingly and they must issue the cut panels to the sewing line with the correct identifications of the shade families.  
5. In the sewing lines, they must follow the same, and at the end of the line, they must put a shade label, color sticker, or thread on the garment to identify the shade families A, B, C….. Etc.  
6. Washing QA has been segregated shade-wise before sending to finishing.
Garment Dye (100% Cotton)
Minimum Requirements
a. Garment must be PFD (Prepared for Dye) or RFD (Ready For Dye).
 b. Washing should have Lab Dip machines to do color matching in the first stage to identify the color combinations or need to have the source for Lab dip.
 c. Dying machine must be equipped with very correct water and temperature meters.
 d. Dying machine should equip with an RPM controller or inverter to control the RPM. 
Process Steps
Based on the lab dips, washing has to do the blanket test to see the fabric variations if any.
Based on the blankets, the shade band will prepare from leg mocks and get a fairly good range for the bulk over dying.
Washing must take the approvals for the first batch from the bulk load and shade range approvals from the bulk load.
Before preceding the bulk, washing must make sure to get all testing to be passed.  
If the fabric is changed, a new lab dip should be prepared for the previously done color. 
Use extra leg tubes to check the shades while garment dyeing and not garments. 
Keep before dyeing fabric cutting for records and fabric cutting before every color addition.
Also, keep fabrics cut before doing another washing process such as enzyme in order to keep records of shade change.
Washing Quality Control in the Garments Industry