Mesh fabric, with its distinctive open-weave structure, offers a unique combination of breathability and versatility. A textile characterized by its distinctive open-weave pattern offers a world of possibilities. It's a unique material that provides breathability, transparency, and versatility. In this article, we'll unravel the essence of mesh fabric, exploring its structure, properties, and the myriad of applications it serves in fashion, sports, industry, and beyond.
Mesh fabric is a popular grid or net fabric manufactured in 1888 by British Textile mill owner Lewis Haslam. Haslam's one curious discovery is creating a remarkable history in clothing brands. He experiments with some sort (loosely knit fabric) of fabric that is excellent for elasticity, breathability and strength, and firm bindings. He accompanied Aertex, the genuine founder of mesh fabric, and made a joint venture(1880-1980s).
Wovening a cloth with this mesh fabric will last for a more extended period. Most people love it for its shiny appearance, soft textures, and stunning color contrasts. Due to its many advantages and intriguing popularity, it is challenging to find an authentic mesh.
However, in this guide, you will get everything from top to bottom, including what mesh fabric is, what kind of material it is, norms, and all. Let's go into the depth of this conversation.
What Is Mesh Fabric?
Mesh fabric is a particular type of cloth that looks like a grid or net. It's designed to let air and light through, and it's used in things like sports clothes and even in making bags.
Mesh fabric is a fabric with a mesh look. It was made by the textile owner looking for a breathable, extreme heat resistance wool that can withstand extreme heat when the temperature changes. The owner of woven mesh fabric at first decided to produce fabric with looms. He maintains such a way that can open a space between the two yarns so that the textures, colors, and sewing quality of the cloth remain sustainable, lingering, and durable.
This sort of fabric, at first, was initially caught by the eyes of sportswear manufacturers. However, due to many improvements, this fabric is now the most popular clothing material for the fashion industry as well as the medical industry.
What Is Mesh Fabric Made Of?
Mesh fabric is usually manufactured by maintaining different techniques that rely on the type of fibers. Many sorts of mesh fabric will be made by following some different norms. At first, both the polyester and nylon materials were refined with petroleum oil. During this process, polyamide monomers will be extracted from both fabrics and start to react to make polymers.
These produced polymers become solid after the procedures. After a while, they're melted and thrown into the spinnerets for making strands. Once cooked, they are loaded onto spools and shifted into a textile manufacturing process to convert into mesh fabric. Sometimes, these mesh fabrics die with different colors to make other colored types of clothing with them.
What Is Mesh Fabric Used For?
Mesh fabrics are well known to conduct different materials, including swimwear, mesh material shoes, fishing net bags, and many more. This type of mesh fabric is prevalent among athletes. It is used in football, basketball, wrestling, rugby, and other majority types of sporting raggery available on the market. Mesh material shoes could be your top priority for their breathability, comfort, and amenities. In addition, some types of mesh fabric for their softness and coziness are used in bras and other feminine lingering. Also, some different types of mesh fabric are for making gym suits, athletic wear, and others. Many popular brands such as Nike, Adidas, and others are well-known for elasticity and visually appealing shapewear. You can also find some types of mesh fabric for tents
Different Types Of Mesh Fabric
You will find mainly a few different types of mesh fabric for weaving clothes and other multiple types of belongings. Herein is a short overview of them with in-depth analysis
Nylon Mesh
The mesh has minimum or very low elongation, is very strong, and is high temperature resistant. Commonly used to make clothes visually appealing, and lightweight. Commonly used in garments like evening wear, tent screens, and laundry bags.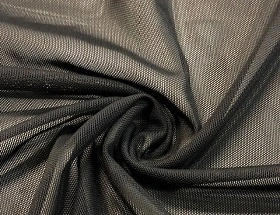 Tulle Mesh
it is a very lightweight, fine, low GSM, and net-form type material. Generally used for brightly colored dance garments, the only material is silk, sometimes found made with polyester and nylon. Generally used in Dance garments, shorts, and undergarments.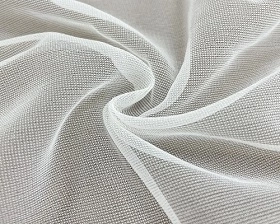 Power Mesh
Nylon and spandex blended stretchy material, especially for sportswear and compression garments. It is a famous trademark for breathability, strength, and elasticity. People know it for its sheer appearance. We can use mesh in Home decor, shapewear, and other garments.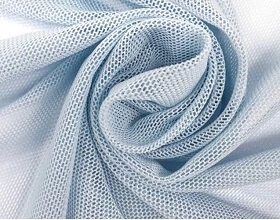 Powernet Mesh
It is an excellent material for dense weaving-type clothes, and robust, cozy, and dusty looks. top tights, bras, controlling slips, and sometimes in Powernet.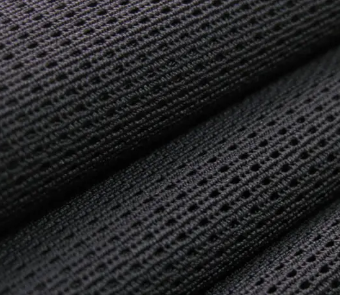 Polyester Mesh
It is incredibly light to use, can retain much moisture, and doesn't bog in heavy sweating. Uses Sports, athletic wear, and other vestments.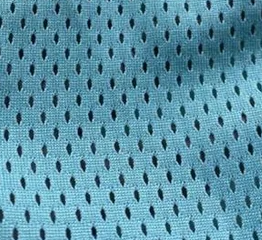 Is Mesh Material Waterproof?
Yes, most of the mesh materials are waterproof, and they retain water very well. This is for their inherited material, called nylon, polyester, and spandex. Not only this, but due to its non-abrasive breathing capabilities, mesh materials are used in sports, tent, and raincoat manufacturing companies.
Mesh fabrics, which have strength and extra comfort, are now used in tunics and other types of lingerie. Water-resistant fabrications are also found in the automobile seats and bike's backside to produce extra comfort for the rider. The most well-known material, like,
Laminate in polyurethane
A thermoplastic material/TPU
Cotton from ELS
Dresses with oil
Textiles that breathe, like microfiber and wool
Latex and natural rubber
FAQs-
1. What Is Mesh Fabric Made With?
Mesh fabrics are commonly made with stereotypical materials like cotton, nylon, polyurethane, latex, and natural rubber. It is sometimes found in ultra-soft spandex in sports shoes.
2. Is Mesh Fabric Good for Summer?
Yes, mesh fabrics are suitable for wearing in summer. They're ideal for dealing with excessive heat and moisture for escaping quickly from warmness.
3. How Long Does Mesh Last?
The mesh material lasts more than 6–18 months. It may break down or last longer than the prediction, depending on materials and its maintenance.
Final Wrap
To summarize, mesh fabric is a versatile, net-like structure with regularly spaced holes or gaps between threads or yarns. This unique construction offers a wide range of functional benefits. Whether you're in search of what mesh fabric is, then get the idea from above.
It is mainly a comfortable, durable-like material that plays a vital role in various sorts of fields, including home decor, items of clothing, outdoor gear, etc. It meets all the demands of comfort, functionality, and style. Besides, remember to wash them off properly. Wash them with lukewarm or low-temperature water. Try to dry-wash the mesh fabric to get better outputs. Also, avoid ironing the clothes since they may burn or be worn out.
What is Mesh Fabric? Different Types of Mesh Fabric