Fashion speaks to us immediately. Without having to speak, you can express who you are via your style. Being admired for your fashion sense is what defines elegance, not sticking out. Designers and trendy people provide you with fashion four or five times a year. The public's needs and emerging trends must occasionally be taken into consideration by designers as they build new styles. They must use elements and adhere to design standards while achieving this. Here we go talk about the 5 Basic Principles of Fashion Design.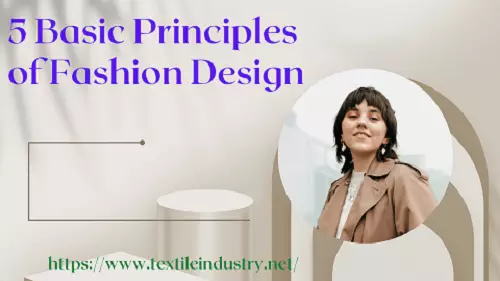 The Principles of Fashion Design
The structural components of a design are organized or arranged according to certain principles. Every designer in the field should abide by certain principles, which are fundamental ideas and rules. There are five key principles in fashion design that are then applied to the fundamental design of the garment. They offer instructions on how to appropriately mix the five design components to produce consistently elegant designs. The following are the top five guiding concepts for fashion design:
Balance
Proportion
Emphasis
Rhythm
Harmony
1. Balance
As it pertains to our feeling of physical balance, balancing is the idea of visual equilibrium. Visual stability is the outcome of the conciliation of conflicting forces in a composition. When pieces and details are arranged properly and the clothing is overall stable, this is what is meant by balance. Visual harmony results from well-adjusted clothing. Balance is an important element in fashion design as it can affect the overall aesthetic and stability of a garment. There are two distinct approaches to fashion's balanced design. Such as-
Symmetric Balance
Asymmetric Balance
Symmetric Balance
As a formal balance, it also goes by that name. When design elements are arranged in a way that makes an object repeat, formal equilibrium is achieved. Asymmetrical balance can be just as effective as symmetrical balance in certain situations, such as when a straight hemline is used. Asymmetrical necklines have become more common during the past few years.
Asymmetric Balance
Informal balances are asymmetrical balances. When a repeating design element makes an object appear unbalanced, this is known as informal balance. Balance that is asymmetrical is more difficult to attain and more complex. For instance, a one-shoulder dress with an asymmetrical neckline can look fascinating, but a jacket with one lapel that is wider than the other would merely seem unattractive.
2. Proportion
When all parts (sizes, amounts, or numbers) connect well to one another, a sense of unity is established. The proportion of a human figure can be understood as the relationship between the size of the head and the rest of the body. According to size, color, and quantity, proportion in art refers to the comparative harmonious relationship between two or more parts in a composition. Most of the time, the proportion is only recognized when something is out of proportion. It is considered to be "out of proportion" when the comparison between two things seems incorrect or unbalanced. For instance, we would argue that a person is out of proportion if their head was bigger than their entire body. Greek mathematicians created a criterion known as the "Golden Mean" that is frequently used to determine what a fair proportion is.
3. Emphasis
The focus is on the areas of interest within the chosen design discipline. Typically, designers will use contrast to highlight one area in relation to other areas. The region might vary in terms of its size, color, texture, shape, etc. Common facts to emphasize include:
Emphasis using value (light and dark).
Emphasis on atmospheric perspective and complementary hues.
Examples of subordination and emphasis in art.
Highlighting with color
4. Rhythm
When one or more design components are employed repeatedly to convey a sense of planned movement, rhythm is produced. Similar to music or dancing, rhythm may set a mood. Variation is crucial for keeping rhythm interesting and lively. Although repetition can be a useful tool for guiding the eye through a design, it can soon grow boring if there isn't any diversity. Think about how quickly you want your material to be seen by viewers. Your audience's brain will register your design more quickly, but it will also grow bored more quickly, the more repetition you utilize. To maintain interest, try including a few small modifications into your repeat.
5. Harmony
It also goes by the name UNITY of design. To prevent a disorganized or lifeless design, unity and variation must be struck in a suitable proportion. In a piece of art, unity refers to the sense of harmony that permeates every component and gives the piece a sense of completion. It's challenging to define the concept of unity. The aim for the overall look is ensured by unity.
Fashion design is the art of creating clothing and accessories. It involves conceptualizing ideas, sketching designs, and creating prototypes and samples. Fashion designers work with lots of materials, colors, and patterns to create unique and desirable styles. They specialize in a particular type of clothing, such as women's wear, menswear, children's wear, or accessories. Fashion designers work for a fashion house or brand, or they are self-employed and create their own collections. Some fashion designers focus on creating a specific type of clothing, such as outerwear, activewear, or swimwear, while others work on a wide range of clothing and accessory items. The fashion design process typically involves researching current trends, sketching and prototyping designs, selecting materials and production methods, and overseeing the production of the finished product. So the Principles of Fashion Design involve all of these things.
5 Basic Principles of Fashion Design