Application of AI (Artificial Intelligence) in the Textile and Apparel Industry
Introduction
In today's scenario, it is a proven fact that textile manufacturing and apparel is a major industry. It is simply based on the conversion of fiber into yarn, yarn into fabric, and then fabric to apparel that is into fashion. Nowadays, the scope of textiles is not only limited to clothes, it has been extended to create useful goods such as clothing, household items, upholstery, and various industrial products. Today, a variety of the latest fibers are used to produce yarns as well as fabric. Although Cotton remains the most important and primary natural fiber, so is treated in depth. If the spinning process is being considered, there are many variable processes available at the spinning and fabric-forming stages combined with the difficulties of the finishing and dying processes to the production of a wide range of products. Here I present the Application of AI in the Textile and Apparel Industry.
So, today Artificial intelligence is becoming an important and powerful tool for manufacturers to improve quality, increase production, minimize operating costs, and exercise inhouse control over production amounting to lesser lead times. Even, many developed countries have started implementing artificial intelligence (AI) techniques to their advantage. It is time for everyone to use this tool. AI systems are one of the hopeful benefits available to the textile and apparel industry to blend elements such as production, quality, cost, information, statistical process control, and just-in-time manufacturing.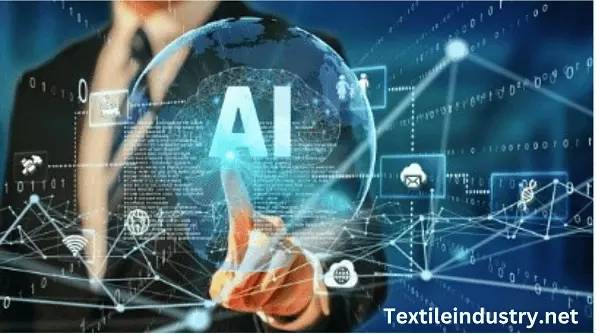 Application of AI in the Textile and Apparel Industry
1. Yarn Manufacturing
Nowadays, due to the emergence of AI, each phase of the production process has been changed directly from blow room to carding, drawing, lap formation, combing, speed framework, ring spinning, winding, packing, and conditioning. Now whatever the required production parameters are there with little human participation are recognized and finalized by AI-based control panels.
It also has the benefit of cost reduction and quality. It is also found that the yarn prediction by enumerating spins has gained more precision. Because of the application of AI, it has minimized yarn grading mistakes to as much as 60%, which directly leads to enhanced textile grading. Due to AI, it's possible to measure the physical characteristics of a fabric more easily and classify the comfort of textiles objectively.
2. Examining fabric patterns
 With the help of artificial neural network (ANN) technology, problems in models like knitting and weaving are more easily detected. AI-enabled view-based inspection can increase efficiency by minimizing human error. For instance, Cognex Corp.'s Cognex ViDi is an example of AI technology that can automatically analyze fabric patterning. AI-assisted inspection of fabric designs accelerates production by reducing pattern flaws with the least amount of labor and the highest level of accuracy. AI in Textile and apparel can also be used to detect fabric flaws, which historically required manual labor to check the quality of each material separately. Manual detection takes a lot of time and effort, but it can make the process go more quickly and with fewer intrusions.
3. Fabric grading
In the textile industry, it is possible to grade fabrics more objectively and to manufacture more consistent results due to machine learning. Because of the AI role in the garments industry, the fine, solid, and staple fiber lengths are more precisely determined. For eg, nowadays, wise eye technology is available which is capable of detecting fabric faults. Today, for monitoring the fabric accurately, a high-performance LED lighting device is produced by the machine with a powerfully coupling high-resolution camera to be mounted up to 90% by an electric motor.
4. Pattern Making
Whenever the operation in the textile industry is concerned, model cutting and design making are very important, where materials are cut to the prescribed design, and various patterns are formed on the fabric. So, the aid of CAD, it enables computerized patterns to be produced in which designers and pattern makers can build and digitize the basic structure of the patterns. Basically, CAD is used to cut patterns, where 3D pictures of fabric and concepts are provided, which makes it easier to display.
5. Sewn seam
In the sewing process, basically, seams and stitches are used to join two or more pieces of fabric together. There is an important attribute called "sew-ability" which simply means the seam formation and the performance of the seam. The factors that can affect sew-ability are fabric low-stress mechanical properties such as tensile, shear, bending, etc. So, here AI comes into the picture, where it can be used to find the sew-ability of different fabrics during production.
6. Production planning and control
Production planning and control (PPC) means coordination between various departments of production so that order completion dates can met and buyer orders are delivered on time and in full quantity. So, here also application of the AI, can be done to solve the machine layout, operation assignment, sewing line balancing, etc. AI can help in achieving the main function and motive of PPC.
7. Supply Chain Management (SCM)
Supply Chain Management in the textile and apparel industry includes the flow of fibers, yarns, fabrics, garments, trims, and accessories between different production points or to final retail. SCM combines various business processes, activities, information, and resources for creating and enhancing value for the buyers. So, with the help of AI, this function can be performed very smoothly and can manage the cost and business competitiveness.
8. Merchandising
Another area where AI may be used is in merchandising to analyze and interpret information chunks, personalize customer experiences, monitor consumer behavior, and forecast market trends. Artificial intelligence (AI) can provide the best possible connection between manufacturers, manufacturing, retailers, and customers thanks to technologies like data analytics, NLP, and virtual assistants.
9. 3D Scanning and Printing
Due to AI, the advancing technical possibilities in the 3D printing and 3D scanning sector make developments possible that will definitely transform production and trade in the fashion and textile industry. As per the latest developments in the technology clothing and shoes will soon be coming out of the 3D printer in a customized way, new possibilities will open up for functional textiles, and 4D printing will take the 3D process to a new level with very innovative applications.
It's not only 3D printing, in today's, era 3D technology itself is changing the entire value chain in the apparel industry starting from design and prototyping to the finished product and its delivery.
Till the last decade, the designer has designed a product with two-dimensional materials and then created one or more cost-intensive prototypes and sample collections before the product could go into mass production. These cost drivers can now be replaced by a virtual 3D simulation model. The software is now highly mature enough to test cuts on virtual-size avatars as well as colors and patterns. Even, it is found that the folds and movement of the avatars are also realistically simulated. The 3D simulation makes the creation of the collection faster, more accurate, and more cost-effective. It results in reduced, prototype production time and waiting time, and variants are possible at any time. This gives the company more flexibility and enables it to react much faster to new trends.
AI's Effects on the Textile and Apparel Industry
1. Customer Involvement
Customers are still irritated and complaining about not getting prompt assistance or service, thus fashion businesses are continuously under pressure to deliver what customers want almost instantly. The fashion industry is working to make customization more prominent during the shopping experience thanks to this cutting-edge technology.
From humanized advertising notifications to price reductions, to chatbots who can answer inquiries or dispel uncertainties, to personal style. AI can instantly offer consumer suggestions, helping fashion firms achieve their goal of improving customer satisfaction.
2. Apparel Retail
Fashions that are in style around the world are what drive e-commerce in the apparel industry. AI enables computers to recognize photographs and recommend online products that customers are more likely to purchase. Artificial intelligence skills enable e-commerce platforms to take advantage of information about customers, their preferences, and the similarities and variances in the products and services they look for. AI can actually produce a customized shopping experience in this way.
3. Finding Trends by AI in Textile and Apparel
Considering how quickly fashion trends change, it is evident that predicting them is not only challenging but also time-consuming. Analysts have to painstakingly scan past fads, social media trends, and customer preferences to predict the next big thing. Professionals might or might not be able to predict their actions precisely.
The AI tool studies historical fashion data, evaluates consumer requirements and preferences, assesses competitor activity, and spots market trends after being trained in data quality and quantity.
4. Computer-Aided Design
A completely new style could be created by AI algorithms by analyzing and learning from buried photographs. Numerous technological giants are already making significant efforts to use the technology since the promise of AI in design has been realized. For instance, a team of experts at Amazon created an AI technology that can automatically create a brand-new fashion design after analyzing and comprehending images.
5. Augmentation Learning
The manufacture of clothing, in particular, involves a series of operations that are repeated. AI may be used to teach computers to take various actions based on situational conditions through reinforcement learning. In certain circumstances, it is best to make the best decisions that are possible. In this approach, AI can be applied to a variety of operations, including line balance, inspection choices, and cut-order planning.
6. Enhancing New Application
Similar results can be achieved through smart clothing and electric sensing technologies, much as fitness trackers help their users lead healthier and more attentive lives. However, because you interact with your body more than you do with a smartwatch, your clothing can provide more types of physiological signal monitoring than a smartwatch.
Critical biometrics like our heart rate can be continuously monitored with the help of smart clothes. Medical professionals can more accurately identify or diagnose likely heart diseases with more practical long-term surveillance. Patients who wear smart clothing can gather comprehensive and detailed cardiovascular data, track chronic cardiovascular conditions, and improve cardiac detection and diagnosis through ongoing long-term monitoring. That's all about the Application of AI in the Textile and Apparel Industry.
Conclusion
Even in industrialized nations, the use of AI in textile technologies is still not very common. Potential AI technologies could greatly help the production and quality control issues that plague the textile sector in emerging nations. The textile sector is increasingly using AI technologies. Being seen as being capable of accurately and rapidly handling complicated problems is essential to remaining competitive. Many tasks, including production and quality control, are mostly handled by human hands in the labor-intensive textile business. With AI innovation, efforts are undertaken to create solutions that will increase such activities' efficiency and efficacy. The fundamental operations of detection, identification, inspection, grading, machine vision, prediction, etc. form the foundation of AI technology.
References: 1. Ding, Y, Xu, YIntelligent optimal selection of garment sizes by using Immune Algorithm and AHP method
2. AI in The Textile Industry – Applications and Impact, by Manisha Sahu
Sep 06, 2021
https://www.analyticssteps.com/blogs/ai-textile-industry-applications-and-impact
3. Application of Artificial Intelligence in Textile Industry, Mr. Tesfay welamo1, Professor Deng1Sanpeng, Robotics and Intelligent Equipment Research Institute, Tianjin University of Technology and Education, Tianjin, china
4. https://www.textileblog.com/applications-of-artificial-intelligence-in-textile-industry/
5. Yao, Mariya. "4 Unique Challenges Of Industrial Artificial Intelligence". Forbes. Retrieved 9 May 2017.
Application of AI in Textile and Apparel Industry