Logic Software Limited is the country's leading and largest ERP software company in the world of software used in the textile and garment industry. Over a long decade, the company has consistently been 100% confident in the service, reaching a unique height. With the help of logic software, Bangladesh's garment sector is leading the world in competition. Here I present a details case study on the Application of Logic ERP Software in the Apparel Industry.
Key Features of Logic ERP Software in the Textile and Apparel Industry
1. Streamlining Production Processes:
Logic ERP helps textile and apparel companies streamline their production processes by providing real-time visibility into manufacturing operations. This includes tracking raw materials, WIP (work-in-progress), and finished goods inventory.
It facilitates production planning and scheduling, optimizing resource allocation, and reducing lead times. This leads to increased production efficiency and cost savings.
2. Inventory Management:
Effective inventory management is crucial in the textile and apparel industry, where a wide range of fabrics, accessories, and finished products need to be tracked.
Logic ERP enables businesses to maintain optimal inventory levels, reducing excess stock and minimizing the risk of stockouts. This leads to lower carrying costs and improved customer satisfaction.
3. Supply Chain Integration:
Logic ERP software can integrate with suppliers and distributors, providing end-to-end visibility into the supply chain. This ensures that materials are sourced efficiently and products are delivered to customers on time.
It helps in demand forecasting and order management, ensuring that businesses can meet customer demands while minimizing excess inventory.
4. Quality Control:
Maintaining product quality is essential in the textile and apparel industry. Logic ERP software allows for quality control checks at various stages of production, helping to identify and rectify defects early.
This ensures that only high-quality products reach the market, reducing the risk of recalls and customer dissatisfaction.
5. Cost Management:
Managing costs is a constant challenge in the textile and apparel sector. Logic ERP provides cost-tracking capabilities, allowing businesses to monitor expenses associated with materials, labor, and overhead.
With accurate cost data, companies can make informed decisions to optimize their operations and pricing strategies.
6. Compliance and Reporting:
The textile and apparel industry is subject to various regulations and standards, especially related to safety and environmental concerns. Logic ERP software helps companies ensure compliance with these regulations through accurate record-keeping and reporting.
It simplifies the auditing process and helps in demonstrating compliance to regulatory bodies.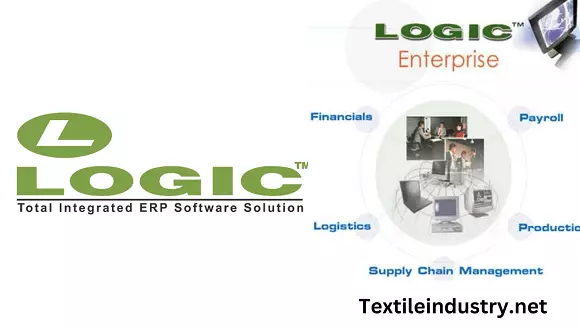 The Establishing Story of Logic ERP Software
From whose thoughts the Logic Software company started its journey, he is a budding young entrepreneur, the Managing Director of Logic Software, Mr. K. B. Mamoor. For the responsibility and patriotism to RMG and the textile industry, Mr. Mamoor started the company. He is accompanied by some talented young software engineer, to come true to his dream.
Logicsoftbd was established in 2008. Then the company was approved by the Bangladesh government as Logic Software Limited is a private limited company. The company launched its products in the market in 2011. Logic Software Limited is a sister company of ASROTEX Group. Logic Software Limited became a member of BASIS in 2012 and enlisted of the National Board of Revenue (NBR) as a VAT software provider in 2019. Managing Director of Logic Software, K. B. Mamoor said, Our prime objective is to provide data to the management so that they can see the picture in the long run and make decisions to achieve maximum benefit. We are contributing to the national socio-economy creating employment in the textile & RMG sector by enhancing its management capacity.
We also provide consultancy services besides software solutions to optimize business processes creating surplus. He said We believe we are the specialist in this sector because of our dynamic Management and highly experienced Technical team. We have a huge setup to develop and implement massive projects for both Government and Private sectors. Our Management and technical team both are working very hard to take our service outside Bangladesh and earn foreign currency for the country. We are already a well-recognized and reputed Software company in Bangladesh and doing the same internationally is one of our goals.
He also said, As for our team, we grew very quickly and now we believe we are one of the leaders in the Software industry in Bangladesh. our target is to occupy 60% market share by next five years with customers satisfaction ensuring good quality.
Products of Logic ERP Software
Platform ERP: The "Platform ERP" is a fully Web-based Solution for Textile and RMG Sectors. "Platform ERP" has been developed based on the latest web-based technology. "Platform ERP" follow the process that exactly maintained in Bangladeshi RMG & Textile Companies, That's why platform ERP has got the best impression at first look than other foreign solution. Such software are
Platform ERP Solution covers all the business process areas of Knit Composite, Woven Garments, and Sweaters. In addition, Comprehensive Planning Board (Live React), Smart Tracks Mobile Apps, ERP for Fixed Asset Management, Buying Houses, Spinning Mill, TRIMS, Washing, and all segments related to garments have been implemented successfully in more than 100 garments in Bangladesh.
Logic HRIS: The "HR & Payroll Solution" focused on complete human resource management, Attendance, etc. "HR & Payroll Solution" is a web-based solution which covers employee information, leaves, attendance, and payroll. Our solution is also applicable to any kind of organization. More than 50 reports on the "HR & Payroll Solution". More than 500 users using this software have a good comments on this software.
Financial Accounting: Logic accounting software consists of a variety of modules; different sections that deal with certain areas of accounting.
Logic VAT Management Solution: Logic VAT Management Solution is another revolutionary development of Logic Software Ltd. which makes the process of VAT and Rebate Calculation very easy with dynamic processes. However, it introduces the pre-approval system in the submission of returns ( 9.1)for the very first time with the exact NBR format in both languages as per the demand of customers.
Services of Logic ERP Solution
The company has five layers of expertise Business Process Analyst, Business Development, Software Development, Technical QC Team, Business QC Team, Implementation, Administration, and HR. From the beginning of Logic Software Limited, thought that the company would stay with only ERP solutions in the RMG & Textile sectors. But they get lots of requests from the client to make their own application in a different sector, like buying house process control, in the house web portal for technical help, in-house transport maintenance, etc. After that, they start making some small web application projects. Though they are already a success in the RMG & Textile sector ERP sector, they are also able to make any kind of customized web application.
Software Development: Logic builds innovative software and cloud computing solutions to cater to the custom needs of your organization. It goes beyond the boundaries of today to create tomorrow's solutions.
E-commerce Development: E-commerce websites crafted with custom features and tailored for the company's target audience.
Web Development: Driven by values and founded on strong business ethics, Beyond has a unique space among hundreds of so-called Professional Web Development and Web Design Companies.
Internet Marketing: Exposure of products or websites through the internet is vital in today's world. You are leaving a big chunk of money on the table if you are not doing it.
Mobile Apps Development: Logic has mastered the art of mobile application development for different platforms. They offer custom mobile Application development services leveraging in-house expertise and technology.
Customer Support: They provide Customer Services 6 days a week and 24/7 in Emergency Situations.
Conclusion
In conclusion, Logic ERP software plays a pivotal role in transforming the textile and apparel industry by enhancing operational efficiency, improving inventory management, integrating the supply chain, ensuring quality control, managing costs, and facilitating compliance. As this technology continues to evolve, textile and apparel businesses that adopt Logic ERP can stay competitive in a rapidly changing market and meet the demands of customers while maintaining profitability. The application of Logic ERP software is not just a luxury but a necessity for businesses aiming to thrive in this dynamic industry.
Application of Logic ERP Software in Apparel Industry