CAD, Computer-aided design, garments patterns get the required shape and size. The manager is responsible for looking after all CAD-related activities like patterns and markers. He is responsible for developing the CAD system, maintaining and upgrading computer hardware and software, providing training and technical support to users, and developing standards and processes for CAD use. A CAD manager is also known as a Pattern master, as he is responsible for pattern making, correction, and printing. Here this article is about the job Responsibilities of a CAD Manager in the Garments Industry.
CAD is part and parcel of the garments industry. To make a garment you need to cut parts as per the pattern. The pattern comes from CAD and prints in marker. There are over 10 types of CAD software used in the garments industry. Mostly used CAD software are Modaris 3D Fit from Lectra, Virtual fashion from Reyes Infografica, Vidya from Assyst-Bullmer, Accumark Vstitcher from Gerber, 3D Runway from Optitex, Haute Couture 3D from PAD System, Design concept from Lectra, Vstitcher from Browzwear and it Simulator from Tukatech.
A CAD (computer-aided design) manager in the garment industry is responsible for overseeing the use of technology and software for designing, developing, and prototyping apparel products. Their duties include managing a team of designers, maintaining and updating design software, ensuring design accuracy, and streamlining the design process to improve efficiency and productivity. They also work closely with other departments such as pattern making, product development, and sourcing to ensure that the designs are feasible and meet the needs of the brand and customers.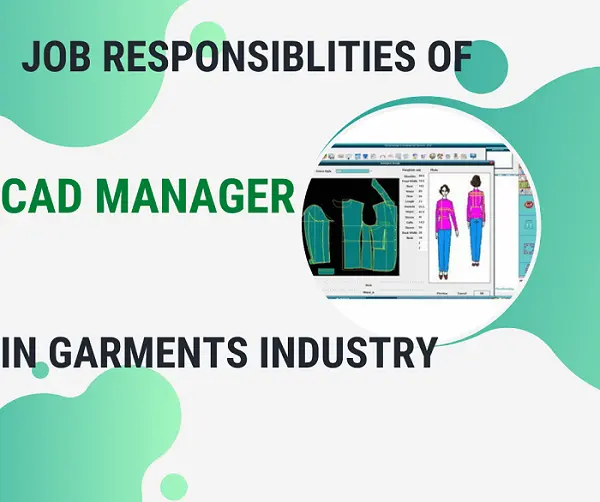 Job Responsibilities of CAD Manager in the Garments Industry
Make patterns as per the requirement given by the respective buyer through the garments merchandiser and ensure timely delivery of patterns.
Prepare a sample after approval from the respective buyer and send it to the concerned sections of the garments division.
Ensure that any change made in the previously approved sample is communicated to the concerned persons timely.
Check the Sketching sample & Making a Sample as per Buyer's Requirement.
Ensure creating a master pattern for each size within a range of garment sizes (Extra small to extra large), using measurement charts, drafting instruments, CAD computers, and/or grading devices.
Set the best layout of pattern pieces to minimize waste of Fabric and mark fabric accordingly.
Keeping and checking sketches, sample articles, patterns, and design specifications to determine quantities, shapes, and sizes of pattern parts, and to determine the amount of material or fabric required to make product consumption.
Mark samples and finished patterns with information such as garment size, section, style, identification, and sewing instructions.
Assessment of design sample, proto sample, fit sample, red seal & gold seal samples upon received from the buyer.
Thorough Knowledge of fabrics consumption, pattern grading, CAD marker, fabrics construction, fabrics quality, tests & washes, seam strength & shrinkage performance, etc.
Must have good knowledge of the woven and knit garment manufacturing process and risk assessment of the product.
Ensure cost reduction by achieving optimum efficiency of CAD and making hundred percent accurate markers.
Verify and check Shrinkage/Pattern Grouping, Pattern Corrections/ Balancing/ Adjustment according to the Fit Model.
Do Pattern corrections after the size set, or pilot run sampling based on the justification from the quality manager.
Finally, take over the whole CAD department, and ensure all activities doing properly.
Skills and Qualifications for Job in CAD Department
It is mandatory for CAD managers or any employee to know using the required software used in the garments industry like Gerber and Lectra. The minimum qualification is graduation to work in the CAD department. Working in CAD is a full-time computer job, so employees have to be good at computers. Jobs available for CAD department in the Garments Industry are:
CAD Supervisor
CAD Technician
CAD Officer
CAD Executive
CAD Assistant Manager
CAD Manager
And, Pattern Master.
Additionally, You may love to read: Different Departments of Apparel Industry and their Functions
Responsibilities of CAD Manager in Garments Industry