A best practice meaning the practice which is best and acceptable, a standard or set of guidelines that are known to produce good outcomes if followed. Any best practice in the apparel industry gives the best outcome. Best practices are related to how to carry out a different task or configure something. Strict best practice guidelines may be set by a governing body or may be internal to an organization. A best practice is a perfect standard to follow so that it can bring the best result. This article is about Best Practices in Apparel Industry.
The apparel industry is a garments manufacturing factory where finished garments are made. Automation, Lean manufacturing, a good QMS system, applying industrial engineering, a smooth supply chain, comply social requirements, environmental management, and PP meeting are the among best practices in the apparel industry. Here will discuss some best practices of a garment factory.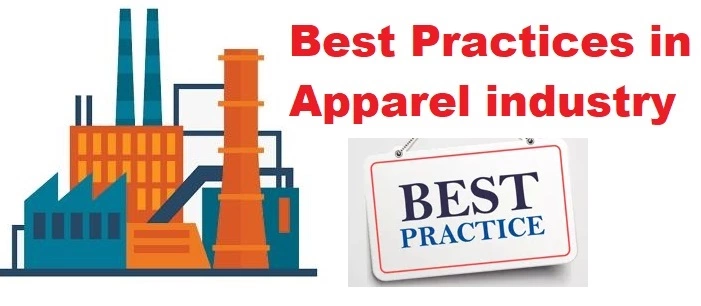 What are the Best Practices in Apparel Industry
Implement 5S– Good housekeeping and cleanliness in all sections. Routine-wise cleaning. Keep arrangement of sufficient equipment like racks, shelves, trolleys, boxes, etc. for warehouse, cutting, sewing, and finishing section. Set SOP for every operation and process. Following 5S is the first point of best practice for the garments industry.
Warehouse– Trolleys, shelves, and boxes for transferring materials from the warehouse. Maintain FIFO in the warehouse. Good warehouse management and material handling. There are racks to keep fabric and trims. The fabric is kept on the floor or wooden pallets. Wooden pallets are very sensitive to mold growth. Plastic pallet is good for mold prevention.
Visual management– Keep necessary reports properly and assigned dedicated persons for analyzing the reports and post them on boards after certain intervals on all production floors.
Proper waste management– Waste management is monitored properly and employees are being trained to get awareness of waste management. So that manufacturers can do waste disposal properly.
Internal Auditor– Having an internal auditor for technical, and financial who continuously troubleshoots the non-conforming processes to improve working processes and operations.
Lighting for inspection– Light brightness in the operation area and inspection area, make sure sufficient light brightness to help the inspector/operator check the products properly. Usually, a minimum of 1000 LUX is needed for the quality inspection table.
Quality management system(QMS)- For good operation management, you need a proper quality management system that will guide you to produce a good product.
Finished goods warehouse– Finished good warehouse and C-TPAT is well organized. Keep a fenced C-TPAT area and arranged a lock & key system. Security guards are present in the area and registers of visitors are maintained properly.
Cutting, Sewing, and Finishing Production Floor
Using an automatic spreader Machine: This will increase efficiency and reduce manpower in the cutting section.
Used Intello Cut software to increase marker efficiency to reduce fabric waste.
Used auto piping cutting m/c to reduce fabric wastage.
Pattern marking or attaching to the sewing machine reduces manpower.
Applying SMED to reduce change over time.
Applying a traffic light system or roaming QC that will reduce operator defects in the sewing section.
Used of ANDON system- This will quickly alert operators about a problem on the line if we can implement this.
Applying an operator Incentive system- This will increase sewing efficiency and motivate operators to work.
Applying the KANBAN system to reduce trim & accessories mistakes, card to receive input, and inventory control.
Following lean manufacturing is the best practice for any manufacturing, but I mention just a few tools here. Lean is always the best thing for a garments manufacturer.
Finally, I think this article cover most part of the Best Practices in Apparel Industry. If there is anything more in your mind, please share it in the comment box.
Best Practices in Apparel Industry