A warehouse is a middle part between the supply chain and manufacturing operations. Warehouse Management System is a total management system of warehouse activity. It includes stock information, issue information, receiving data, dispatch info, and proper BIN card or stock card maintain physically. And, warehouse management is also about how we keep the materials in garments. This content is about Warehouse Management systems in Apparel Industry. The warehouse management system is called WMS in short form.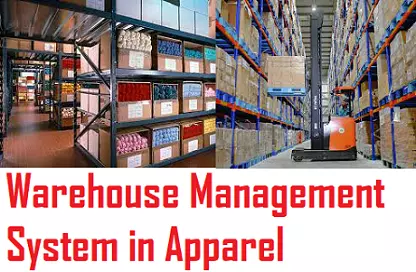 Warehouse Management System (WMS) in Apparel
Raw material receives
Order sheet & material booking information should be collected from the concerned merchandiser. Receive supplier invoice. Material inspection reports of the supplier should be collected. Before unloading check the container door & lock. Material verified with the invoice. Material receives as per booking quantity, and it should be confirmed by counting.
Raw Material inventory
Raw material inventory (quantity/weight verification against the chalan) must be complete and kept recorded according to the buyer/style/color/lot/batch/size within 48 hours after receiving trims and accessories. If there is any problem should be informed to merchandiser & supplier and a decision should be taken by discussion. Good database software keeps proper inventory data and stock records.
Software vs Physical Inventory Management
The warehouse team should check the physical inventory weekly or monthly basis. This will give correct data of stock info. Because sometimes physical stock varies with software stock. So, a comparison needs between physical and software stock. Software stock may update according to physical stock.
Material storage system
After the inventory is complete material keeps in a quarantine zone for in-house Trim and Accessories inspection & testing. After inspection complete material keeps in the allocated accept & reject area. Reject material keep in separate rejection keeping lock area with proper information. Maintain location board & register for easy traceability. Use bin card with details information. All raw material should be kept on plastic pallets/racks & minimum of 50 cm away from the wall. Raw material keeps away from sunlight, well covered. Warehouse keep tidy & clean. Ensure the material does not absorb moisture. There should be a humidity measure meter.
Reject Material storage system
Reject raw material should be kept locked in a designated rejection-keeping zone.
Inspection failure report should be kept with the raw material.
All the information must be recorded in the register.
Failure information is shared with the supplier.
Reject material returned to the supplier or kept in the specified quarantine zone for up to 06 months.
After 06 months the raw materials must be destroyed or act according to the customer's brand policy.
The label must be destroyed, and the record should be kept.
A responsible person should be employed in the rejection zone.
Leftover Policy of Warehouse
If trims & accessories are left in hand on the production floor after the order close. The trims & accessories should be handover to the store by maintaining a red tag with details information.
If complete garments are left in hand after shipment, Garments should be handover to the store by maintaining a red tag with details information.
Leftover materials & products should be in the lock quarantine area.
The label should be removed from leftover products to ensure customer brand protection policy.
Leftover material/products should be kept for a minimum of 06 months in a quarantine area.
06 months later take management decisions following customer brand policy.
Finally, a good warehouse Management System leads to good business in Apparel Industry. So, here we write what actually going on in the apparel industry.
Warehouse Management System in Apparel Industry