What is BOM in Apparel Industry?
BOM is a Bill of materials; a list of materials needed for a style.  BOM sheet found in the spec sheet of customer, garments merchandiser follows the sheet handling an export order. Firstly, the merchandiser cannot work with the BOM sheet in any order. After getting an order from the buyer, first, need to source the required raw material (Fabric, trims, and accessories) to start the production. Bill of material (BOM) has the full material details. Firstly, it is made for material sourcing initial stages of any purchase order. In conclusion, this is an important document for the merchandiser and quality team as well to ensure the right materials use. Hope this article will give you a clear idea of the bill of a material sheet, and also you would love to read this.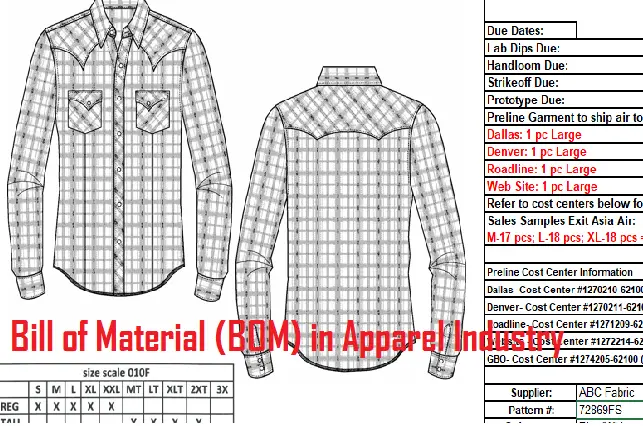 BOM sheet in information in Apparel industry
Material Name, code, and use.
Consumption or quantity to be used per piece of garment.
Nominated Supplier/ Vendor name for every material.
Material cost
Material specification
Material color, color code, or DTM mention
Material size information
Material length, width, weight
Washing type
Care Instructions of care Label
Pictures of all accessories.
Material placement in garments (where to be used)
Season
BOM (Bill of Material) Sheet example of some Materials
Fabric
| | |
| --- | --- |
| Supplier: | ABC Fabric |
| Pattern #: | 121820DB |
| Colorway: | Brown/Teal |
| Construction: | 120×70 45×45 |
| Fiber Content: | 55% Cotton/45% Polyester Yarn Dyed Dobby Plaid |
| Width: | 57/58″ |
| Weight: | 350 GSM |
| Wash: | Silicone Wash |
Care Instructions of Care Label: Machine Wash Cold with like colors Only, Non-Chlorine Bleach when needed, Tumble Dry, Medium Iron. **Also include English, Spanish, and French Translation (Tri-lingual Care Label).
Accessories info BOM:
Collar Type/ Neck Finish:
Spread Collar
Sleeve Type/ Sleeve Finish:
Long sleeve; 2 snap western cuff
Closure Type/Size/Color:
16L Trims Master H7/N Snaps
Zipper Color
Silver
Hanger Clip Color:
Red
Thread Color:
DTM (Dyed to match)
Embroidery Type/Colors:
C7335
Embroidery Placement:
Yokes; Pocket Flaps; Collar; CF Placket
Main Label
WS124BR
Hangtag
LP2095784
Riser Label
N/A
Care Label
Care label
Warranty Card
TG85245
UPC
KG8497
In conclusion, this is an example that how a bill of material will be.
Bill of Material (BOM) in Apparel Industry