Nowadays, due to many enhancements and gradation, the public is more motivated towards the newness and freshness in everything. Whether you are creating new garments or clothes or trying to figure out the correct way to clean your dirty ones, having detailed knowledge of fabric can be important. This is more important if you have a good piece of fabric and want to seamlessly take care of it, so it lasts longer. Here, types of fabrics play an important role and various types of fabrics have numerous properties that can greatly impact how you treat your clothing, such as the fiber content in one fabric will impact how to handle the garment completely differently from another fabric's fiber content. So I present 30 Different Types of Woven Fabric with Pictures below.
To help and understand some of these points and create a better understanding of fabric, let's take a look at the different types of fabric used in different types of clothing. Please keep in mind that there are actually hundreds of different types of fabric; this article simply highlights the most popular and common types of woven fabric with their pictures.
What is Woven Fabric?
Woven fabric is any textile formed by weaving. Woven fabrics are generally more durable than knit fabric. Woven fabric is a common textile for structured items like blazers coats and upholstery items. The textile which is manufactured by the intersection of warp and weft threads at right angles to each other, with the help of weaving is known as woven fabric.
Detail Description of 30 Various types of woven fabric with Pictures
1. Leno fabric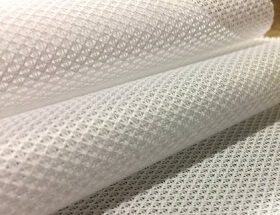 In this fabric an open effect is created by using certain thread ends or particularly doup threads to cross over. Here, in this kind if fabric two threads or ends serve as one thread; when a weft thread crosses between them, the doup ends twist taking the weft and holding it tightly in place. With this technique, very fancy and beautiful fabrics can be waved by mixing the cross weaving, with other weave structures.
2. Crepe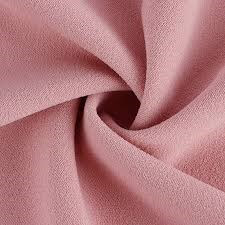 The feature of this fabric includes that, it is twisted plain woven fabric as well as weighted with a rough, bumpy surface that doesn't wrinkle. It is a versatile fabric made from cotton, silk, wool, or synthetic fibers. Because of this, crepe is often called by its fiber; for example, crepe silk or crepe chiffon. The application of this fabric is used in suit and dressmaking because of its soft, comfortable, and easy-to-work properties. For instance, a type of crepe fabric is georgette, which is used in designer clothes. This fabric is also used in products like blouses, pants, scarves, shirts, and skirts.
3. Drill Fabric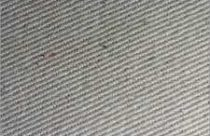 Drill is a very popular twill weave warp-faced fabric. It is available in the market in white or solid color. It is a lightweight and extremely durable fabric. Drill is used for shirts, pants, safari, jackets, blouses, uniforms, and some different types of sports clothing.
4. Denim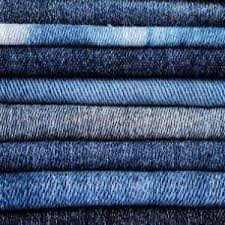 Another popular type of fabric is denim. It is simply a woven cotton twill fabric manufactured from raw materials like cotton wrap yarn and white cotton stuffing yarn. The features of this fabric include its vivid texture, sturdiness, durability, and comfortableness. It is mainly dyed with indigo to create blue jeans, but its application is also used for jackets and dresses.
5. Flannel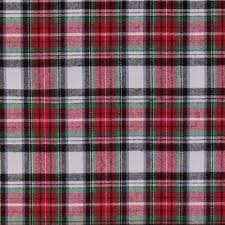 It is simply a woolen fabric woven in plain or twill weave which possesses the characteristic soft handle. Due to the milling done to this fabric, sometimes it looks like a bulky fabric. Flannel fabric is used for manufacturing suits, pants, infant's clothing, etc.
6. Chiffon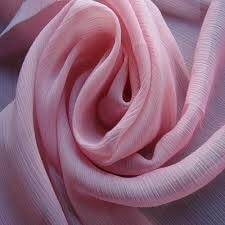 The feature includes that, it is a sheer, lightweight, plain-woven fabric made from twisted yarn that gives it a minor rough feel. From silk, nylon, polyester, or rayon, yarns are made. The specialty of this is that it can be easily dyed and is usually seen in products like scarves, blouses, and dresses, also includes wedding gowns, prom dresses, and Unstitched Chiffon Dress because of its light, flowing material.
7. Casement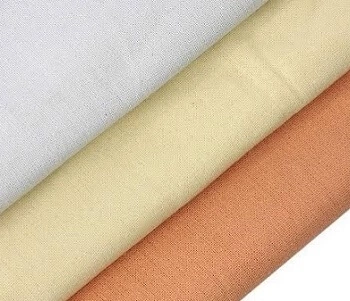 It is simply a medium-weight cotton fabric created by closely packed thick warp yarns. The major application of this fabric is for curtains, table linen, and upholstery and hardly used for dresses.
8. Georgette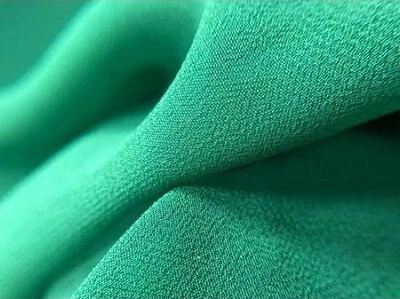 The features are, that it is a sheer lightweight fabric, woven in plain weave. It has a rough texture, because it is manufactured by hard twisted ply, and yarns both in warp and weft. Initially, it was manufactured in silk, but today it is produced in other fibers too, such as rayon and polyester. It's a great fabric mainly for women's evening wear.
9. Lawn fabric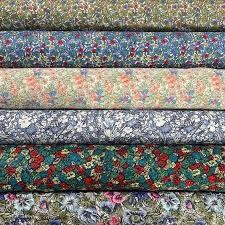 It is a very lovable fabric. It's a kind of medium crisp fabric type because of the higher thread count used to manufacture it, and it possesses a fine finish and is still quite sheer. It is used for summer shirts and tops as well as a pair of loose-fit trousers.
10. Wool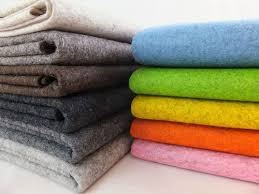 This is a natural fiber that comes from sheep, goat, llama, or alpaca fleece. It can be either knitted or woven. Wool is basically known for being hairy and itchy, though it has characteristics to keep the body warm, durable as well and long-lasting. It is also found to be wrinkle-free and resistant to dust, wear, and tear. It is a somewhat expensive fabric because it needs to be hand-washed or dry-cleaned. It is mainly used in products like sweaters, socks, and gloves.
11. Polyester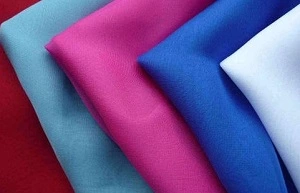 It is a man-made synthetic fiber and fabric which is manufactured from petrochemicals. Its features include, it is strong, durable, wrinkle and stain-resistant. But it's not breathable so doesn't absorb liquids well. Although, it is designed to pass moisture away from the body. Its major application includes T-shirts, trousers, skirts and sportswear.
12. Cheese cloth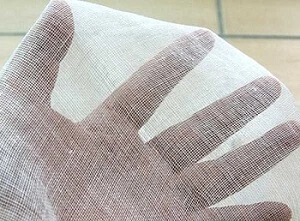 It is simply an open weave and popular lightweight sheer fabric. It is made from carded yarns which basically has a low count fabric. It got its name because it was used for wrapping cheese or meat. It is not very strong and durable. It is finished in various different ways to attract the consumer. It is used for women's and children's dresses as well as for drapery fabrics. It doesn't require much ironing, because of its open structure.
13. Chintz fabric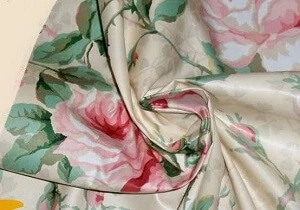 The features of this fabric include that it is a medium-weight, plain woven cotton yarn. It is given a glazed finish which can be temporary or semi-permanent glazed chintz are found in solid color and printed with floral prints. These are made from various blends, such as cotton polyester or rayon. The application of this fabric includes skits, dresses, blouses, pajamas, aprons, draperies, etc.
14. Lace
It is a highly elegant, delicate fabric manufactured basically from looped, twisted, or knitted yarn or thread. It was initially made from silk and linen, but nowadays, it is made with cotton thread, wool, or synthetic fibers. Lace fabric basically consists of 2 elements: the design and the ground fabric, which holds the pattern together. It is considered a luxury textile, as it requires a lot of time and experienced people to create the open-weave design and web-like pattern.
15. Velvet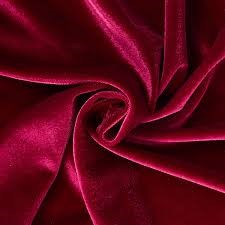 The next type of fabric is the soft, luxurious velvet, which has importantly been connected with royalty because of its rich, lavish finishing and complicated production process. The feature of this is that its heavy, shiny woven warp pile fabric has a smooth pile effect on one side. The quality of this fabric is finalized by the pile tuft's density and the way they are attached to the base fabric.
16. Nylon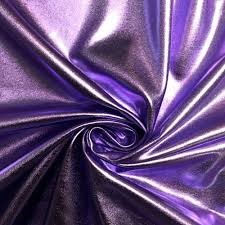 It is a purely synthetic fiber made up of various polymers. It is well-known for its features like strength, flexibility, and resilience. It is also long-lasting, and handles wear and tear, which is why it is majorly seen in outerwear, as well as in jackets and parkas
17. Silk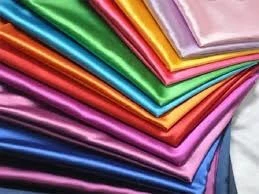 It is featured as the world's most luxurious and expensive natural fabric, and is another soft, elegant fabric choice with a smooth effect and glittering look. Silk is manufactured from the silkworm's cocoon, which is found in countries like China, South Asia, and Europe. It is hypoallergenic, durable, strongest natural fabric in nature, it is difficult to clean, so has to be handled with delicate, because it is seen that many fabric weaves tighten or pucker when washed, so it's better to opt for hand wash or dry clean silk.
18. Satin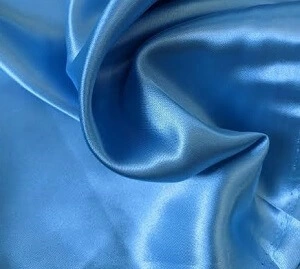 Basically, it is not made from fiber; it is one of the three major textile weaves and is created when every strand is well-knitted. It was initially made from silk and is currently made from fibers like polyester, wool, and cotton. The features include, thus luxurious fabric that is glossy, elegant, and slippery effect on one side and matte on the other. Because of its properties like sleek, smooth surface, and lightweight, it is used in products like evening and wedding gowns, lingerie, corsets, blouses, skirts, coats, outerwear, and shoes.
19. Twill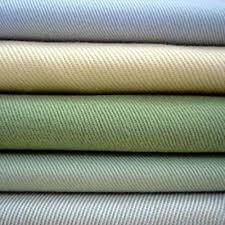 This woven fabric is a superb alternative for upholstery textiles. Its weaving technique is different, as the threads are re-arranged to create a diagonal pattern within the fabric. The method twill woven fabric is manufactured makes it a more durable alteration for upholstery applications. It is analyzed that, a twill weave is ideal for curtains as well as its slub qualities enhance textural curiosity, while concentrated yarns produce a uniform, structured drape.
20. Herringbone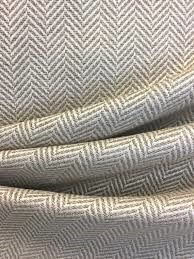 This weave fabric is easily identifiable because of the chevron shapes highlighted within the weave. This enhances the recognizable aesthetic effect of the textile, which can have a great influence within any room. It sometimes involves wool yarns into the weave, making herringbone weave fabric the typical cozy upholstery choice.
21. Muslin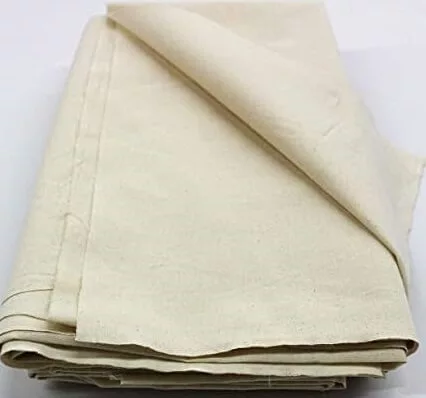 It is simply a lightweight open fabric of plain weave. It can be grey or bleached and dyed. It has major applications in household textiles and dress materials. The properties are, that it is a very light and open plain woven fabric particularly used for summer dresses and utility use. Initially, the fabric was not always plain but also had silk and gold thread weaved into it. But, due to enhancement of the ability to spin yarns of greater fineness found, cotton was used more frequently than silk.
22. Corduroy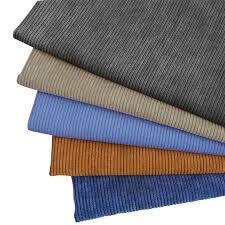 It is thick, durable, ridged, and cozy, and has the special feature to focus both dressed up and found to be comfortable at the same time. When it comes to cozy fabric, it is made of cotton or a cotton blend. Also known as corded velveteen, corduroy is most prominently used to manufacture long pants. It is like a cut pile fabric which is available in different solid colours. The cut pile fibers are visible in the structure of the ribs on the surface. It is mainly utilized for pants, jeans, and shirts.
23. Gabardine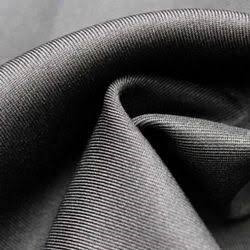 It is simply a closely woven, clear finished warp-faced twill fabric. It comprises of number of warp yarns as compared to weft yearns and is also found to be more durable. It is normally woven in 2/1 or 2/2 twill and consists of a raised diagonal twill effect on the right side. It is widely used in raincoats, suitings, and sportswear.
24. Buckram Fabric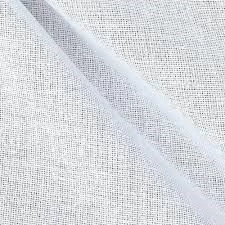 It is a lightweight loosely woven fabric, which is stiff-coated and impregnated with adhesives, and fillers. This fabric is used as interfacing so as to give support and shape retention to parts like necklines, collars, belts, cuffs, waistbands, button closures, etc. in garments. As well as for handbags and many other articles, they are used as reinforcements.
25. Cambric Fabric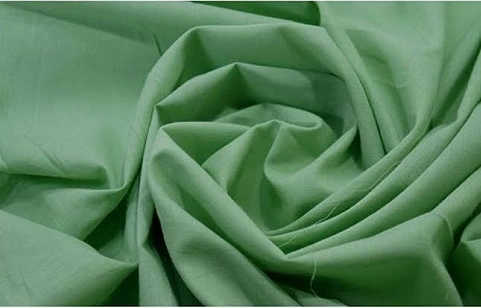 It is a lightweight fabric woven in plain weave and manufactured with a stiff kind of finish. It is mainly used for women's dresses and children's dresses that want crispness.
26. Taffeta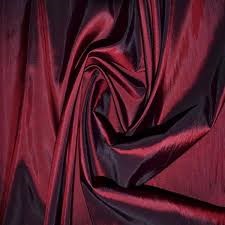 The features of this are, that it is a smooth, crisp, transparent fabric having a fine rib. Initially, it is produced with silk fibers but now it is also manufactured with rayon. It has a specialty of characteristic finish which creates crispness. It is prominently found in women's evening wear.
27. Kashmir silk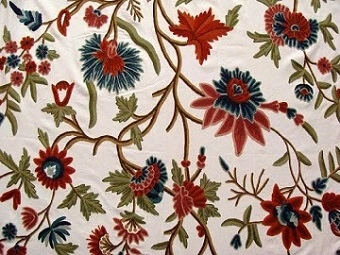 This kind of silk is produced in plain weave and either consists of embroidery or printing. The motifs used are features of Kashmir. It is used in various shirts, women's wear, and sarees. Special Kashmir shawls are manufactured in twill weave and are basically embroidered with traditional Kashmiri embroidery.
28. Khadi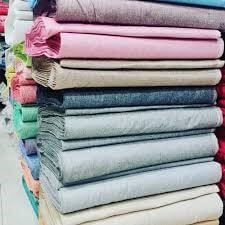 The fabrics that are hand-spun or hand-woven are mainly khadi fabric. They are manufactured in primarily one cotton fiber, blends of two or more fibers. Its specialty is its durability and simplicity. The fabrics can found to be suitings dhotis overalls and household textiles.
29. Sheeting fabric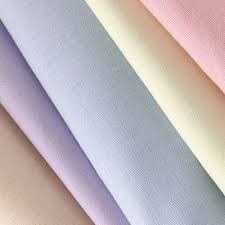 These are mainly used for bed coverings application. They are normally medium-weight, closely woven fabrics, which are woven either in plain or twin weave. When it comes to sheeting fabrics, they are made in different widths. High-standard cotton sheetings are manufactured in plain weave with a width of 64″ x 58″ and in a twill weave with a width of 60″x72″.
30. Net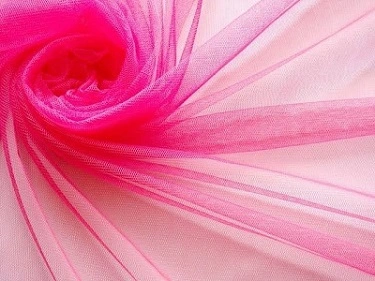 Net or netting fabric is nothing but a  textile in which the yarns are fused, looped, or knotted at their intersections, deriving in a fabric with open spaces between the yarns. Net has many applications, and comes in different varieties. Depending on which type of yarn or filament is used to make the textile, its characteristics can vary from durable to non-durable.
31. Cotton
It is the king of the textile. It is one of the most known materials in the world, it is a light, soft natural fabric. There is one process called as ginning, where the fluffy fiber is removed from the seeds of the cotton plant. After that, the fiber is then manufactured into cloth, where it can be woven or knit.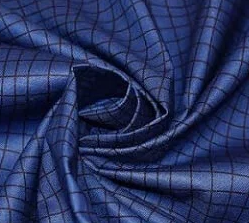 The special features of this fabric are that, it is comfortable, more durable, and versatile. It has good breathability, so it doesn't dry quickly. The application of cotton fabric is found in many product categories such as shirts, dresses, and underwear. However, sometimes it may wrinkle and shrink. Even it is found that, cotton yields many types of additional fabrics, including chino, chintz, gingham, and muslin.
30 Different Types of Woven Fabric with Pictures