A zipper is a device of clothing that is used to bind two fabric parts together, an important part of a cloth or bag. A zipper is used in a product of the apparel industry as an important trims though it is a very small part in size and functionally zipper is a very much critical part of the cloth. There are many different types of zippers found in the apparel industry., here is a discussion about 12 different types of zippers, these 12 will cover almost all types of zippers used in the apparel industry.
12 Different Types of Zippers you should know them
There are various types of zippers that are used in the Apparel industry are mentioned below:
Concealed zipper
Continuous zipper
Coil zipper
Molded Plastic zipper
Metal zipper
Waterproof zipper
Exposed zipper
Separable zipper
Non-separable zipper
Two-way zipper
Fly zipper
Lapped zipper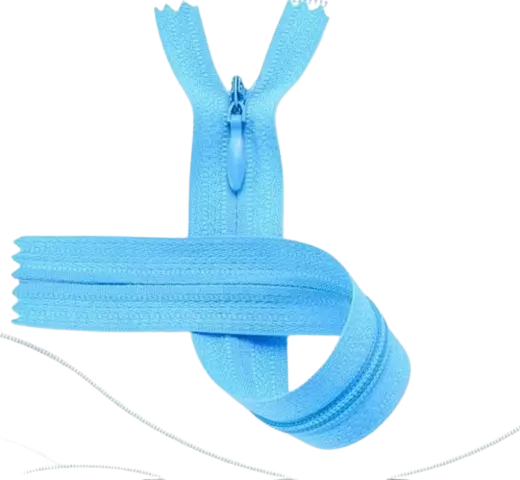 Concealed zipper
The concealed zipper is an invisible zipper where the teeth component is not visible from the inside or top side. It doesn't cover the design of the garments. So it is a suitable zipper for different ladies dresses frocks and skirts.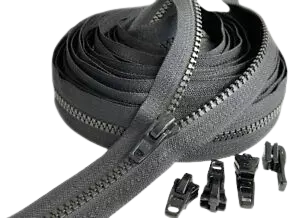 Continuous zipper
It is a widely used zipper in garments around the world. These are used for long coats or dresses. But especially used for large suitcases. The Zipper is spooling continuously without pulling the slider, which is called a continuous zipper.
Coil zipper
A coil zipper is also known as a nylon coil zipper. It is a type of zipper whose components are made from coiled monofilament which is traditionally nylon. The coil is sewn on zipper tape to create the final product. The nylon zipper is very soft in hand feel and is used in formal dresses, jackets, and bags.
Molded Plastic zipper
Molded plastic jacket zippers are lightweight and are flexible, matching the color of teeth, tape, and slider. Plastic zippers are perfect for outdoor, sports, and casual wear. Molded plastic zippers are available in different tooth sizes and lengths. This is a plastic zipper made through plastic injection molding, which is why called molded injection zipper.
Metal zipper
Metal zipper is the oldest type of functional zipper. Metal zippers are mainly made of brass, nickel, and aluminum and due to their durability, they are mostly used in jeans, denim pants, denim jackets, workwear, heavy luggage, and heavy-duty clothing.
Waterproof zipper
Waterproof zippers are made of nylon which maintains a high-density element to protect the water. These zippers are usually used to protect garment products from rainwater. We see the use of these in the case of raincoats, rain jackets, waterproof bags, tents, etc.
Exposed zipper
Exposed zippers are zippers that sit right on top of dresses and they can also highlight a casual outfit.
Separable zipper
Separate zippers are zippers with two completely separate units of stringer that have a bottom assembly to attach to each other and they can work as a single unit.
Non-separable zipper
The bottoms of these zippers are closed with a stopper so that they do not become detached. It is used in clothing, pants, pillows, seat cushions, skirts, etc.
Two-way zipper
These types of zippers can be closed or opened in two opposite directions at the same time. It is also called a double or dual zipper. These can be made of metal, plastic, or nylon.
Fly zipper
Zipper fly is more commonly used in ready-to-wear clothing. It is mostly used in the case of pants. The area of pants used for the zipper is fly, that is why this is called a fly zipper.
Lapped zipper
The zipper is covered with fabric by the clever use of sewing in a certain way so that the zipper does not visible from the outside.
Final Thought
We have covered all 12 types of zippers used in the garment manufacturing process.
12 Different Types of Zippers Used in Apparel Industry