A disposable Surgical gown is for doctors and nurses in an operating room. A cloth considers 'personal protective equipment- PPE' to prevent the transfer of microorganisms and body fluids from the operating staff doctor, or nurse to the patient. The surgical gown is a wonderful discovery in modern Medical Textiles, very easy to wear. Surgical gowns are worn by doctors and nurses in the operating room to address a dual function of preventing the transfer of microorganisms, chemicals, and body fluids from the operating staff to the patient, and also from patient to staff. The disposable surgical gowns are protective medical textile cloth, that must repel diseases and infections yet provide adequate freedom to move. The gowns must control the bacteria released into the operating room and aid in maintaining the sterile zone required for patient safety. They must provide for easy donning and doffing without contamination, yet not have openings where the barrier might be breached.
A disposable surgical gown includes a main body including a front body and a back body; and sleeves extending from both sides of the upper ends of the main body. The main body comprises a plurality of assembly sheets having air permeability and liquid non-permeability. The assembly sheets are bonded to each other along a continuous bonding line extending along the edges of the sheets. Some special areas have the joining of another layer of fabric as reinforcement of barrier performance as extra protection, join through gluing process. Those areas are the chest and sleeves.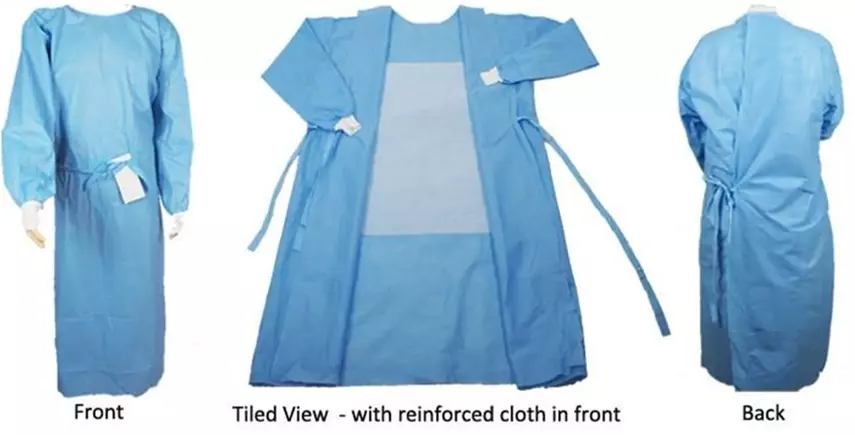 Structure of surgical gown: Nothing complex in the disposable surgical gown's structure, only very few parts. Generally, the gown is blue in color with white cuffs. A neck closure attaches by Velcro hook and loop. The whole gown is of non-woven fabric but can have a knitted cuff at the wrist area of the hand. Adjustable ties are used at the waist area.
Classification of Surgical Gown
Surgical gowns are classified into 4 different Levels per their barrier performance evaluated as AAMI Level. AAMI (Association for the Advancement of Medical Instrumentation) ranks barrier protection on a scale of Level 1 (minimal protection) to Level 4 (high protection), as a starting point for evaluating the protection needed for a procedure. Surgical gowns per their classified AAMI LEVEL are recommended for the below procedures:
AAMI LEVEL 1: Transporting patients, basic patient care.
AAMI LEVEL 2: Eye procedure, tonsillectomy, laparoscopy, thoracotomy.
AAMI LEVEL 3: Upper extremity, EENT, hand, chest, cystoscopy, mastectomy.
AAMI LEVEL 4: Any procedure in which the surgeon's hands and arms are in the body cavity. C-section, total hip/knee, knee arthroscopy. The longer a procedure, the more protection that may be needed.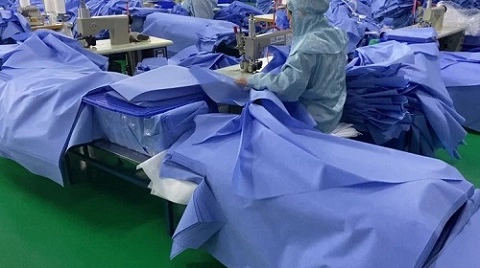 Production Processes of Disposable Surgical Gowns
Production process flow Chart: Raw material→ Cutting →Stamping→ Gluing (sleeve and reinforcement) → Attaching tie (gluing /Ultrasonically welded)→ Sleeve Seam (gluing/ /Ultrasonically welded/Bar Heat Sealer→ Sewing(Shoulder, Velcro, sleeve to body)→ Sleeve Seam (gluing/ /Ultrasonically welded/Bar Heat Sealer→ Trimming and Cleaning thread→ Folding →Packing→ Delivery to customer.
Raw Materials: The body fabric is non-woven, a barrier performance fabric of multiple layers, it is can be Polypropylene Spunbond or Spunbond-Melblown-Spunbond (SMS) fabric, 3-layer protective fabric. Apart from the body, there are knitted cuffs, Velcro hooks, and loops. Glue as of customer approved.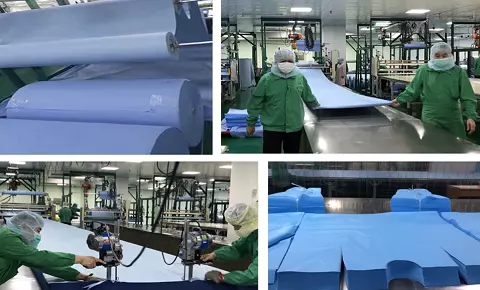 Cutting: Cutting is dynamic laying multiple fabric layers together, through the straight knife. Cut according to the CAD pattern set on top of the laid panels.
Stamping: Identification stamp information according to customer requirement, gown identification stamp may have size, and category. There are two stamps on the inner side of one surgical gown, the main stamp, and COR stamp.
Gluing: This is the most sensitive operation in a surgical gown, 50% of defects come from this operation. The glued front tie must be securely glued to the gown for a minimum of 2" with a 1" minimum back fold to the attachment area. The back fold should not be all the way to the edge, it should have a minimum 0.25" distance to the edge. Glued defects affecting product function (causing sticking together, not securely glued, not securely glued, etc.). Excessive glue penetration, more than 1" sticky to touch or patches of dried glue.
Tie Attaching: The front tie attachment area must be securely glued or welded to the gown for a minimum of 2" with a 1" minimum back fold the back fold should not be all the way to the edge, it should have a minimum 0.25" distance to the edge.
Welding: Welded front tie: the front tie must be securely attached to the gown. Ultrasonic welding is more secure than bar-sealing welding. Ties have to be securely attached when flexed 3 times stretching tautness from the gown.
Sewing: Knitted calf joining, the important sewing process. Velcro hook and loop must be sewn securely, hook and loop must not be sewn oppositely and must stick to each other when applied together. Cuff material has no elasticity when stretched over the inspector's hand.
Thread Trimming and Cleaning: In order to remove the loose particulates as the loose thread ends, and cutting pieces, use an automatic thread Sucking Machine, each piece of gown will take 8-9 seconds in the suction operation.
Folding and Packing: Quad fold is better for surgical gowns, following customer requirements with a proper sticker. The poly liner must be rolled down on all four sides with the cardboard insert placed on the top of the product. The poly liner must not be folded over the top of the product.
Quality Control of Disposable Surgical Gown
Since the surgical gown is relatively small and has only a few parts, defects on them could be caught easily. Plus, with the thread suction equipment installed, most of the loose particulates are removed. Major quality defects are excessive glue penetration and open seams. Defects names are ink penetration larger than 1/4", Excessive glue penetration, more than 1" sticky to touch or patches of dried glue, Loose threads greater than ¼" in length, Embedded dirt or ink dirt larger than 1/8" in dimension, or more than two pieces regardless of the size, Seam not sealed securely, open seam, Holes at the front tie area, Foreign particulates, like cutting pieces, loose thread ends and hair and incorrect identification stamp content.
An Overview of Disposable Surgical Gowns