Top 8 ERP System Vendors for Fashion and Apparel Industry Business
ERP (Enterprise Resource Planning) system is an enterprise information system designed to integrate and optimize the industrial working and whole business processes of industry and transactions in a corporation. An ERP system enables an organization to integrate all the primary business processes in order to enhance efficiency and achieve a competitive edge. It also facilitates the smooth flow of functional information and practices across the supply chain. Many ERP software vendors or suppliers in the market.
Fashion brands have become aware of how technology and innovation are key competitive differentiators to enable them to achieve a faster speed to market and insight throughout all steps of the supply chain. ERP implementation in the fashion business Industry brings a quite customized and new setup. Responsiveness to fashion market trends requires information sharing across a global supply chain. Shared information, quick response, and greater systems integration are seen as critical to creating agile and lean supply chains within the industry.
Many fashion companies have adopted ERP to deal with this issue by re-engineering the supply chain both within and beyond the organization. The Fast fashion phenomenon is another important driver of ERP adoption within the sector. Fast fashion leads to a more dynamic market with more frequently changing merchandising and purchasing decisions, and hence ERP systems can play a crucial role in supporting the fast fashion concept. The warehouse management system is fully dynamic under ERP system implementation.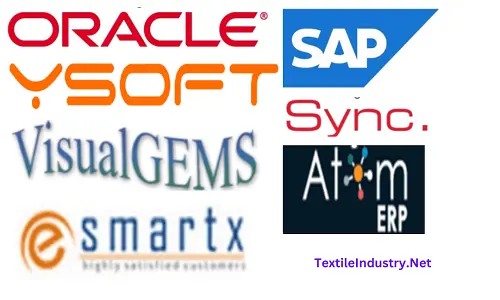 What are the Top 8 ERP Vendors for Fashion Industry Business?
SAP
ORACLE
YSOFT
Sync
VISUAL GEMS
ATOM
E-SMARTX
DELTEK
1. SAP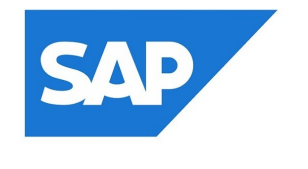 SAP ERP (Enterprise Resource Planning) systems are widely used in various industries, including the fashion business. SAP offers a comprehensive suite of ERP solutions that can help fashion companies manage their operations more efficiently and effectively. Here are some ways in which SAP ERP systems can be beneficial for the fashion business:
Supply Chain Management: SAP ERP systems provide robust supply chain management capabilities, allowing fashion companies to streamline their procurement, inventory management, and logistics processes. This helps in optimizing the supply chain, reducing lead times, and improving overall operational efficiency.
Demand Planning and Forecasting: SAP ERP systems offer advanced demand planning and forecasting functionalities. Fashion companies can use these features to analyze historical sales data, market trends, and customer demand patterns to make accurate demand forecasts. This helps in optimizing production planning and inventory management, reducing stock-outs, and minimizing excess inventory.
Product Lifecycle Management: SAP ERP systems include product lifecycle management (PLM) modules that enable fashion companies to manage the entire lifecycle of their products, from design and development to production and distribution. PLM functionalities facilitate collaboration between different departments and stakeholders, ensuring efficient product development and launch processes.
Sales and Order Management: SAP ERP systems provide comprehensive sales and order management capabilities, allowing fashion companies to manage their sales processes, track orders, and monitor customer interactions. These features help in improving customer service, order fulfillment, and sales performance tracking.
Financial Management: SAP ERP systems offer robust financial management functionalities, including general ledger, accounts payable, accounts receivable, and financial reporting. Fashion companies can use these features to streamline financial processes, track expenses, manage budgets, and generate accurate financial statements.
Analytics and Reporting: SAP ERP systems come with built-in analytics and reporting tools that provide real-time insights into various aspects of the fashion business. Companies can generate customized reports, dashboards, and key performance indicators (KPIs) to monitor and analyze sales, inventory, production, and financial data. This helps in making data-driven decisions and identifying areas for improvement.
Overall, implementing SAP ERP systems in the fashion business can enhance operational efficiency, improve collaboration across departments, and provide better visibility into key business processes. It allows fashion companies to manage their operations more effectively, meet customer demands, and stay competitive in the industry.
2. ORACLE

Oracle ERP (Enterprise Resource Planning) systems are widely used in the apparel and fashion industry to streamline business processes, manage operations efficiently, and improve overall productivity. Oracle offers a comprehensive suite of ERP solutions specifically tailored for the apparel and fashion industry. Here are some key benefits of Oracle ERP systems in this industry:
Product Lifecycle Management: Oracle ERP systems provide robust product lifecycle management (PLM) capabilities. This enables apparel and fashion companies to effectively manage the entire lifecycle of their products, from design and development to sourcing, manufacturing, and distribution. PLM functionalities help streamline collaboration between designers, suppliers, and manufacturers, ensuring efficient product development, accurate cost tracking, and faster time-to-market.
Supply Chain Management: Oracle ERP systems offer powerful supply chain management functionalities that help optimize the apparel and fashion supply chain. Companies can manage supplier relationships, streamline procurement processes, and improve inventory management. The system provides real-time visibility into inventory levels, demand forecasting, and production planning, enabling more accurate demand fulfillment, reducing stockouts, and improving overall supply chain efficiency.
Order Management: Oracle ERP systems provide comprehensive order management capabilities that are crucial for apparel and fashion companies. They enable efficient order processing, tracking, and fulfillment, helping companies manage complex order configurations, multiple delivery channels, and global distribution. The system also supports efficient management of returns, exchanges, and customer service, enhancing the overall customer experience.
Financial Management: Oracle ERP systems include robust financial management functionalities tailored for the apparel and fashion industry. These functionalities support financial planning, budgeting, and forecasting, as well as manage accounts payable, accounts receivable, and general ledger. Apparel companies can gain better control over their financial processes, streamline revenue recognition, and ensure compliance with industry-specific regulations.
Analytics and Reporting: Oracle ERP systems provide advanced analytics and reporting capabilities that enable apparel and fashion companies to gain real-time insights into their operations. The system offers customizable dashboards, reports, and key performance indicators (KPIs) to monitor and analyze critical business metrics such as sales, inventory levels, production efficiency, and financial performance. This helps businesses make data-driven decisions, identify trends, and uncover opportunities for improvement.
Compliance and Regulatory Requirements: The apparel and fashion industry is subject to various compliance and regulatory requirements, such as traceability of materials, labor standards, and sustainability practices. Oracle ERP systems help companies meet these requirements by providing functionalities for tracking and managing compliance-related data, enabling better visibility and control over the entire supply chain.
In summary, Oracle ERP systems offer numerous advantages for apparel and fashion companies, including improved product lifecycle management, streamlined supply chain operations, efficient order management, enhanced financial management, and robust analytics and reporting capabilities. By implementing Oracle ERP systems, apparel and fashion businesses can enhance operational efficiency, optimize processes, and achieve greater agility and competitiveness in the industry.
3. YSOFT

Apparel Industry Extensions (AIE) is an apparel system/solution built upon open-source technologies, primarily Compiere ERP system and customer relationship management (CRM) software. Compiere is destined to be a generic ERP system application and, hence, may fall short of features/functions that are important to certain industries, for example, the apparel industry. To address the specific needs of trading and sourcing business operations in the apparel industry, Compiere has been heavily customized and enhanced to the YSoft software. The following benefits are provided by the software to an apparel company,
Garment specification in good detail
Parameters and specifications can easily be customized
Very detailed order management system
A 3-month calendaring system with the auto-update and alert system
Generate multiple requirements plans for multiple orders
Exception alerts that are user-defined
4. Sync

Sync is a fully integrated ERP system software designed specifically for the apparel industry. This business management system manages the entire job of costing as well as the project management process, and it includes seven comprehensive ERP modules.
Costing – Costing software that allows calculating costs with accuracy
Purchasing – Software to control the creation and processing of purchase orders
Stock control software – Inventory control software to ensure effective control of stock levels
Mobile sales – This apparel software module allows the creation of sales orders from remote locations
Task management – Task management software makes it easy to keep track of tasks across multiple projects and allows job tracking
Financial integration – Seamless integration into financial software (Pastel Partner, Pastel Evolution, Quick-Books, AccPac, and Microsoft Dynamics GP)
Reports – Effective business management system generates critical reports at the click of a button
5. VISUAL GEMS

VisualGEMS has been designed with the flexible working of the garment industry in mind. The functional breakup of the software has been organized to match the distribution of garment organization into various departments. The facility of online referencing of master data and even related transaction data keeps the users free from the pressure of remembering codes. The integrated design of VisualGEMS allows one to establish and enhance interdepartmental communication within the organization, which otherwise may become a major productivity bottleneck. Compatibility of information/data sharing needs between the various departments is built into the software and is the major pay-off of the integrated environment. VisualGEMS has been designed to meet the industry's present needs and to be flexible enough to accommodate new requirements.
They provide the following benefits to the apparel industry,
Tailor-made customizable platform
Supports multitasking with extensive control of access permissions
Supports progressive implementation by a setup-based workflow
Online master creation
User-friendly (no coded value) and better GUI
Production planning and scheduling
Resource allocation
Payroll
Human resource integrated, various add-ons and tools
6. ATOM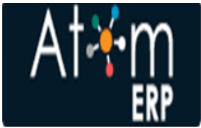 ATOM is a suite of application software designed for the textile industry. The key features of ATOM,
ERP system designed exclusively for the textile industry
Multi-company, Multilanguage features
Manage the entire process chain, from knitting/weaving, cutting, and sewing in a single system
Project and monitor sourcing and production
Track raw materials availability automatically
Monitor production orders in real-time
Visual dashboards for easy information access
The reliable technology platform that supports a high volume of transactions
Modular functions for need-based implementation
Key benefits to an apparel industry by the software are,
Increase operational efficiencies; maximize cash flow and ROI
Reduce order-cycle times
Always maintain inventories at the proper levels
Reduce wastage of fabric and accessories
Accounting of chemicals and dyestuff in process house
Make quick business decisions using real-time information
Automate routine processes
Manage in-house and job work production
React to changing business needs swiftly
Built by experts in the fashion business
Low cost of ownership
7. E-Smartx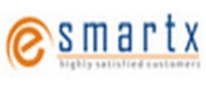 E-Smartx can be used in all the departments of the Apparel Industry. It is very cost-effective, modern, and gives real-time data.
Merchandising
Purchase
Production
Inventory management
Exports
Finance
Payroll
Advantages and benefits,
Effective monitoring of the overall operations of the company
Single database across the globe
Highly robust and real-time MIS
Flexible and parameterized
Greater efficiency and performance
Continued support and constant technology migration
Help reduce operation costs
Supports strategic planning
Internet access
8. Deltek

Donald deLaski founded the company called Deltek Systems, Inc in 1983. Key Features of Deltex are:
Complete visibility into opportunities throughout the firm that can be analyzed to make better business decisions and win more business
Full project management, budgeting, and scheduling to help execute projects on time and under budget
Designed to meet the needs of project-focused firms out of the box to manage the entire project life cycle.
Their key benefits are:
Deltek offers options for small to large enterprises with flexibility in their basic versus advanced functionality.
They resolve the operational and regulatory needs of discrete manufacturing firms and help industry-specific accounting, invoicing, and materials management with performance management, client management, and financial management tools.
Conclusion
ERP systems enhance operational efficiency, improve decision-making, and support the growth of fashion companies by integrating and streamlining various business processes. ERP systems in the apparel industry streamline processes, improve operational efficiency, and enhance visibility across the supply chain. They enable companies to effectively manage product lifecycles, inventory, production, sales, and financial aspects of their business, leading to better decision-making and overall business success.
References:
Top 8 ERP System Vendors for Fashion Industry Business