Planning is the key to the Apparel manufacturing process to deliver goods at the right time for the customer. The planning is proper and on-time work execution of different departments in the Garments industry. To control, calculate and keep data from all sections, planning software can do the best things accurately. Here I present the top Listed Production Planning Software for Garments Manufacturing and its features.
Apparel planning software makes our life very easy. In this era of modern technology, there is some Garments industry that does not use any planning software, they use Microsoft Excel for planning. Though most garment factories do production planning in Excel; there are many planning software in the market. Planning can be done internally through ERP. Planning software saves time, much data have to be input if you use Excel. You can customize your file in Microsoft Excel.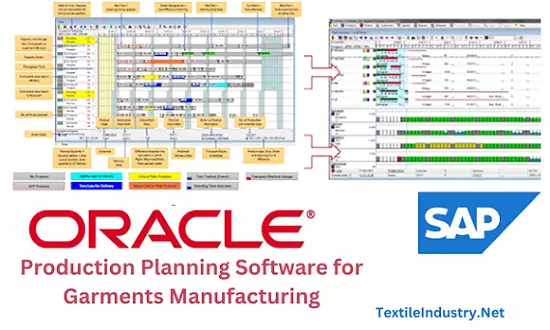 What is the List of Top 10 Production Planning Software for Garments Manufacturing?
Fast React
APPS planning module
Gemserp
MAE
STAGE
Pro-Plan
SAP in ERP
ORACLE in ERP
Lectra Fashion PLM
Microsoft Excel
Details Apparel Production Planning Software:
Fast React
This is the best software considered for Garments production planning. Most of the industry uses this software. In this software, you have to input data manually and can do data customization. Fast react planning software has more uses than any other in the industry.
Basic steps for Fast-React software planning:
There is a built-in module in the software. Some are custom-made as per company requirements.
Data need to be input as per module requirements & the software manual is the proper guide for how to do the planning.
Reports are auto-generated after data insertion & they can be interlinked with any ERP software.
APPS planning module
We can do production planning and monitoring, consumption calculation, quality data, dashboards, daily reports,s and improvement through this. It helps for analysis.
Gemserp
Plan-iT another Planning software has been developed by Gemserp. Plan –iT is specially made for Garment production planning. It helps merchandising and production people to take decisions much before in hand by using a visual display of the plan on a planning board. Thus it reduces last-minute firefighting with order processing. It brings absolute transparency inside the organization and assigns individual responsibility to the respective personnel.
MAE
MAE (Material Allocation Engine) is a software solution used in the garments industry for production planning. It helps streamline the process of allocating materials, managing inventory, and optimizing production schedules. MAE can sewing line by line planning for smooth operation.
STAGE
STAGE planning software is used to manage and plan the various stages of production, from receiving orders to final shipment. It helps operations, tracks progress, allocates resources, and ensures timely delivery. While there isn't a specific software called "stage planning software" in the industry, there are production management systems and enterprise resource planning (ERP) solutions that offer features to handle stage planning effectively.
When selecting stage planning software for garments manufacturing, consider factors such as your company's specific needs, production volume, integration capabilities with other systems (such as inventory management and finance), scalability, user-friendliness, and customer support provided by the software vendor. It's recommended to explore multiple options, request demos, and engage with vendors to find the software solution that best suits your business requirements.
Pro-Plan
Pro Plan software can skip holidays, calculate working hours, and use your current efficiencies and absentee levels and your capacity is instantly available. Capacity is established for 300 days in advance, it maintains these days by adding a new day at the end day. In Pro-plan Users can reserve capacity for special customers, Change the capacity of sections as it suits their sales. Pro-plan has an integrated Pre-Production Planning option.
SAP in ERP
By leveraging these SAP modules, garment manufacturers can streamline their production planning processes, improve operational efficiency, enhance visibility across the supply chain, and ultimately deliver high-quality garments to customers on time. It's important to work with SAP consultants or implementation partners with expertise in garment manufacturing to tailor the SAP system according to specific business requirements.
ORACLE in ERP
Oracle provides a comprehensive suite of applications and solutions that can be utilized for garments production planning. We can do production planning processes, optimize inventory levels, improve resource utilization, enhance quality control, and deliver garments efficiently to customers. Working with Oracle consultants or implementation partners with expertise in garment manufacturing can help tailor the Oracle system to meet specific business requirements and ensure successful implementation.
Lectra Fashion PLM
Lectra is a leading provider of integrated technology solutions for the fashion and apparel industry. Their Fashion PLM software enables efficient production planning, material management, and collaboration across the entire product development process.
Microsoft Excel
No Planning Software? Use Microsoft Excel for apparel production planning. But it is taking more time to input all data manually.
Basic steps for Excel planning:
Get the spreadsheet > Make introductory description > Objective
Select the routing path & include it in a row column-wise separately.
For example: Put your data accordingly. You can keep the remarks column as well.
There needs no charismatic Excel experience for this. The use of simple conditional formatting, Logical expression, and look-up can make your planning user-friendly.
Graphical representation in planning can make it more realistic and easier to understand.
It is easy to generate any report from Excel as is custom-made. The use of pivot can be helpful to make a report from the planning board of Excel.
Here is the Other planning software for Fashion and Apparel manufacturing Apart from the Top 10:
Gerber Technology AccuMark
Optitex
TukaCAD/TukaPlan by Tukatech
ApparelMagic
BlueCherry PLM by CGS
Fast React Systems
Centric PLM
NGC Software
Simparel ERP
AIMS360
Apparel21
StyleMaster
F2iT FashionMatrix
PatternSmith by Autometrix
PatternMaker Software
Assyst Vidya
Shopfloor by AIMS360
GSD (Garment Software Development)
PTC FlexPLM
Conclusion
These Apparel Production planning software options are available for garment manufacturing that can help streamline operations and improve efficiency. These software solutions offer features tailored to the needs of apparel manufacturers, such as material allocation, capacity planning, order tracking, and supply chain management. They can help optimize production processes, improve efficiency, reduce costs, and enhance overall productivity in apparel production planning. It's important to evaluate different software options based on your specific requirements and choose the one that best aligns with your business needs.
List of Production Planning Software for Garments Manufacturing