An interview is the only step to getting a job after submitting a resume to the garments industry. The interviewer is a hirer who can ask any question to the interviewee in related matters. Knowing answers and replying to the interview board is important to get a job in the garments Industry. Good preparation can keep you confident to face Interview Questions and Answers. Here we have written some questions and answer for garments job interview preparation. This content is all about Interview Questions and Answers to Garments Jobs.
A Job became very tough in the garments industry in recent times. Because there are many new candidates who want to do garments job and Textile engineers coming into this sector. So we need to take good preparation if we want to get a job in the garments industry.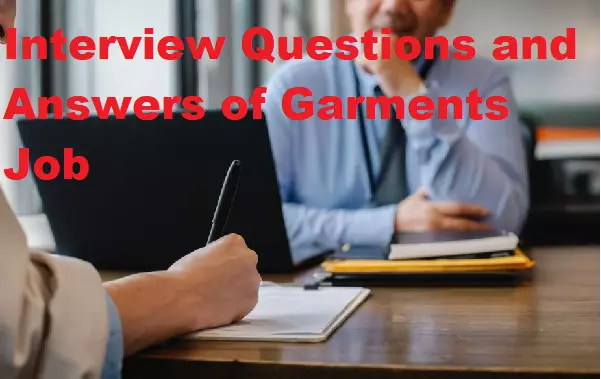 Garments Job Interview Questions and Answers
What are Garment and Garments?
Answer: The garment is a cloth for wearing, the garment is a human cloth in one word. Garments are the plural form of a garment; garment is the singular form.
2. How many types of defects are found in the garments industry?
Answer: Three types of defects are found in the garments industry. Those are Major, Minor, and Critical.
3. What is the trim card? Why is a trim card used?
Answer: Trim card is the approved swatch card of the product or material. A Trim card is used to check correct material is used in garments or not.
4. What is BOM?
Answer: BOM is a Bill of material, a list of raw materials, and other items used for manufacturing a product. Generally, garments buyers provide BOM to the vendor.
5. What is seam allowance?
Answer: The increased portion of the garment fabrics after the stitch line, is called seam allowance. The extra amount of fabric keep the end of the sewing line, is called seam allowance.
6. How many types of needles and what are they? And which needle is used for which purpose?
Answer: Needles are of three types, ★ Sharp needle ★ Ball point needle. ★ Universal needle. Sharp needle use in lock stitch. Ball point needle use in chain looper. And the universal needle is used for both purposes.
7. What is PO Sheet?
Answer: A PO sheet is a Purchase order sheet, an important document in the garments industry. PO sheet has total order quantity, size-wise order breakdown, style name, and other information.
8. How many parts of the zipper?
Answer: Five parts of a zipper, ★ Zipper tape, ★ Zipper teeth, ★ Runner, ★ Puller, ★ Stopper.
9. What is the full meaning of A.Q.L?
Answer: Acceptable Quality Level. AQL is a sampling inspection system.
10. What is a packing list? Use of Packing list.
Answer: A packing list is a list of completed PO packing information. This is required for the final inspection and export of commercial documents.
12. What are some most commonly used Sewing machines in Garments Industry?
Answer: Lock stitch sewing machine, Chain stitch sewing machine, overlock sewing machine, Feed of the arm, Kansai, Flatlock sewing machine.
13. What is Lay in the cutting section?
Answer: Lay is a number of fabric plies laying on a cutting board before the cutting process.
14. What is a cut mark?
Answer. Cut mark is the cutting before sewing. Mark that from cutting for sewing It is given as a cut mark.
15. How many types of wash are seen in the garments Industry?
Answer: Generally, Wash 5 types of washing; Normal wash, Enzyme wash, Silicon wash, Stone wash, and Garment wash.
16. What is Quality?
Answer: Quality is customer satisfaction, which means products meet customer requirements and conformance to a certain level of standard.
17. What Is an Invoice?
Answer: It is one kind of document that contains information like unit price, total units, and the total value of selling items. Generally, there are two types of invoices; Proforma invoice– this document comes with raw materials, and Commercial invoice– this document delivers the finished goods. An invoice is a billing document for a customer from the vendor.
18. What is the fabric inspection Method in the Garments Industry?
Answer: Four-Point System
Finally, hope these questions and answers would help you to get an idea about garment manufacturing and help to take garments job interview preparation.
Interview Questions and Answers of Garments Job