What is Garment?
A Garment is a piece of clothing, made of fabrics or textiles for wearing the human body and for human beautified reasons. Fabrics are cut in a pattern as per human body shape and then sew parts by part. After sewing, a few labeling, ironing, and other decorative process make a complete garment. Garments are the plural form of garment word, its synonym is "Apparel" also used in many countries, especially in America. Garments are also known as Clothing; so Apparel, Garments, and clothing meaning are almost similar. If you ask me, what does it mean by garment, I will tell you a garment is what you wear. A garments manufacturing industry that has all sections of cutting, sewing, and finishing. These 3 sections are key to producing garments though there are also a few other supporting sections or departments. The definition of garments/ Apparel or clothing is, anything we wear to beautify, protect or wrap our human body. In one word, a garment is what we wear. Examples of Garments are shirts, pants, T-shirts, jackets, etc.
Different clothing has different materials and trends. They are not only applicable to show personal fashion but also applicable to identify employees in many companies or departments. Individuals can add their own creativity to customize simple T-shirts, such as a name, a personal label, or a favorite cartoon or painting, they all can reflect the individual's personality well. What's more, it is very common and popular for enterprises and official departments to customize T-shirts with exclusive logos for events or special memory days. BPS T-shirts can be created in various patterns and styles, learn more at BPS.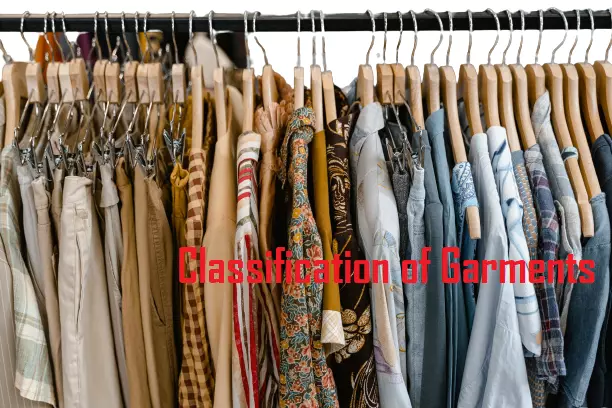 Classification of Garments
Garments can be classified in many ways based on use, season, fiber content, fiber types, fabrics type, manufacturing, wearing position, and many other factors. Here we have tried our best to give the classification of Garments as many as they can be classified based on many factors.
1. As per types of fabric:
Most people know garments by their fabrics nature like woven, knit, and nonwoven garments.
a. Woven: Woven garments are made from woven fabric. Woven Garments Example: Shirt, pants, blazer, etc.
b. Knit: Knit garments are made from Knit fabric. Knit Garments are Knitted sweaters, T-shirts, Polo shirts, jerseys, pullovers, Polo, cardigans, trousers, etc.
c. Non-woven: Non-woven garments are made from non-woven fabric. Nonwoven garments Example: Diapers, Floor Duster Cloths, Carpet/carpet backings, Household cleaning wipes, Baby bibs, tea bags, Feminine Napkins, Medical textiles, Face Mask, Sanitary materials, Silica gel bags, etc.
2. As per wearing position:
a.Top: Top garment is what is used to wear at the top part of the body, not worn below of umbilicus. Examples of Top garments are shirts, T-shirts, Polo shirts, bras, etc.
b.Bottom: The bottom garment is what is used to wear at the bottom part of the body, generally worn at the umbilicus or below the umbilicus of humans. Bottom garment examples are pants, underwear, leggings, etc.
3. As per Season:
a. Winter: Examples of winter garments are jackets, shoes, coats, jackets, hats, scarves and gloves or mittens, earmuffs, but also warm underwear like long underwear, union suits, and socks.
b. Summer: Summer clothing examples are T-shirts; Dress; Singlet; Cap; One-piece bathing suits; Hawaiian shirts; Sunglasses; Swim trunks; Straw hats, etc.
c. Spring: Singlet, Spring Sweater, Cardigan, White Jeans, Short Sleeve Sweater.
d. Autumn: Shirt, T-shirts etc.
e. Late Autumn: (shirt (design)).
4. As per wearing in Events:
a. Party (fashion wear)
b. Active (regular wear)
c. Evening gown (outfit)
d. Night (soft fit)
5. As per Application purpose:
a. Formal (collar shirt)
b. Swimwear (bikini, encompass ups)
c. Sportswear (trouser)
d. Lingerie (innerwear, slumber wear)

6. Method of manufacture:
a. Readymade (complete)
b. Tailored (measurement)
c. Furnishing (automated)

7. As per material Source:
a.Leather (leather)
b. Natural (leaf)
c. Artificial (fur)

8. Gender in addition to age:
a. Women's (skirts)
b. Men's (tongo)
c. Kid's (toga)
c. Toddler (bibs)

9. Shape in addition to styling:
a. Dresses (sari)
b. Shirts (neck wear)
c. Skirts (elastic in addition to stitches)
d. Suits (official outfit)
10. As per the Length of the garment:
a. Shorts (panty wear)
b. Three quarters (cargo pants)
c. Full have on (pant)
d. Bermuda have on (thigh wear)
e. Pullover (stockings)
f. Short sleeve
g. Full sleeve.
h.Sleeveless
11. Medical Garments: Medical garments are made of specialized fabrics and components for patients, nurses, and doctors to use for various purposes. Medical products must be protected users from all types of harm. Examples of medical garments are PPE, Surgical gowns, bedsheets, surgical masks, aprons, sanitary napkins, and many other items.
Classification of Garments reviews are also available on YouTube. If you wish to listen to the full review, use this YouTube to MP3 converter.
What is Garment | Classification of Garments