"Quality First' a famous tagline is used everywhere on the manufacturing floor in the garments industry. The meaning is garments industry has to focus on quality as first priority over anything. Apparel and Fashion retailers focus on good quality garments for sourcing. For quality control, many staff is recruited for the quality department. They are quality controller, quality supervisor, in-charge, manager, and general manager. Among them, a Quality manager is the most important person, though there is a quality GM, a Quality manager is much more important in the apparel industry. This article is all about the job Responsibilities of the Quality Manager in the Garments Industry.
A quality manager is a quality assurance, quality control manager, or QC manager who is taking care of quality control activities throughout the garments industry. He is a responsible person for everything related to quality. A quality manager executes, monitor, lead, and develop a quality inspection team for proper inspection and testing. The major role a manager plays is to make customers happy in terms of quality. He ensures the overall quality inspection of raw materials, cutting, sewing, finishing, and packing. A good quality manager leads the apparel quality team with sincerity, punctuality, and honesty. He is capable of handling diversified product quality and ensuring a business-friendly environment in the factory and ensuring good outgoing product quality. A quality manager develops a carrier in the Garments sector, especially in Q.A Management, and enriches potentials where he will be able to implement knowledge and experience regarding Quality assurance effectively and efficiently.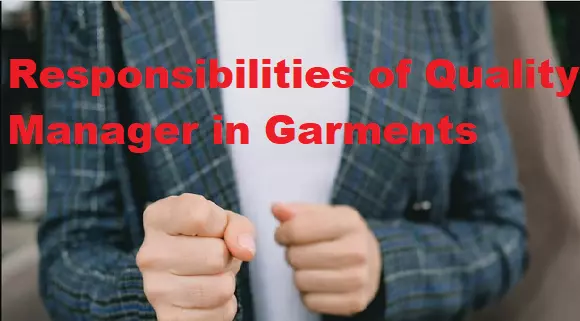 Job Responsibilities of Quality Manager in Garments
Conduct and coordinate in-process inspection and assist the buyer representative (GPQ) in the Final random (pre) Final inspection in the Factory.
Check and ensure pattern size and confirm it for bulk production according to buyer instructions.
Communicate with the fabric department regarding the fabric quality and assist the fabric QA to ensure online quality control and reporting of the fabric.
Approve and work with the merchandiser for the fabric and all accessories quality issues of final bulk production.
Follow up Inline checking and reporting in the cutting, sewing, and finishing department.
Rectify the sewing defect and ensure the accurate shape and design of the product as per the client's requirement.
Checking out and reporting to the proper channel of all the accessories in-house for bulk production.
Check the fitting of the garment as per the buyer measurement chart and follow the spec sheet.
Communicate with the buyer's representative and follow their time-to-time instructions accurately.
Checking and matching the accessories such as sewing threads, buttons, care labels, size labels, main labels, photo board poly bag, etc. as per customer requirement.
Maintain and ensure excellent business helpful relative ship with the factory Management as well as the buyer.
Keeping strong follow-ups on quality and technical issues and giving solutions.
Coordinate PP meetings with the team, GPQ, and buyer QC till cutting approval.
Make and execute QC's daily working plan.
In-process and end line, quality control process Implement and monitor.
Focus and follow up on the quality of the finished goods.
Reduce the gap between pre-final inspection and final inspection.
Training and development of all subordinates.
Have full control of quality control activities throughout the garments industry.
Skills and Capabilities of a Quality Manager
Organization and ability to facilitate multi-tasking in a fast-paced work environment.
Strong organizational Strong leadership, and professional, oral, and written communication skills.
Strong negotiation skills
Professional demeanor and proactive approach
Ability to interface with all levels within the organization
Excellent written and oral communication skills.
Ability to lead and handle a big team of quality inspectors, quality supervisors, and in-charge.
Must have a good command of quality acceptance criteria and convince the production manager about the importance of product quality.
Responsibilities of Quality Manager in the Garments Industry