Quality Control Department
Quality is the prime concern for the garment manufacturing process. If quality is good, nothing to worry about in the garments industry. So, we need to produce the product RFT (Right First Time). Clients pay us only for the good quality piece but not for the defect or rejections. So quality is improving by the production team & quality team can ensure it only. Lot inspection checkpoint & find out the defect increases the rework which is a non-value-added cost and also decreases the efficiency. If we want to improve the quality, we should follow the high RFT rate. It will minimize our production costs and also increase our efficiency. In this competitive market if we want to lead the sector. It's time to think about Zero Defect. This content is all about Quality Control Department in Garments Industry.
The quality department is a major part of the manufacturing industry. The quality department of the garments industry checks quality in three sections; cutting, sewing and finishing. Apart from these trims and fabric have to check in the raw material stage. Here we are discussing what to do for quality control in garment factories.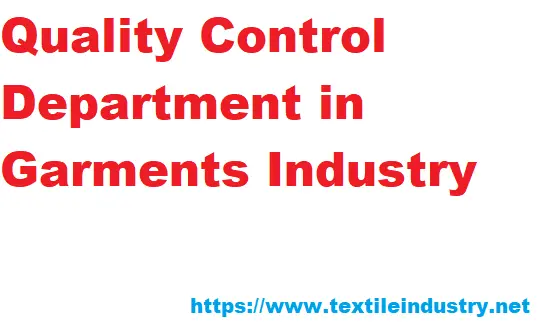 Functions of the Quality Department in the Garments Industry
Maintain international / Buyer standards for quality and housekeeping issues.
Set up proper QMS in all departments as per respective customer requirements.
Maintain proper report of quality inspection and measurement.
Reduce DHU/ OQL/Rejection & Wastage. And train operators about customer quality requirements and defect/ rejection.
Improve the PASS/ RFT rate as per the target. Inspect starting of every bundle and make sure the operator doing the right thing in the process.
Train all QA departments as per International Standards and teach them specification sheets.
Increase all QA staff skilled in inspection, and measurements as per buyer requirements.
Improve the quality management system based on ISO-9001, 2015 & maintain KPI in all sections.
Minimize the FAIL rate by consulting/ developing all workmen and staff.
Root cause analysis of defect to take corrective & preventive action.
Reduce the outgoing quality level (OQL) & defect percentage of every section (DHU).
Train up the QA team about the client's requirements. (How to check the garments, how to measure guidelines, Client DCL, Product safety regularity & Test perimeter)
Arrange PP meetings for risk analysis and measurement analysis of particular styles.
Identifying the buyer-specific quality issues and developing & implementing solutions to improve the technical conformity of the product in the process to sustain the client requirements.
Cross-check all technical information/comments/patterns/trim & Approval samples that bulk are produced as per client requirements.
Coordinating the investigation & root cause of customer complaints or recall.
Giving special quality assurance advice to the related departments as per style & client requirements.
Ensuring products comply with the Safety and Regularity of quality assurance codes as per Country regulations.
Ensuring that all Garments Tests (Physical & Analytical) are carried out on time and as per Client requirements.
Provide weekly and monthly reports to Top management to view the progress of company QA, Safety, Technical & Compliance status.
Training regarding In Process inspection/Color continuity, shrinkage & daily Audit.
Taken corrective & preventive action to prevent mold issues & Product safety/ Regularity.
Finally, Hope you got a clear idea about Quality Control Department in Garments Industry.
Quality Control Department in Garments Industry