A sample is approved for bulk quantity in the garments industry. If the buyer does not accept any, the garments industry cannot start bulk production. So we have to focus on sample inspection and set a system for the internal approval process prior to sending the buyer. Here we made procedures for Sample Inspection and Approval Process in the Garments Industry.
To study in detail the samples for development like construction, fit, Material characteristic styling, and production work methods. Ensure that specification details received from the buyer are processed according to their requirements. This procedure shall cover sampling from sample development stages up to the time it is finally approved by the latter for bulk production. Sample Inspection and Approval Process in Garments Industry. It is the responsibility of the Head of the Sample Section to ensure that Standard Operating Procedures (SOP) are enforced.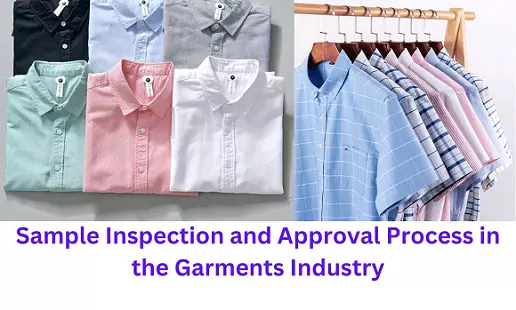 How to do Sample Inspection and Approval Process in the Garments Industry
Patterns inspection for Sample
If Patterns received from the buyer will be verified against the customer's specification.
In case of any discrepancy, the Sample section shall inform Merchandising Department by accomplishing details of buyer pattern against spec discrepancy or any.
If no patterns are received from the buyer, earlier approved patterns of similar style of the same buyer will be used as a base for Fit/Pattern Balance and patterns adjusted as per required spec.
Patterns should be added process allowance for sewing/ cutting loss and the same will be verified during the test sample.
Wash Shrinkage checking
For Wash quality control styles, washing shrinkage should be tested as per the wash standard required.
Always add the tested/ actual Washing shrinkage into the patterns.
Always need to mention, Pattern measurements (Spec + Process allowance + Washing Shrinkage), Target Before wash (Spec + Washing shrinkage).
Target Before wash measurement – Always patternmaker to provide Target Before wash (TBW) measurements for critical POMs – Waist, Seat, Thigh, Knee, Bottom opening & Inseam.
Before wash measurement – Before wash measurements should be checked against Target Before wash measurement not against Final Spec.
Construction inspection of Sample
Technicians / QA/ IE teams identify Potential Production difficulties related to Construction/ sewing methods.
Samples should be made with constructions that are feasible for bulk runs.
Always try to use Folders in order to get consistent quality with higher productivity.
Factory Option – If the construction requested by the buyer is not feasible for bulk, then always provide a factory option during the development/ Fit sampling stage.

Option A -Follow construction detail exactly as per customer requirements

Option B – Factory option along with parent sample to achieve consistent quality & productivity without affecting/ altering the style and aesthetic look of the garment.

All clarifications related to construction, Research, and development should be cleared during the development and Fit sampling stage.
Construction cannot be changed once the PP sample is approved.
Rejections Analysis
In case of rejections, detailed analysis is done by the concerned pattern maker along with the sample section manager and any clarification required on comments will be communicated to the buyer prior to making patterns.
Factory Option: Other than making the samples as per buyer comments, in case the factory feels to advise suggestions for better fitting, the factory provides another sample made as per factory suggestion in addition to the parent sample following buyer comments AS IS.
New Buyer
Whenever there is a new buyer, a meeting is called with the concerned merchandising team, and the below details are requested to have a better understanding of the new buyer prior to processing samples.
Patterns – Whether the buyer provides Block patterns or AS IS patterns to make sampling or do we need to develop patterns from our end?
Body form – Details of body form or live model measurements.S
ample stages – What are the sample stages involved?
How to measure Manual for a way of measuring and guidelines for sample making if any from the buyer.
Size Set Patterns
PP approval comments have been incorporated in a base pattern within 3 days of PP sample comments receipt. Any discrepancy in following fit comments is highlighted to the buyer prior to proceeding with graded patterns for the size set.
Pattern makers make the graded patterns as per the buyer graded spec, any discrepancy in grading rule will be communicated to the buyer.
Graded patterns released to CAD team with the signature of Pattern Maker for making size set. Note – Wash shrinkage followed is PP sample shrinkage. Grading is checked by a person responsible to check the grading.
CAD team to adjust the Graded pattern as per washing shrinkage of the Size Set Fabric and release the size set patterns with Target Before wash measurements for Critical Measurements.
Size Set Review
The size set before wash measurements has been measured against TBW measurements and the same has been recorded.
Size set measured after wash.
QA team to do the Size set analysis – Pattern measurements, before-wash measurements, after-wash measurements, and shrinkage, and suggest pattern corrections to the concerned pattern maker.
Pattern maker to review the QA team suggestion and verify the size set report against size set samples prior to making corrections for Pilot run patterns.
Wrap up
Sample Inspection and Approval is a very vital and sensitive process for the garments industry. That is why a separate sample section is there to control the whole thing for the garments industry.
Sample Inspection and Approval Process in Garments Industry