Canada is a North American Country, a neighbor of the USA and Mexico. As it is a nice country, international students love to come, study and settle here. Canada is also one of the best places for Textile engineering universities for graduation, post-graduation, and Ph.D. Here we will discuss Textile Engineering Universities in Canada, their address, and contact details.
Textile engineering plays a crucial role in the development and innovation of fabrics, fibers, and other textile-related materials. Canada is home to several esteemed universities offering exceptional textile engineering programs. In this article, we will explore some of the leading universities in Canada that provide comprehensive education and research opportunities in the field of textile engineering.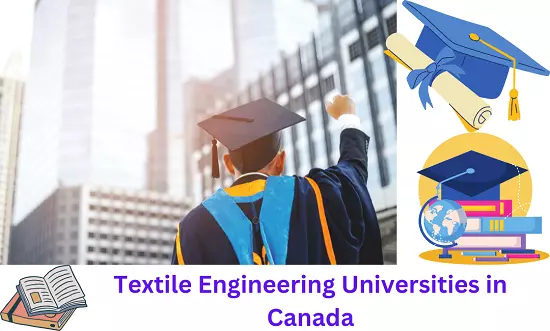 List of Top 40 Textile Engineering Universities in Canada
Canada is known for its strong educational system, and there are several universities in the country that offer programs in textile engineering or related fields. Here are some notable universities in Canada that offer textile engineering programs or relevant degrees:
1. Kwantlen Polytechnic University
2. University of the Fraser Valley
3. George Brown College
4. Concordia University
5. Mohawk College
6. Vancouver Community College
7. University of Alberta
8. Alberta College of Art and Design
9. Banff Centre
10. Mount Royal University
11. University of Calgary
12. University of British Columbia
13. University of Victoria
14. Simon Fraser University
15. Douglas College
16. Capilano University
17. Langara College
18. University of the Fraser Valley
19. Camosun College
20. Vancouver Island University
21. University of Manitoba
22. New Brunswick College of Craft And Design
23. College of the North Atlantic
24. NSCAD University
25. Brock University
26. Anna Templeton Centre for Craft Art & Design
27. University in British Columbia, Canada
28. Centre de Recherche et de Design en Impression Textile
29. Emily Carr University of Art and Design
30. Kootenay School of the Arts
31. New Brunswick College of Craft and Design
32. Sheridan College Institute of Technology and Advanced Learning – Sheridan
33. Fleming College – Sir sandford fleming college
34. Haliburton School of the Arts
35. Olds College
36. Lethbridge College
37. Olds College
38. Northern Alberta Institute of Technology
39. Concordia University College of Alberta
40. Academy of Fashion Design
Conclusion
Studying textile engineering in Canada offers students a wealth of educational opportunities and exposure to cutting-edge research and innovation. The aforementioned universities and colleges provide comprehensive programs that cover various aspects of textile engineering, from fiber science to fabric production and beyond. Students can benefit from the advanced facilities, industry collaborations, and supportive learning environments offered by these institutions. Embarking on a textile engineering journey in Canada can lead to a rewarding career in the ever-evolving textile industry.
Top 40 Textile Engineering Universities in Canada