Lycra fabric is very sensitive having high stretchability. So in different processes in sewing and washing, it is breaking. Its means the lycra fiber is broken or damaged. Lycra breakage is a common problem in the garments industry and generally occurs in the sewing and washing process. So, some carefulness needs for handling lycra fabric and lycra orders in the garments industry.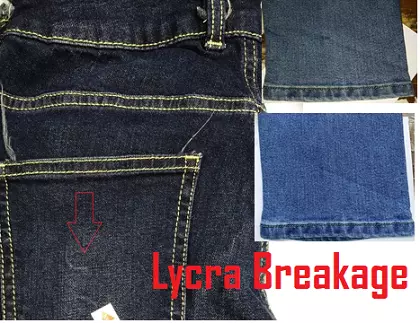 Lycra Breakage and Lycra Fabric order handling in Garments Industry
Lycra breaking prevention in washing
During the dry process needs to use light silicon carbide paper for scraping and garment, not excess spread-out on-air tube. If needed use fabric weight gain properties during the wash and control chemical ratio, machine timing, and dyer temperature properly, and better to use stem dyer instead of the gas dyer.
Lycra breaking into Sewing Room
Use a lower ballpoint needle, specially groz-Beckert titanium nitride coated needle #11 for all processes and change to needle twice a day and adjust the machine accordingly and handle operation without any looseness and pull ness. Lycra breaking on the process: Need to adjust feed dog, fresher foot accordingly also operator need to handle the process without any pulling and will not attach bar Teck before wash garments to avoid Lycra out.
Need to prepare fabric dimensional change test and report properly then prepare pattern according to dimensional change range.
Before cutting needs to relax the fabric for 15 to 18 hours and during spreading strongly control spreading tension.
Need to follow exactly and even sewing allowance in the process
Measure 100% goods key point respect with before wash SPEC on Line.
In wash need to control temperature due to high-temperature Lycra loose strength and recovery power as a result measurement will come out of tolerance
Washing Spot and crease mark
Need to keep garments in the washing room on a pallet to avoid dirty and chemical spots in the washing room. Handle chemicals in an organized way and make sure chemical drops not fall on the floor and garments. When changing dark to light color style clean the floor, machine, and other equipment accordingly. Not wash excess quantity of garments in a batch to avoid crease marks on garments. During PP make sure the PP drop does not fall in another area of garments. Chemicals are properly mixed before putting in the machine, otherwise, a chemical particle can because a chemical spot on garments.
Make sure even the foundation of the process where the button and rivet will attach if the process foundation is uneven then rivet attaches will be insecure and pulled out. Need to adjust the machine and mold according to the datasheet and make pull and push test reports every two hours. And one QC needs to allocate for 100% button and rivet checking on the process.
Leg twisting
Need to put a cut mark on the cut panel in the knee area from the cutting room. To avoid leg twisting need to follow the knee mark accordingly in the sewing line to avoid leg twisting.
Injury and tearing at back pocket corner
Due to heavy wash, there is a chance to come injury/tearing at the back pocket corner, need to use small pcs of the poly sheet in between the body and pocket to avoid injury and tearing. Strictly avoid stitching at the end of the process, after washing over stitch causes injury and tearing, and damage.
Hope this article gives you a clear idea on How to handle Lycra Breakage: order in Garments Industry. Is there anything more in mind, please let us know in the comment box?
Courtesy: Somor Sen Das
How to handle Lycra Breakage: order in Garments Industry