Abbreviations for Apparel Merchandising
Merchandising is an important part of the Apparel industry. It is directly involved with the garments manufacturing business. So this department has s many reporting and documentation tasks. There are so many short forms of words or sentences or Abbreviations for Apparel Merchandising that have been used over the years. Here we put as many as possible on our list. This requires both verbal and mail communication. Here I present over 120 Common Abbreviations for Apparel Merchandising.
Time is very fast in this era. Knowing abbreviations helps us to understand anything quickly and save time. We are focusing here on very small things in shortcuts.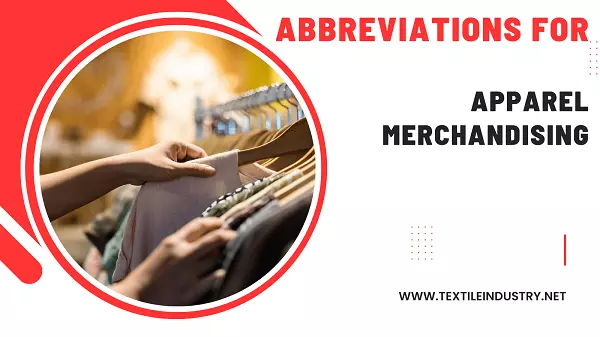 120 Very Commonly Used Abbreviations for Apparel Merchandising
A/W- Autumn/Winter
Acc.- Accessories
Approx.- Approximate
Art.- Article
ASAP-As Soon As Possible
Asst.-Assistant
Attn.- Attention
Avg.-Average
BBL/C- Back-to-Back L/C
Bcc.- Blind courtesy copy
BL-Body Length
Bus.- Business
C and F- Cost and Freight.
C. D. S- Count Data System.
C.B.C- Carpet Batching Cloth.
C.B.L- Center Back Line
C.c.- Courtesy copy
C.E- Cleaning Efficiency.
C.F.L.- Center Front Line.
C.I.F- Cost of Insurance and Freight.
C.M.C- Carboxyl Methyl Cellulose.
C.M.O.- Cost of Making Order.
C.M.S.- Carboxyl Methyl Starch.
C.M.T.- Cost of Making with Trimming.
C.P.I- Course Per Inch.
C.P.M- Course Per Meter.
CA#-CA (Canadian) Identification Number
CB-Center Back
CBL-Center Back Length
CF-Center Front
CFL-Center Front Length
CFR-Cost and Freight
CIF-Cost Insurance and Freight
CM-Cut and Make
Cml.-Commercial
CMT-Cut Make and Trim
Con.-Consumption
Corp.-Corporation
Dept.-Department
e.g.-for example
ETA-Estimated Time of Arrival
etc.-and so forth
ETD-Estimated Time of Departure
exp.-Express
F/W-Fall/Winter
Fab.-Fabric
Fig.-Figure
FOA-Free on Air
FOB-Free of Board
FOB-Free on Board/Freight on Board
FOC- Free of Charge/ Cost.
FPP-Full Package Program
FPT – Fabrics performance test
FPT-Fabric Performance Test
FW-Fabric Width
Fwd.-Forward
GMT-Garment
GPA-Garment Purchase Agreement
GPT-Garment Performance Test
GSM-Gram per Sq. Mtr
GSP-Generalized System of Preference
GW- Gross Weight
HPP-Half Package program
HPS-High Point Shoulder
IC- Inspection Certificate
i.e. -that is
I/O-Instead of
Inc.-Incorporation
Incl.-Including
Inst.-Instant
Inv. -Invoice
Invt.-Inventory
Jp.-Junior Petite
Jr. -Junior
L/C-Letter of Credit
L/D-Lab dip
Lbs.-Pound
MOQ-Minimum Order Quantity
Mp.-Misses Petite
MPD-Meter Per Dozen
NW- Net Weight
OZ-Ounce per Sq. Yd
Oz.-Ounce
P/I-Pro-forma Invoice
PDM- Product data management
PL-Packing list
PLM-Product Life-Cycle Management
PND-Pattern Design
PO -Purchase Order
POM-Point of Measurement
POS-Point of Sales
PP-Pre production
PPM-Preproduction Meeting
PPS-Preproduction Sample
Px.-Price
QR-Quick Response
Qty.- Quantity
RMG-Ready-Made Garment
RN-Registered Identification Number
S/B-Should be
S/S-Spring/Summer
SKU-Stock Keeping Unit
SL -Sleeve Length
Slv.-Sleeve
SMS-Sales Men Sample
SOP-Standard Operating Procedure
Spec.-Specification
Sr.-Senior
SS-Side Seam/ Short Sleeve
Std.-Standard
TNA- Time and Action
TC-Top Center
Tech-Pack-Technical Package
TOP-Top of Production
Ttl.-Total
UPC-Universal Product Code
Vol.-Volume
WB-Waist Band
Wk.-Week
WPL-Wool Products Labeling
YPD-Yard Per Dozen
Conclusion
If you are working in merchandising in the apparel Industry or any other department, this article would help us. Here we mentioned over 120 Common Abbreviations for Apparel Merchandising.
120 Common Abbreviations for Apparel Merchandising