We got some emails from our readers about the differences Between T-Shirt and Polo shirts. Both are very common and casual dresses in this era. We often get confused, and we make wrong to differentiate. The main difference between a polo shirt and a T-shirt is that a polo shirt has two or three buttons down the front, while a T-shirt is just a plain T-shirt with no buttons. Polo shirts are also typically made from a thicker, more textured fabric than T-shirts. And finally, polo shirts generally include some sort of logo or design on the chest, whereas tee shirts usually don't. T-shirts have various designs and styles, but polo shirts typically have a standard design. The key difference between polo and t-shirt is their design; polo shirts usually have a collar and placket with two or three buttons beneath the collar, whereas most t-shirts don't have collars. I present details here, and I hope you will love this.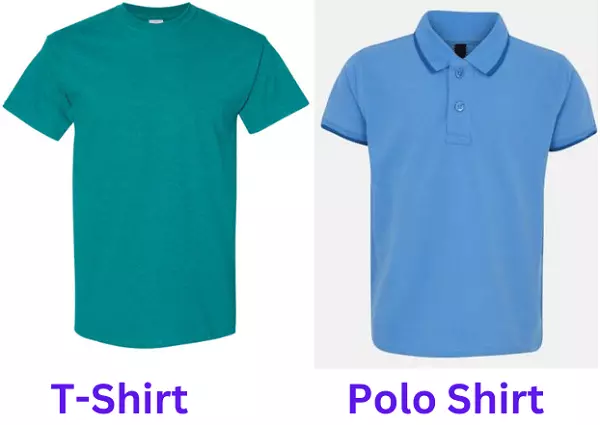 T-Shirt
A T-shirt (also written as a tee shirt or t-shirt) is named after the T shape of the body and sleeves. A T-shirt is collarless and has short sleeves. They are made out of light fabric, such as cotton. T-shirts are casual and should not be worn for formal, professional, or other non-causal events.
Polo Shirt
Polo shirts, also known as tennis shirts or golf shirts, are a type of shirt. A polo shirt typically has a collar and a placket with two or three buttons. Some polo shirts may also have an optional pocket. They usually come in solid colors or simple patterns such as stripes. They are made from knitted cloth, unlike t-shirts which are made from woven cloth. Piqué cotton, interlock cotton, merino wool, silk, or synthetic fibers can be used to manufacture polo shirts.
Differences Between a T-Shirt and Polo Shirt
| | | |
| --- | --- | --- |
| | T-Shirt | Polo Shirt |
| 1 | Polo Shirts have a collar. | It is also made of knit fabric |
| 2 | Polo Shirts have a Pocket. | T-shirts do not have any Pockets. |
| 3 | T-shirts are usually in V shape and round shape necklines. | It is made of knitted fabric |
| 4 | Fabric GSM less than Polo shirt Fabric | Fabric GSM is more than knit fabric. |
| 5 | A Polo shirt is worn as body-fit clothing. | Thicker fabric used |
| 6 | The generally thinner fabric uses to make T-shirts | Polo t-shirts are used for formal and semi-formal purposes. |
| 7 | General T-shirts are used as casual wear. | Generally, T-shirts are worn as loose-fit clothing. |
| 8 | It is cheaper than a Polo shirt | Polo Shirts have only collared necks. |
| 9 | It is a little more costly than T-shirt | Little thicker and heavier fabric |
| 10 | Use very lightweight fabric | Little more thicker and heavier fabric |
Wrap Up
The differences are very basic between these two popular daily use clothes. As the names are almost near to each other, a T-shirt is complete casual wear, and Polo can be used as formal also. The collar, button, and button placket make the main difference between the two; these items exist in polo shirts only. Another key difference is the use of fabric; despite both clothes being knitted fabric, but knitting process is different; polo fabric is Lacoste knitting.
Difference Between T-Shirt and Polo Shirt