T-Shirt Measurement Guide with Picture and Size chart
A T-shirt is a lightweight casualwear, comfortable clothing, a part of our daily life. Generally, it has short sleeves and a round neckline; but it also can be made with full sleeves. T-shirts are usually made of cotton or a cotton blend and are designed for comfortable, everyday wear. But cotton is more comfortable for wearing clothes like T-shirts, and it despises blended with many other fabrics for manufacturing. Fashion designers come daily with various colors, patterns, and designs, which can be plain or decorated with graphics, logos, or text. T-shirts are popular and versatile clothing items that can be dressed up or down depending on the occasion, and they are often worn as a form of self-expression or a way to show support for a particular cause or team.
Do you want to get the best-fit T-shirt? How to measure it? How to define chest measurement? What are the measuring points of a T-shirt? How to take sleeve measurements? Then you need to know the T-shirt measurement. T-shirt measurement is the measuring points are the neck, sleeve, shoulder, chest, waist, and hem. It is essential to know to measure them.
T-shirt Measurements
To measure the T-shirt first, we must lay it flat on a smooth surface. Measurement tape is better for a T-shirt measurement.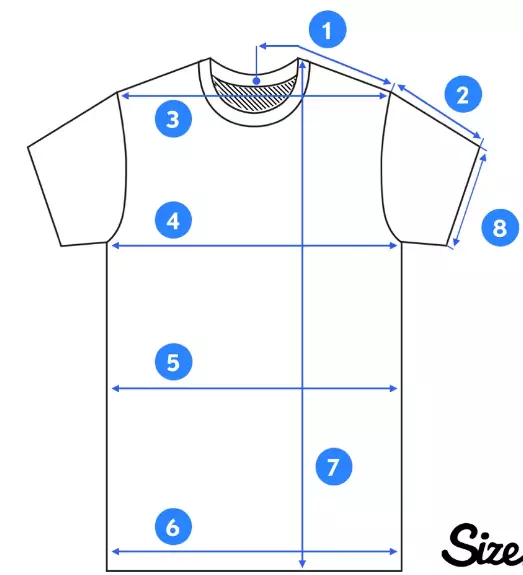 Neck to shoulder: This measurement is from the shoulder to the neck's middle area.
Sleeve length: This measurement is from the shoulder seam to the end of the sleeve opening.
Shoulder: Measure one shoulder point to another shoulder point length.
Chest: This measurement is under the arm area; take the length from right to left.
Waist: The waist area measurement is just like the chest; take the reading from one end side to another.
Hem: The bottom area of a T-shirt measures width from one side to another.
Shirt length: Measure from the highest point of the shoulder to the very bottom of the T-shirt.
Sleeve cuff: Measure the length of the sleeve cuff.‍
T-shirt Measurement Size Chart
Here is different size charts of measurement that would help you:
| | | | | | | | |
| --- | --- | --- | --- | --- | --- | --- | --- |
| SIZE | XS | S | M | L | XL | 2XL | 3XL |
| CHEST WIDTH | 45.7 | 48.3 | 50.8 | 53.3 | 55.9 | 58.4 | 61 |
| SHOULDER WIDTH | 39.4 | 40.6 | 43.2 | 45.7 | 47 | 48.3 | 49.5 |
| T-SHIRT LENGTH | 64.8 | 67.3 | 69.8 | 72.4 | 74.9 | 77.5 | 80 |
| SLEEVE LENGTH | 15.2 | 16.5 | 17.8 | 19.1 | 20.3 | 21.6 | 22.9 |
You may love to read: How to Measure Pants: A Comprehensive Guide
T-Shirt Measurement Guide with Picture and Size chart