Skills and Qualities of a Good Garments Merchandiser in the Apparel Industry
Merchandising is always a career with potential. Gaining experience in this sector will increase your career security. Moreover, most of our foreign income comes from the garment industry, and considering the job market and career, many people are interested in this profession. Merchandisers are needed in every garment industry, whether a garment or a buying house. But Garments Merchandising starts from raw materials to producing quality garments according to the customer's demand and reaching them to the customer at a specific time. In simple words, a merchandiser is a person who oversees the entire process from garment manufacturing to marketing. The profits and losses of the organization depend on a merchandiser. In this case, the amount of profit is high, and the loss is not less. A slight mistake can cause a lot of damage to the organization. So today, we have arranged our article with some essential skills and qualities of a merchandiser; that is, knowing the tasks professionally is very important for a merchandiser. So let's get to know things.
A good merchandiser is vital to a company's business and overall success. A Garment Merchandiser is a specialist who works in the fashion business and is in charge of manufacturing and selling clothing products. They coordinate with developers, production groups, as well as distributors to make sure that garments are created in a timely as well as cost-efficient fashion and that they satisfy quality criteria. As Garment merchandisers, they additionally assess market trends, manage supply, and produce advertising methods to promote their items.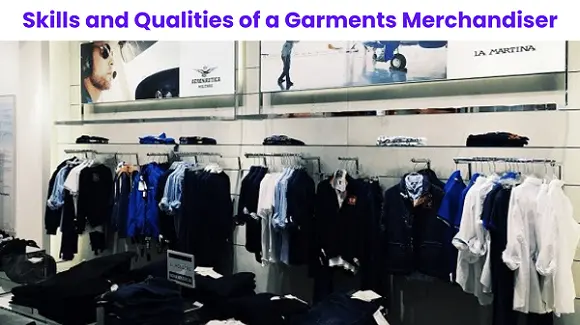 12 Skills and Qualities of a Good Garments Merchandiser
The apparel industry is a regularly developing landscape, and also the duty of a garments dealer is ending up being significantly essential. A garments dealer is responsible for confirming that a product goes from style principle to market efficiently. To grow expertise in this role, there are a few skills and high qualities that a person should have. This write-up will certainly discover these abilities as well as top qualities thoroughly.
Technical Skills
Know all related Yarns and Fabric
Development and Approval Process
Understanding Production problems and Testing requirements
Outstanding Communication Skills
Exceptional Communication Skills
 Organizational Skills
Analytical Skills
Problem-solving Skills
Creative thinking
Capacity to Work Under Pressure
Interpersonal Skills
Technical Skills
Firstly, the technical sheet and order sheet sent by the buyer should be well understood, and there should be no ambiguity. That is, the quality of the fabric, accessories, product quality, order quantity, etc., specified by the buyer must be properly fulfilled. Otherwise, the product is likely to be rejected by the buyer.
Know the fabric and yarn well. Also, know and understand about quality, price, suppliers, sourcing, and production of the textile industry in light of reality. Knowing and understanding each of these things, like yarn, fabric, and garments, from the production stage to their consumption and cost. Above all, be able to do the above accurately. After that, get a good idea about production capacity, production strategy, and planning of garments and textile products. If necessary, see these with your own eyes and understand the decisions and actions. In particular, the buyer supplies the design of the garment to the merchandiser.
Development and Approval Process
Must have a good understanding of development and approval preparation, revision, time management, and follow-up of various materials, especially Garment Samples, Fabric samples, Lab Dip, Trim Cards, and Swatch cards. And the buyer should have a very good idea about the order sheet, payment terms, and shipment and know the facts in light of reality.
Understanding Production problems and Testing requirements
Problems in various subjects, including fabric production, garment production, washing, and testing of raw materials of garments. Garments Merchandiser knows all the testing requirements of buyers. Also knows all merchandising terms and definitions used in the garments industry
Outstanding Communication Skills
One of the most vital qualities of a great garment dealer is excellent interaction skills. This consists of having the ability to interact successfully with suppliers, manufacturers, purchasers, as well as developers. A great garments dealer should have the ability to negotiate with distributors to ensure the very best feasible rate for materials. They must likewise have the ability to communicate concisely and clearly to guarantee that every person gets on the same page.
Exceptional Communication Skills
One of the essential high qualities of an extraordinary garment dealer is outstanding communication skills. This includes having the capacity to connect efficiently with distributors, manufacturers, buyers, as well as programmers. A great garments dealership needs to have the capability to negotiate with suppliers to make sure the very best possible rate for materials. They must similarly have the ability to connect in a compressed and clear means to ensure that everyone jumps on the same web page.
Organizational Skills
Excellent organizational skills are important for a good garments distributor. They require to be able to handle multiple tasks, like coordinating with providers, managing the manufacturing procedure, and also guaranteeing that the product is implemented on time. They must be able to focus on tasks and also handle their time successfully.
Analytical Skills
An excellent garments dealer should be able to make use of information to make decisions. They need to be able to examine market trends and consumer actions to make certain that the item succeeds. This consists of having the ability to translate sales information to identify any kind of fads or patterns and also utilizing these details to make enlightened decisions on future items.
Problem-solving Skills
A great garments merchandiser must have superb analytical skills. They require to be able to recognize any concerns or difficulties that might occur throughout the manufacturing procedure and also locate remedies to make certain that the product is provided promptly and also to the necessary standard. This includes having the ability to recognize potential production hold-ups and also finding methods to conquer them.
Creative thinking
A good garments dealer ought to have a solid feeling of style and be able to recognize arising trends. They ought to be able to establish new ideas and principles as well as collaborate with developers as well as producers to make certain that the product satisfies the requirement.
Capacity to Work Under Pressure
The fashion business can be fast-paced and also deadlines may be tight. A skilled garments dealer ought to have the ability to ensure and handle the stress that the item is provided on time as well as to the required standard.
Interpersonal Skills
A good garments distributor needs to have the ability to work well with others, consisting of developers, buyers, as well as suppliers. They must be able to develop strong partnerships as well as job collaboratively to attain the wanted result.
Conclusion
In conclusion, a good garments merchandiser plays a critical role in the apparel industry. They are in charge of making sure that a product goes from design ideas to market profitably. This requires a variety of qualities as well as skills, consisting of outstanding communication abilities, attention to information, organizational abilities, analytical skills, problem-solving abilities, creative thinking, the capability to work under pressure, and also social skills. With these skills as well as top qualities, a garments dealer can make a considerable payment for the accomplishment of a style item. It is clear that the function of a garments distributor is ending up being progressively crucial in the fashion business, and also those that have these high qualities and also skills will certainly be in high need. Coming to be an excellent garments dealer requires a range of top qualities as well as skills. These consist of excellent communication abilities, focus on information, organizational abilities, analytical skills, problem-solving skills, creative thinking, the ability to function under pressure, also interpersonal skills. Along with these abilities and qualities, a garments merchandiser might play an essential duty in making sure the achievement of a fashion product.
Skills and Qualities of a Good Garments Merchandiser