Trims and accessories are the incoming raw materials in the apparel industry. There are fabrics apart from these items, fabric defects we discussed in another article. These items attach to garments by sewing, HTS, and other processes. Incoming inspection to find out trims defects will help to make a good product.
Trims defects are the manufacturer's fault but it comes to the garment maker because of full product delivery responsibility. Trims and Accessories inspection and testing in the pre-production stage. Merchandising team coordinates the inspection. And, take a replacement from the vendor we rejection finds in the inspection.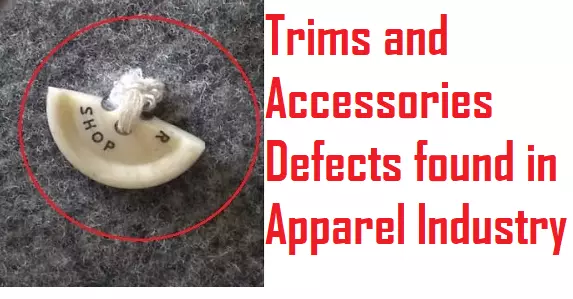 Defects of Trims and Accessories in the Apparel Industry
General test: Unapproved components or trim added or substituted affection performance (Bias cut binding vs. warp cut. Incorrect interlining etc.) Any specified trim or component missing, damaged, or not operational as intended. (Snaps won't snap, the zipper won't zip Rivet, clasp, grommet, or any closure device which is defective, damaged incorrectly placed, or attached which is likely to cause damage to wearer or property. Make sure all trims and accessories match BOM specifications and exact match the buyer approves trim card.
Button: omitted, broken, damaged, defective or inverted; buttons that do not conform to specification; misaligned or improperly spaced buttons. The button does not have any sharp edges is a critical point.
Fusing: Fusible interfacing must be compatible with the garment without bubble or pucker; in a lined garment, the liner must not extend below the hem or the shell. Fusing to check functionally.
Zippers: any malfunction; tape shade that does not closely match color specified; tape stitched too loose or tight resulting in an excessive bulge on tape or placket when closed; exposed zippers that detract from the appearance of a garment; exposed edges of zipper tapes that would scratch or irritate wearer's skin; zipper not placed high enough in placket causing a gap to top edge; aluminum zippers should not be used. Zipper size and length should be appropriate to garment end use or as specified.
Carton box: Carton box Marking Missing, Incorrect or not legible, Carton Type or Size not as specified Carton Damage. Incorrect carton dimension.
Elastic (Hole / Plain): Fraying, tearing, width is more and less.
Size, Care Label: Measurement Error, wrong care code, Eligible lettering alphabet, blur print/ unclear/less distinct. And, Wrong care code.
Main Label /Woven Tape/ Fit Label / Sub Label: Faulty weaving, Missing yarn, dimensional error.
HTS: The main quality concern of heat transfer stickers is the proper application of the garment. HTS sticker should place properly in a product.
Sticker (Hang tag, Price tag, UPC): Print missing, design shade variation, wrong text, tearing. Wrong PO number or lot number.
Velcro item (Hook and Loop): Loop fraying, Hook melting, edge cut.
Finally, I think this article covered trim defects generally found apparel industry. So, if you have any queries or questions, please write them in the comment box.
Trims and Accessories Defects found in Apparel Industry