In today's competitive market the importance of order retention (KPI) is very important. KPIs that are very important in the RMG sector. KPI in apparel, many more such KPIs can be discussed through which a factory can be evaluated. The factory is developing based on the KPI, Key Performance Indicator. Now a Factory Turnover, the Future depends on how much work is done with this KPI in a Factory. And how much your employee's involvement with this KPI is important. In order to succeed in this competitive market, your company needs to be KPI based. Even if your employees are trained on it, they should increase their involvement. This content is about KPIs (Key Performance Indicators) in Apparel Industry.
In the readymade garments industry business, competition is very high. Finally, You lose the order for 10 cents, but you think you lose by increasing the price by 10 cents. So, in this competitive market, how can he make a profit by taking an order with 10 cents less? This is the basic thing garments buyers get the benefit of having lots of options, vendors, and countries for the same garment product. So KPIs are the key business factor in the apparel industry.
Factors considered as KPI in Apparel Industry
Factory Efficiency
Cut-to-ship ratio
CPM cost
Style Change Over Time
Fabric Utilization
MMR ratio
DHU % and Cost of poor quality
Non-Productive Time
RFT
On-time delivery rate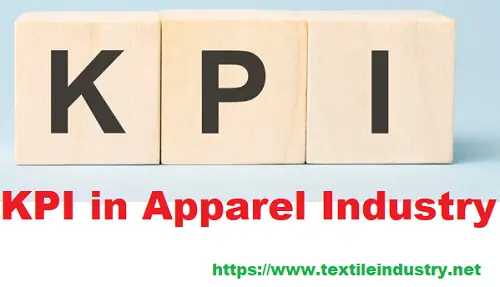 KPI Factors of the Garments Industry
Factory Efficiency
The efficiency of your factory is 55%, and the efficiency of another factory is 75%. That means hourly he is producing 20% ​​more than you. His Produced Min is much higher than yours. So even with 10 cents less he is able to take orders and make a profit.
Cut-to-ship ratio
If your garments factory's cut-to-ship ratio is 94%, and another cut-to-ship ratio is 99%. That means another one is making the shipment less than 5% wastage from you. That is, this 5% does not include yarn cost, knitting cost, dyeing cost, sewing cost, or accessory cost. And it is not possible to take the order with this cost. Because your cut-to-ship ratio is low.
CPM cost
Cost is always a key point to survive in the garments industry. If your factory's CPM Cost is USD 0.15, and another's CPM Cost is 0.12 USD. That is, his production cost per minute is 0.03 USD less than your factory. Here also he will count more earnings than you. So another garment is well ahead with orders even 0.02 cents less.
Style Change Over Time
The time between the last style's last piece output and the new style's first piece output of the same sewing line is called Style Change Over Time. It should be as minimum as possible. The quick changeover (QCO) is the key here.
Fabric Utilization
Fabric expense is 60% of a complete garment cost. If 'X' factory fabric Rejection is 4%, and 'Y' factory Fabric Rejection is 1%. Here too 'Y' is producing at a lower cost than you. That's why 'Y' survives in the market even if they want to reduce by 10 cents.
MMR ratio
MMR, a Man-to-machine ratio, means the number of manpower against a machine in the garments manufacturing industry. Your MMR Ratio is 3.2, and your competitor's MMR Ratio is 2.4. That means your competitor is producing 1.2 lesser people than you per machine. Then his overhead cost is less. So, he is profiting by taking orders even at 10 cents reduction.
DHU % and Cost of poor quality
DHU%, defects per hundred units. DHU rate is telling how good the quality is and the rework rate of a garment factory. Your factory DHU is 11%, and your competitor's DHU is 4%. Here too he is far ahead. That is, where you are defecting 11 out of every 100 pieces, he is doing only 4. Then his Cost of Poor Quality is much less than yours. That's why he is taking orders at 10 cents less.
Non-Productive Time
The time that does not have any work for sewing machine operators and workmen is called non-productive time. It is happening for many reasons like machine breakdown, power failure, layout changing, input/ raw material unavailability, and many other reasons. This is just a waste of working time and reduces the profitability of a garment factory.
RFT
RFT, the right first time, is a quality measuring parameter that tells you the first-time-right rate. First-time right means whatever we produce does not need to do rework. If the Final inspection RFT is 96%, it means 96% lot passed the first time in the final inspection. The rest 4% lot had to do rework.
On-time delivery rate
This is the most important part of apparel KPI for vendors from a customer and business point of view. If you miss giving delivery by fix date, your goods have to ship by air at vendor cost. Air Shipment is very expensive, and this threatens the garment manufacturing business.
Finally, you can add a couple of or more points garment KPI. We believe this content covered almost all key points of KPI (Key Performance Indicator) in Apparel Industry.
You may love to read: Quality metrics in Garments Industry
KPI (Key Performance Indicator) in Apparel Industry