Defects are the only barrier in the smooth garment manufacturing process. So defects have to rework/repaired/mended in order to get a good product. Repair of garments defects to remove the defect. This is the way to convert defective garments to defect-free garments. So how to do that? Garments rework is the process of assessing and fixing any issues or defects in the finished garment product. Here we shared a garments rework SOP that states how to do Repair (Rework) of Garments Defects.
Defects produce for many reasons. Mainly sewing operator and washing process generate defects. Customers do not accept defective goods. So we have to rework them.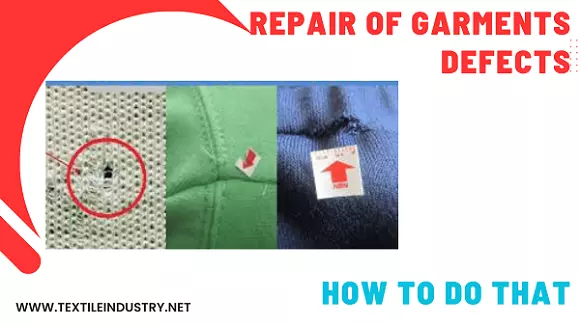 How to do Repair (Rework) of Garments Defects with responsible Names
Garment Quality inspectors: responsible for identifying any issues or defects in the finished garment product.
Rework personnel: responsible for fixing any issues or defects identified during the inspection.
Quality assurance personnel: responsible for ensuring that the rework process has been completed effectively.
Working Procedure of Repair (Rework) of Garments Defects
Identification of issues or defects: Garment inspectors must thoroughly inspect finished garment products for any issues. These can include stitching defects, fabric flaws, sizing issues, etc. Any issues identified should be recorded in a log or report.
Notification: The rework personnel must be notified of any issues or defects in the finished garments as soon as possible.
Re-work process: The rework personnel must address the identified issues or defects and fix them according to the specifications outlined in the work order or production schedule.
Quality assurance check: Once the rework process has been completed, the product must be re-inspected by the quality assurance personnel to ensure that it meets all relevant specifications and is now defect-free.
Record keeping: All records of garments rework must be kept on file for reference and future review.
Reporting Repairing/ Mending Process
Documentation: All relevant documents such as the inspection log, work order, and production schedule should be maintained properly.
Training and Communication: All personnel involved in garments rework must be properly trained on the procedures outlined in this SOP, and should be informed of any changes to the procedure in a timely manner.
Deviation reporting: Any deviations from this SOP must be reported immediately, and corrective actions will be taken by the designated personnel.
Review and Revision: Here we are given a standard This SOP will be reviewed and revised periodically as necessary to ensure that it remains current and effective in meeting the needs of the company.
Conclusion
Both sewing and finishing sections require a repairing/ rework process in the garments industry. A separate section uses in finishing. As it is the last section.
How to do Repair (Rework) of Garments Defects