The QC team plays a vital role in quality control in the garments industry. QC is a good decision-maker in any quality parameters of the garments industry. That's why QC personnel are essential people in garment manufacturing. Here we go for details on the Job description of the QC Team in the Garments Industry.
QC team work for Quality Control and Quality Assurance Leader, A perfect team has vast knowledge about quality assurance and improvement. We discussed all QC job skills must have one QC/ QA Leader, and also he has knowledge about how to manage all QA in garments manufacturing. He can train all QA and monitors all QA how the assure Goods standard and RCA and give CAPA the proper solution. He calibrates all his QA and analyses their skills, then finds his QA leaking and weak point and teaches them to develop and overcome their weakness. But here we are discussing the Job description of the QC Team in the Garments Industry.
To produce buyer satisfied Products, To do one-time delivery, to develop processes by reducing process time, reduce costing, and to enhance the factory image, there is no alternative option without Quality Assurance Department and Skilled QA. To achieve all of those, we need skilled QA in Garments Manufacturing business. We have to stress developing QA skills.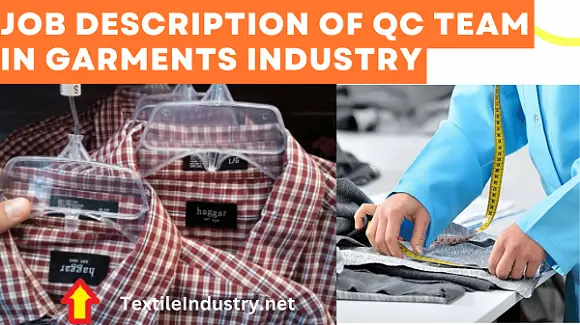 All Job Description of QC Team in the Garments Industry
Collect QC files, Section wise updates such as production, plan, and inspection from the merchandising.
Verify fabric, trims & accessories, and their test and inspection report.
Verify trims card and sample as per buyer Quality SOP, TP, PDM, Order file, etc.
Study PPS, PPC, Tech pack, Buyers SOP, BOM, PO Sheet, and Measurement by cross-checking to analyze risk & essential points.
Arranging a meeting with the buyer QC and giving the necessary tasks for the PP meeting.
Collect necessary test & inspection reports of materials. Then make CAP against of result.
Size set review with a technician, QC & QA with b/4 & after iron measurement report to make CAP for bulk.
Inspection and verify quality requirements in Cutting, Sewing, and finishing in the factory.
Checking and matching the accessories such as sewing threads, buttons, care labels, size labels, main labels, photo board polybags, etc., comparing with a trim card as per customer requirements.
Implement to buyer quality control manual in the garment factory (all Sections).
Work as a representative of Buyer QC in a Garment Factory
Follow up on quality requirements in Cutting, Sewing and finishing in factory.
Conduct in-line inspection and assist the buyer representative in the Final inspection in the Factory.
Handle and execute all PP meetings and Pilot Run meetings.
In-line inspection of every lot of sewing and finishing section.
Communicate with the fabric department regarding the fabric quality and assist the fabric QA to ensure online quality control of the fabric.
Approve the fabric and all accessories for the final bulk production.
Rectify the sewing defect and ensure the accurate shape and design of the product as per the client's requirement.
Checking out all the accessories in-house for bulk production.
Check the fitting of the garment as per the buyer measurement chart.
Conclusion
QC Team of the Garments Industry involved with the overall quality control process from raw material to finished goods. I hope all the Job descriptions of the QC Team have been covered here.
Job description of QC Team in Garments Industry