Job Responsibilities of Product Safety Officer in the Garments Industry
Nowadays product safety officers in very common in the Garments industry. This Article is to define the roles and responsibilities of a Product Safety Officer (PSO) who is designated. Production Safety Officer in the garments industry is responsible for ensuring the safety and well-being of workers within the production facility. Their primary role is to identify and mitigate potential hazards and risks associated with the manufacturing process to prevent accidents, injuries, and occupational illnesses.
A Product Safety Officer should Be of strong character and integrity with a desire and aptitude to learn and understand product safety policies and procedures. A stable and dependable employee of the factory with a minimum of three-month experience with the factory. They have demonstrated the ability as a Product Safety Officer to monitor the product safety process and with technical knowledge of the factory's product categories from a safety perspective.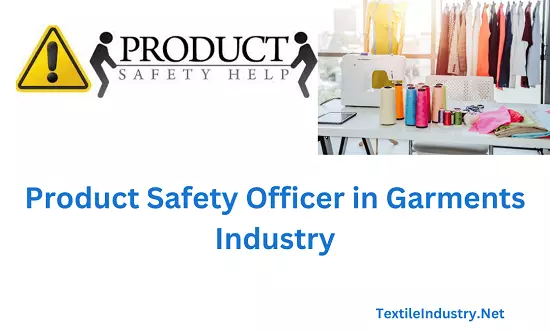 Daily Checklist of a Product safety officer in the Apparel industry
Needle replacement control
Metal or sharp object contamination control
Broken needle log
Needle inventory log
Metal tool control log
Sensor tag inventory log
Needle detector calibration/sensitivity check
Needle detection record and rejected sample control
Button control procedures
Check hardware machine settings & conditions, and complete control logs.
Check internal inspection and testing procedures of small parts/button/hook & bar/snap and other Machine-Attached Hardware (MAH)
What are the Job Responsibilities of a Product Safety Officer in Garments?
Provide training to the operators and rest workmen regarding product safety processes and requirements.
Monitor daily internal product safety control process following a daily checklist of Product Safety Requirements.
Work with supervisors for correction if any non-compliant issue is detected.
Report to factory management if a critical non-compliant issue is detected, such as poor needle control/ hardware machine setting, etc.
Arrange bulk representative samples submitted to Lab for Expedited Attachment Strength test for Kids/Baby styles with ring-prong snaps attached, or Baby's hats with top buttons attached.
For Kids & Baby items, participate in PP meetings, work closely with Safety Line Review Focal (SLRF) to arrange valid samples for the Safety Line Review meeting, and retain Safety Line Review Report in MRP.
Follow up Root Cause Analysis and Corrective Action Plan for the safety issues called out by clients and in-market customer complaints within a month.
Work on the investigation of Needle & Foreign Metal Contamination (FMC) incidents and submit a report for review within a month.
Collaborate with buyer QC, GPQ and do a Correlation Audit.
For factory has children's sleepwear manufactured, monitors the production, test sample submission, test failure investigation for flame-resistant children's sleepwear, and 100% measurement and subsequent random audit of critical point measurement for snug-fit children's sleepwear.
Skills and Qualities
A product safety officer has Possess good communication skills, preferable to read and write English documents and reports, and is able to perform email and Excel reports. The officer works for customer product safety. He Understands they will remain an employee of the factory and that employment to the customer is not implied.
Conclusion
A product safety officer (PSO) is an important person in the garments industry and its business. He ensures the secure product during the manufacturing process. In short form, we can call them PSO.
Responsibilities of Product Safety Officer in Garments Industry