Quality inspection and its checkpoints are defined by a process by a process in the garments industry. No checkpoints can be skipped. Garments quality inspection is all about Fabrics, Trims, Accessories, Cutting, sewing, and finishing inspection. Quality control checkpoints are the complete checklist of what to check in the QC inspection in the garments industry. This guidance is for the whole garments manufacturing process of every section.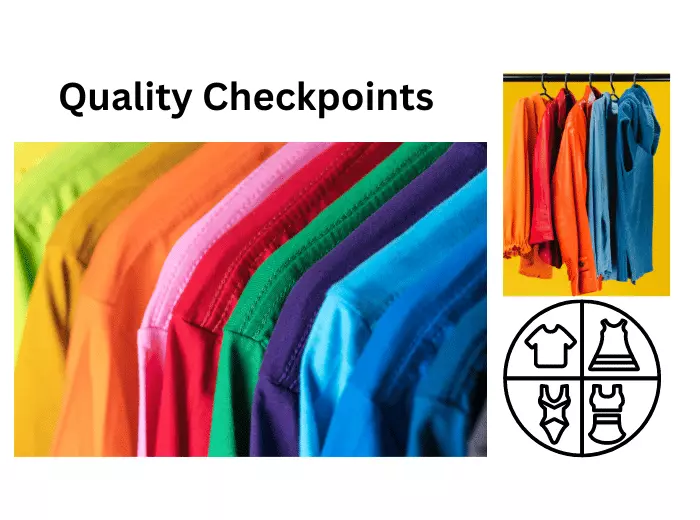 What are key Quality Control Checkpoints in the Garments Industry?
Fabrics, Trims, and Accessories Quality Control check Points
Cutting Quality Control CheckPoints
Sewing Quality Checkpoints
Finishing Quality Checkpoints
Fabrics, Trims, and Accessories Quality Control check Points
Accurate Inventory check, and verify trims card.
Fabric quality, shade, Shrinkage, bowing, skewing & GSM verify
Fabric Inspection based on 4/2.5/10 point etc.
Fabric test and fabric test report verity
Trims and accessories quality, quantity, and faults checked by 10% inspecting with zero tolerance.
Trims and accessories test and keep test report.
Inspection fails and reject goods keep red zone marked area for brunt or back to the supplier.
Inspection pass Goods keep on the rack by tagging the Bin card.
Style and size-wise accurate Fabric, trims & accessories supplied to the production floor.
Follow zone wise Goods keeping method
Implement 5S, FIFO, and QMS system properties.
Cutting Quality Control CheckPoints
Cutting QA plays another vital role in garment manufacturing. If cutting is wrong sewing & finishing will be wrong. That's why cutting QA has to ensure proper cutting before cutting Goods. If Cutting QA maintains and does his duty properly, Sewing & Finishing will be good. Cutting QA rules and job responsibility:
Verify fabric nature, GSM, Shrinkage, Skewing, Bowing, etc.
Ensure proper fabric relaxation
Marker inspection before cutting
Collect and review the Fabric test reports.
Fabric shade segregation and batch-wise put a sticker.
Fabric Spreading inspection
Fabric lay follow-up.
Cutting components quality and measurements check with sewing allowance and before wash measurement.
Ensure cutting QMS and product safety.
Sewing Quality Checkpoints
Measures all incoming cutting components with Sewing Allowance and before-wash measurement.
Incoming trims and accessories check by trims card.
Garments making layout check, 3 times machine check, critical process mock-up ensure.
Sewing all marking and pattern check style and size wise
Conduct an implement TLS( Traffic Light System), RFT( Right First Time), TDR ( Total Defect Reduce)
Implement FIFO, 5S, Lean manufacturing 8 wastage, etc.,
Button pull test, bond test, stitch strengths test,
Maintain broken needle policy and label attach the policy.
Fabric nature-wise needles selection, correct thread selection as per trims card.
Follow sample, TP/PDM, SOP,, and other instructions for proper sewing,
Conduct sewing DPI, Initial Inline, etc.
Sewing QMS system property implementation.
Finishing Checkpoints in the Garments Industry
The last stage of the garments manufacturing process. Finishing inspection finds out the best QC job skills to make sure no defects in garments before packing.
Finishing Shade, measurement & dimensional change verify after receiving wash garments and before start finishing,
Finishing quality check layout follow-up,
2hr audit, metal check, moisture check,
Proper trims and accessories attach Check
Follow the approved folding method, verify SKU,
Barcode, Prize ticket, cartoon sticker verify
Conduct day final audit, pre-final audit, etc.
Maintain QMS system, FIFO, and 5S method properly.
Conclusion
After all, quality inspection is all about defined checkpoints. Inspectors check garments according to the instruction. Apart from the above all, a Final inspection carries on the garments, where full garments inspect as pre-shipment inspection.
Quality Checkpoints in Garments Industry